Corendon Airlines establishes two aircraft base at Düsseldorf; now serving 19 airports in Germany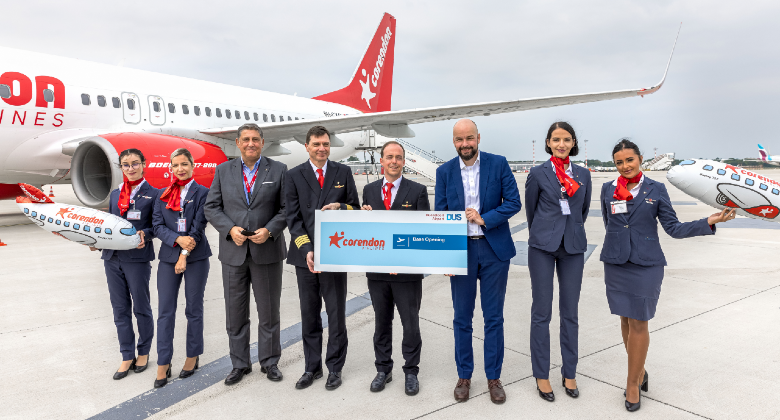 Turkey's Corendon Airlines seems to be increasingly following in the footsteps of airberlin and Germania, by establishing bases at German airports to take locals on holiday to warmer, sunnier destinations. Having first started operations to Düsseldorf in S18 (to Antalya and Hurghada), the airline's network from the German airport increased to seven destinations last summer according to Cirium Data and Analytics schedule information. Now the airline has decided to make the airport a base, and two aircraft will be spending the rest of the summer stationed at Düsseldorf. As a result, a total of 15 new routes are being added; seven in Turkey and eight across other parts of Europe.
The new Turkish services with Corendon are to Adana, Ankara, Diyarbakir, Gaziantep, Samsun, Trabzon and Zonguldak, while the other new services are to Greece (Corfu), Italy (Lamezia Terme and Olbia) and Spain (Fuerteventura, Gran Canaria, Ibiza, Palma de Mallorca and Tenerife TFS). According to Cirium Data and Analytics schedule information for the last week in July, there is considerable competition on most of these routes from the likes of Condor, Eurowings, Pegasus Airlines, SunExpress, TUI fly Deutschland and Turkish Airlines.
Düsseldorf becomes Corendon's biggest base in Germany
With its two aircraft base, Düsseldorf becomes Corendon's biggest airport in Germany this summer, serving 20 destinations and operating over 60 weekly departures from the airport. Corendon is set to operate over 120 routes across 19 German airports this summer, with Cologne Bonn, Hannover, Nuremberg and Münster/Osnabrück its next busiest airports after Düsseldorf.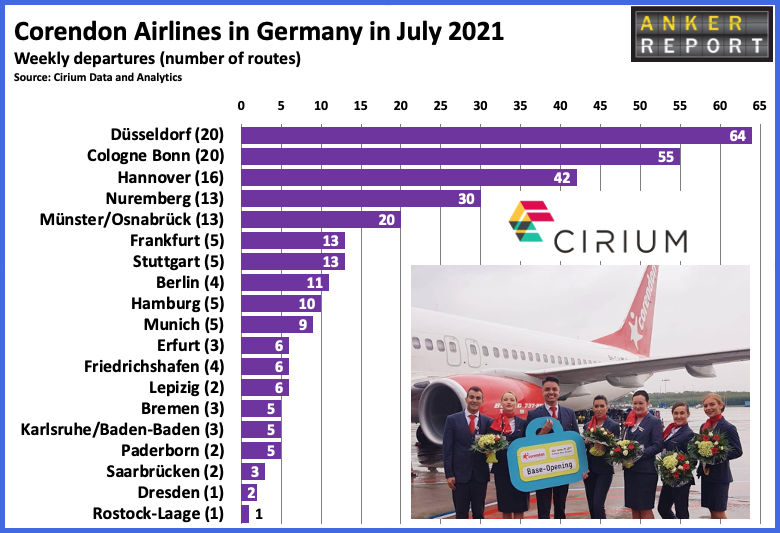 Corendon also operates routes from three airports in Austria (Graz, Linz and Vienna) and two in Switzerland (Basel and Zurich). With 23 weekly departures, Basel ranks fifth among Corendon's airports in German-speaking countries.
Corendon ranks fourth in Germany-Turkey market
With 186 weekly flights planned by the end of July between Germany and Turkey, Corendon ranks fourth in the market behind SunExpress (385), Turkish Airlines (326, including AnadoluJet) and Pegasus Airlines (213). Note that Corendon's flights between Germany and Turkey operate with the IATA code of XC, while flights between Germany and all other countries operate with the IATA code XR. Flights operated by partner airline Corendon Dutch Airlines use the IATA code CD. All clear?
Spain remains the leading holiday destination from Germany. Looking at the leading carriers that connect Germany with Spain and Turkey combined, reveals that Corendon now ranks sixth, behind SunExpress, Eurowings, Turkish Airlines, Ryanair and Lufthansa, but ahead of Pegasus Airlines, TUI fly Deutschland and Condor.