Corendon expanding its leisure network across Europe; flights to Greece and Turkey still dominate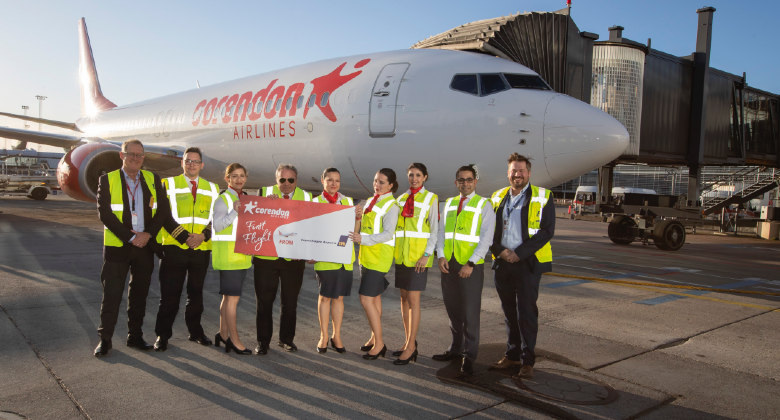 One of the leading airlines for new route launches in Europe this summer has been Corendon Airlines. The carrier comprises three separate entities; Corendon Dutch Airlines (IATA code CD based in the Netherlands), Corendon Airlines Europe (IATA code XR based in Malta) and Corendon Airlines (IATA code XC based in Turkey). Flights for all of these carriers can be booked from a single website, corendonairlines.com.
According to planespotters.net, the three airlines currently have a combined fleet of 45 aircraft, comprising 36 737-800s, eight A320-series aircraft (all leased from other airlines) and one A330-300 (leased from airhub Airlines of Malta). Two of the 737s have colour schemes promoting football teams in Europe; 1.FC Nürnberg in Germany and Hull City in the UK. The latter was bought by a Turkish businessman in early 2022. Both clubs currently play in the second tier of football in their respective countries.
Germany – Turkey is core market
By far the airline's biggest market is serving the demand for leisure flights between Germany and Turkey. Analysis of Cirium schedule data indicates that these flights account for 36% of all Corendon's scheduled services this summer. This market is three times larger than the airline's next biggest market between Germany and Spain. The top 15 country markets shown in the graph account for 89% of the airline's scheduled services.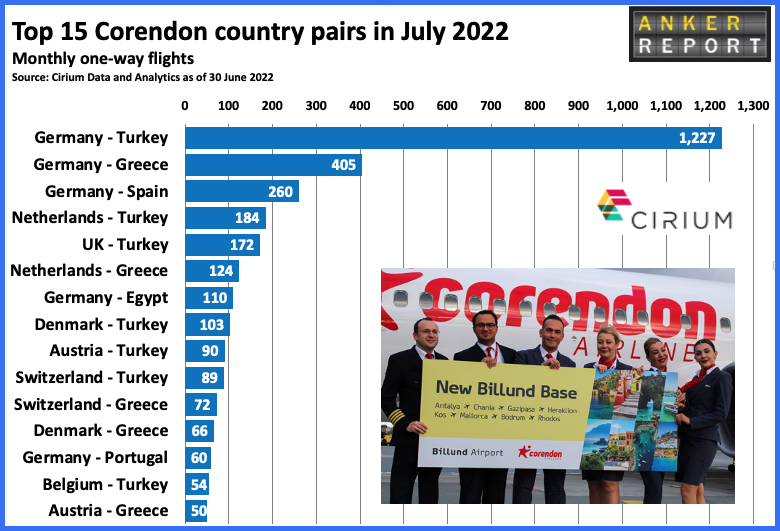 This summer has seen the airline launch flights from Billund and Copenhagen in Denmark. As a result, two country pairs involving Denmark (to Greece and Turkey) have already made it into the top 15.
Leading origin and destination markets
Most of the airline's routes are focussed on taking passengers from western Europe to destinations in southern Europe. Germany is by far the leading generator of 'origin' traffic followed by the Netherlands. France will shortly become the newest 'origin' market, as Corendon will be launching weekly flights in mid-July from Paris CDG to both Antalya and Izmir.
Turkey is by far the leading 'destination' market followed by Greece, Spain and Egypt. In addition to the six destination countries listed in the graph, Corendon also flies to Bulgaria, Cape Verde and Cyprus.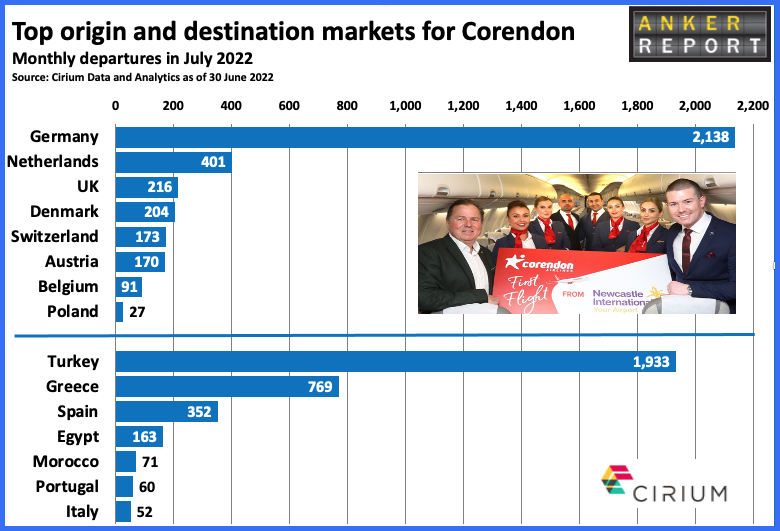 Antalya is #1 airport
The popular beach resorts in and around Antalya make that airport the airline's busiest airport with over 800 departures in July. Of the top 20 airports, six are in Turkey (highlighted in red) while three are in Greece (highlighted in pale blue). As the leading country for 'origin' traffic, Germany has five airports in the top 20. The remaining six airports are all in different countries (Belgium, Denmark, Egypt, Netherlands, Spain and Switzerland).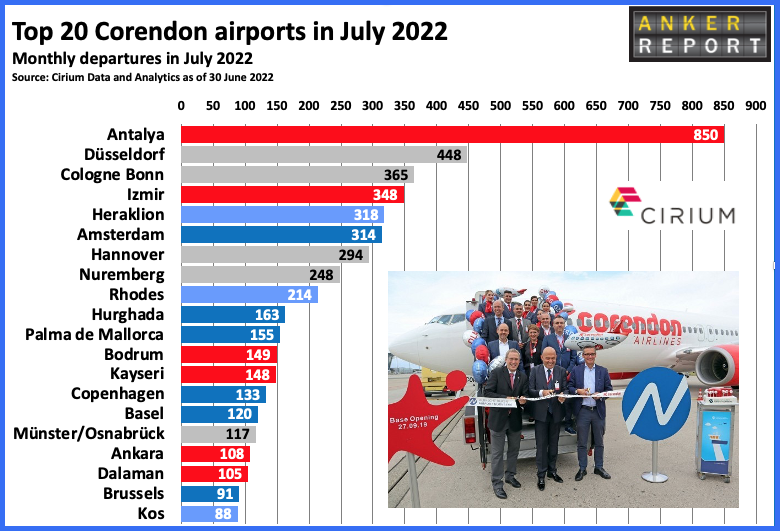 According to Cirium schedule data, Corendon is serving 95 airports in July with scheduled services. In addition, it also operates dedicated charter flights to/from several other airports.