Corendon opens base at Basel; now offering flights to 16 destinations in Greece, Spain and Turkey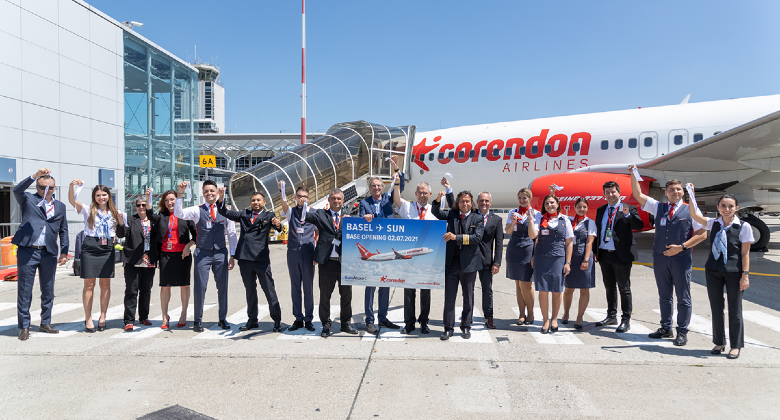 Fast-growing leisure carrier Corendon Airlines opened its latest base on 2 July at EuroAirport Basel Mulhouse Freiburg, as it is officially known. Most people simply refer to it as Basel (which is in Switzerland), as that is the nearest major population centre. However, the airport is physically in France but is administered jointly by French and Swiss authorities. This new base follows the recent
opening of a base at Düsseldorf
in Germany. Corendon first started serving Basel last summer with flights from three Turkish airports; Antalya, Kayseri and Izmir. Now, with a single 737-800 based at the airport, it has added flights to four destinations in Greece (Corfu, Heraklion, Kos and Rhodes) as well as three more in Turkey (Ankara, Bodrum and Gaziantep). SunExpress will compete this summer on four of the Turkish routes, with Turkish Airlines competing on an additional route, leaving Bodrum as the only Turkish route with no competition. None of the Greek routes currently faces competition. With 23 weekly flights in July, Corendon will (just) rank as Basel's second busiest airline. easyJet is way out in front with 248 planned departures (around 60% of all flights at the airport). Wizz Air (22 weekly departures) and Turkish Airlines (21 weekly departures) are the next busiest airlines at the airport, according to Cirium Data and Analytics schedule information.
Spanish routes coming this winter
Starting in November, Corendon plans to add five destinations in Spain; Fuerteventura, Gran Canaria, Lanzarote, Palma de Mallorca and Tenerife TFS. All of these routes are also likely to be served by easyJet this winter. Finally, next May will see Corendon launch a 16
th
route, to Chania on the Greek island of Crete.
What they said
Matthias Suhr, Managing Director of EuroAirport, said: "The inaugural water salute for a new base confirms the signs of recovery of EuroAirport's activities this summer. We are happy to welcome Corendon, an airline that demonstrates its dynamism by investing despite the crisis. The new base enables the airport to respond to the strong yearning for mobility in the aftermath of the critical period of pandemic lockdown. This reinforces the attractiveness of our region, which serves a potential reservoir of one million passengers. Having come through this difficult period, it is important to offer the inhabitants of the region the possibility of going on holiday and enable families and close friends to get together again at last." Yildiray Karaer, CEO of Corendon Airlines, said: "We felt that EuroAirport was the gateway to a significant new market with access to an important region that is both densely populated – with over one million inhabitants – and economically dynamic with the strong industrial metropolis of Basel. This is why we took the risk of opening new routes to and from Basel-Mulhouse in July 2020."