Cork expects to beat 2019 traffic this year from big Ryanair growth and new carriers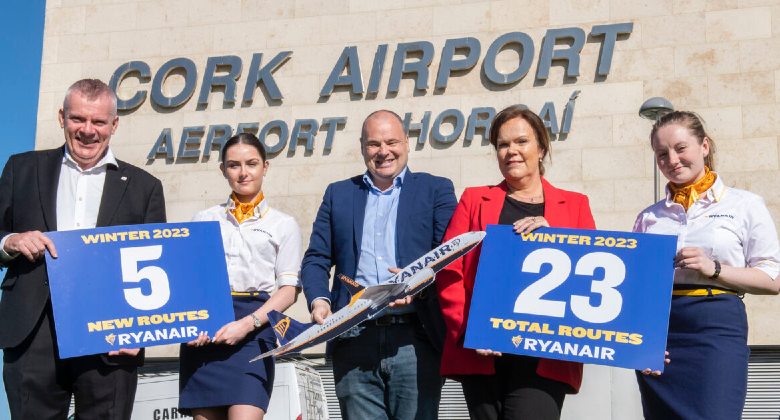 Located in southwest Ireland, Cork is the country's second most populous city. It welcomed 2.24 million passengers in 2022, making it the Republic of Ireland's second busiest airport. It accounted for almost 7% the nation's traffic. While Cork's passengers were 13.5% below 2019, it outperformed Dublin in the recovery (-14.7%).
In August 2023, Cork had 308,000 passengers, with traffic 3.4% above 2019. It was the eighth month in a row to have more passengers than in that pre-pandemic year. With this momentum and Ryanair's third based aircraft this winter, Cork's full-year traffic is likely to exceed that of 2019.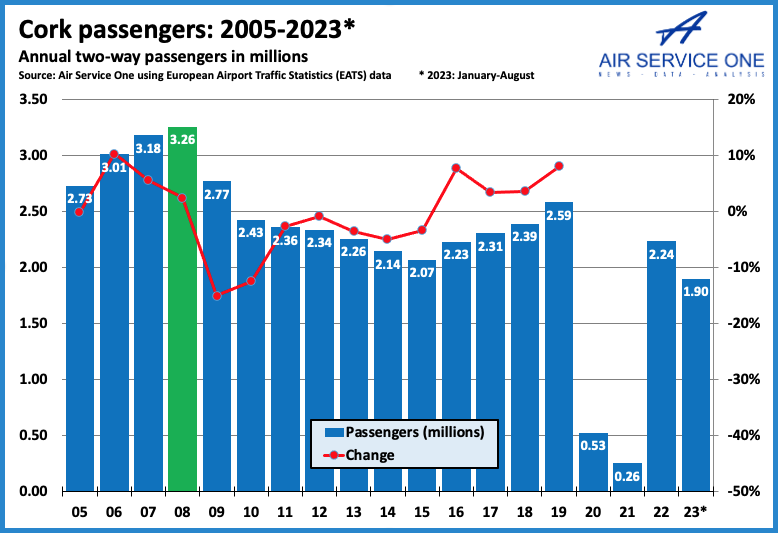 Multiple routes and airlines have been added
Since the pandemic started, Cork has gained KLM, Lufthansa and Edelweiss, with the two network operators particularly significant given the huge networks over their hubs. It also welcomed Vueling from Paris ORY in November 2021, but this ended in summer 2023. Iberia Express and Volotea have also ceased serving Cork.
Added routes include the following, most brand-new and several back after many years. Frequencies in brackets refer to what is offered in mid-September 2023 or, for those that launch later or are winter seasonal, when they are operational:
30 March 2020: KLM from Amsterdam (14-weekly)
25 June 2021: Lufthansa from Frankfurt (3)
1 December 2021: Ryanair to Edinburgh (9; replaced Aer Lingus)
17 December 2021: Ryanair to Manchester (14; replaced Aer Lingus)
19 December 2021: SWISS from Geneva (1; winter only)
15 April 2022: Edelweiss from Zurich

 

(2; replaced SWISS)
1 June 2022: Ryanair to Alghero (2)
2 June 2022: Ryanair to Valencia (2)
3 June 2022: Ryanair to Pisa (2)
31 October 2022: Ryanair to Rome FCO (2)
28 March 2023: Ryanair to Venice TSF (2; replaces VCE, which only started in 2022)
30 March 2023: Ryanair to East Midlands (3; last served in 2014)
1 June 2023: Ryanair to Seville (2)
4 June 2023: Ryanair to La Rochelle (2; last served in 2013)
29 October 2023: Ryanair to Barcelona (2)
2 November 2023: Ryanair to Fuerteventura (1; last served in 2015)
23 December 2023: Aer Lingus to Lyon (weekly)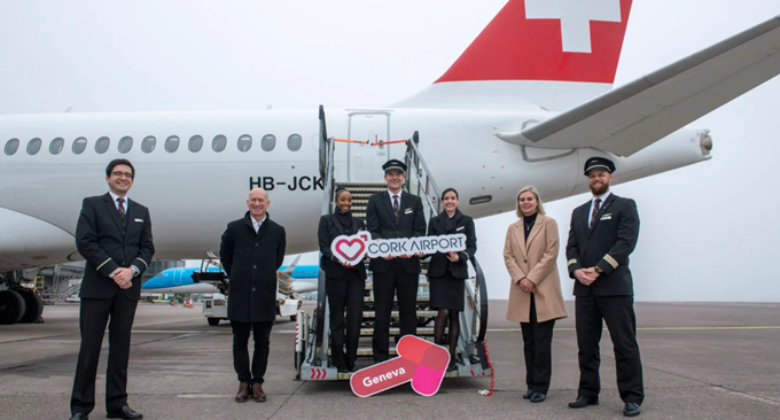 Ryanair has two thirds of capacity from huge growth
Analysis of Cirium schedules information for June-September 2023 (Q3) indicates that Ryanair is Cork's leading carrier and has grown enormously. It has about 337,000 departing seats – up by 13.4% over its previous record (Q3 2022) and by 70.0% versus 2019. Ryanair's share of Cork's capacity has risen by 21 percentage points since 2019. It has 29 routes this peak summer, reduced to 23 this winter (as shown in the first image).
For years, Aer Lingus was Cork's leading operator, but Ryanair overtook it in 2020. Aer Lingus' network comprises just nine routes in Q3, half as many in 2019, reflected in half the capacity. Still, when added to Ryanair's offering, the pair provide 93 in 100 of Cork's available seats. Not quite a record, but enormous dominance.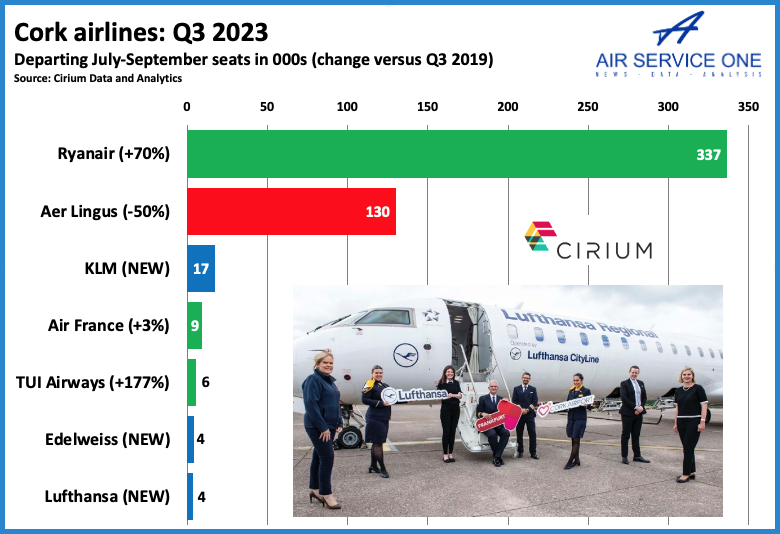 Cork has 36 destinations in Q3; London LHR remains number one
Cork's peak summer network comprises 36 destinations in 10 countries. With 10 destinations each, the UK and Spain are tied for the most-served nation. However, the UK is first by available seats, with almost half of Cork's capacity. When Spain is included, they have 71% of the total and eight of the top 10 destinations.
London LHR is Cork's leading route, just as it has been since 2010, after flights from Dublin were reduced and eventually ended. LHR is still served by Aer Lingus. There are 27-weekly departing flights in mid-September, enabling passengers to connect over LHR. Until the arrival of KLM and Lufthansa, this was the primary way passengers accessed Cork from the wider world (except traveling to Dublin), joined by Air France via Paris CDG in 2018.