Corsica's Figari passes 900,000 passengers for the first time in 2022; five airlines share majority of traffic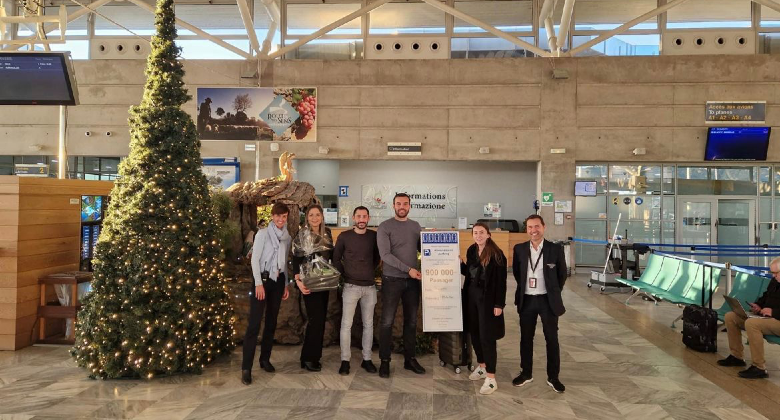 Located in the south of the very mountainous French island of Corsica, Figari welcomed its 900,000th passenger on 22 December 2022, the first time it has ever had that many. Even before the year ended, traffic had grown by 16% versus its previous best year (2021), aided by French holiday demand and the launch of Italian flights. Important capacity growth from the UK (+142%), Switzerland (+52%) and Belgium (33%) helped too, although each market was considerably smaller than domestic France.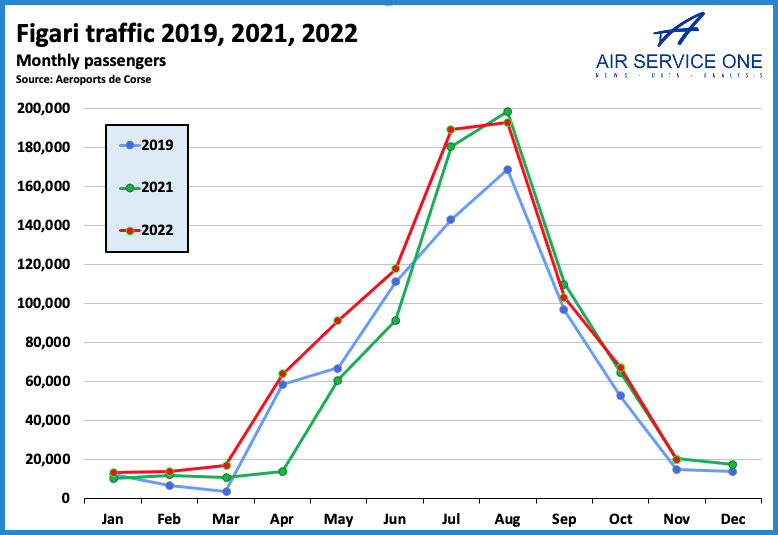 The airport has an extreme seasonality profile with typically fewer than 20,000 monthly passengers between November and March, but with almost ten times that many in July and August.
Three routes added in 2022
Figari had non-stop flights to 23 destinations in 2022, according to Cirium schedules data. It rose from 21 in the preceding year, offset by the loss of Montpellier. The biggest development was the introduction of Rome FCO, a route last served 10 years ago by Figari's biggest airline, Air Corsica. Intriguingly, despite Transavia France's new Nantes service, the Loire-Atlantique city was the only route of Figari's top 10 to see a reduction in capacity after cuts by Air France/Hop! and Volotea.
9 April: Transavia France to Nantes (1- to 2-weekly); alongside Air France/Hop!, easyJet and Volotea
1 June: Ryanair to Rome FCO (2)
10 July: Air France/Hop! to Pau (1)
13 July: Air Corsica to Toulon (1)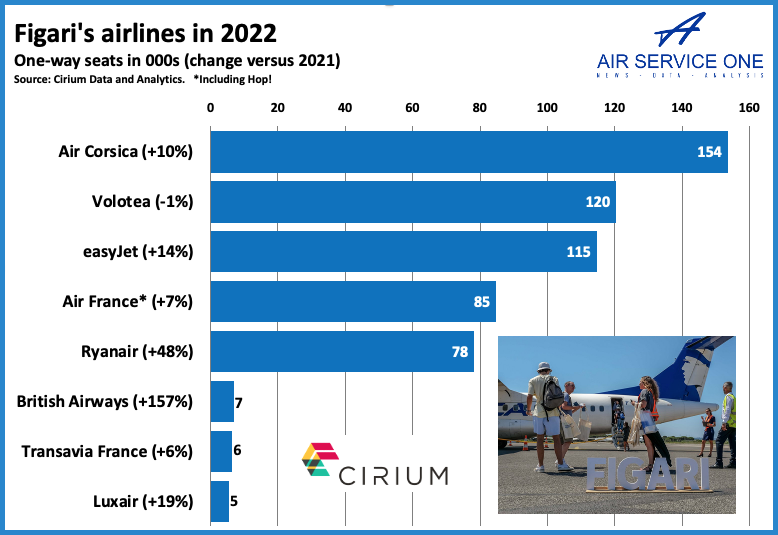 The domestic market had 85% of Figari capacity
Inevitably, 16 of the 23 destinations were within France, helped by the introduction of Pau and Toulon, both served briefly in July and August. Neither had Figari flights in the past two decades. Cirium indicates that 85% of Figari's seats in 2022 were domestic, the second smallest proportion versus Corsica's other airports: Calvi (88%), Ajaccio (87%) and Bastia (84%), although all were similar.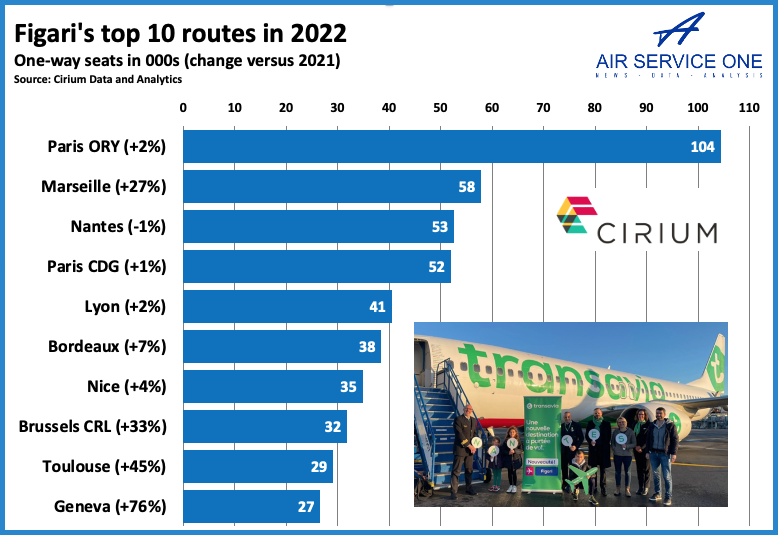 Figari has lost flights to 12 airports
Examining Cirium schedules tells us that Figari no longer has flights to 12 airports. That is based on examining data between 2004 and 2022 and each having at least 1,000 one-way seats. In order of lost capacity:
London STN: Ryanair (2010) and Air Corsica (2018-2019)
Brussels BRU: Brussels Airlines (2014-2019)
Montpellier: Air Corsica (2007-2009), Volotea (2020-2021), Transavia France (2021)
Bern: SkyWork (2010-2018)
Quimper: Air France/Hop! (2012-2019)
Milan BGY: Ryanair (2009)
Clermont/Ferrand: Air France/Hop! (2012-2020)
Manchester: Jet2.com (2006), TUI (2009)
Tours: Air France/Hop! (2019)
Metz/Nancy: Air France/Hop! (2012; 2019)
Rouen: Air France/Hop! (2019)
Angouleme: Luxair (2014)