Croatia recovery in 2021 set to be driven by Ryanair growth and new Zagreb base; Croatia Airlines not resuming 10 routes served in S19
Croatia is the EU's most recent member, joining on 1 July 2013. However, it still uses it own currency, the Kuna, rather than the Euro, at least for now. Traffic across the country's five main airports has risen from just under three million in 2003 to just over 11 million in 2019. Apart from 2009, total traffic grew in every year between those two years.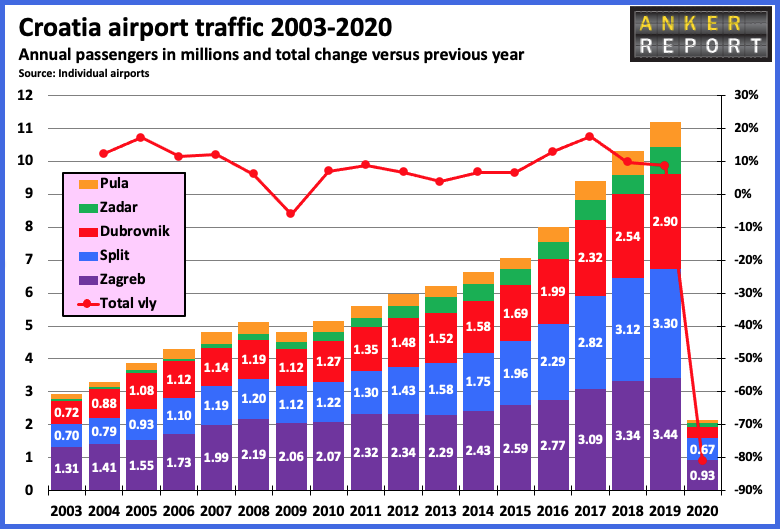 Seasonality differs at leading airports
Unlike in other Central European states, Croatia did not see a massive increase in air travel demand after joining the EU. Overall growth has been steady rather than spectacular. Unlike in most other European countries where one airport is by far the busiest, Croatia has three airports handling similar passenger volumes. However, while the capital Zagreb has relatively consistent demand across the year, as might be expected from a major city, both Split and Dubrovnik experience very seasonal operations as they are primarily leisure destinations on the Adriatic Sea. In July, Split handles almost twice as many passengers as Zagreb.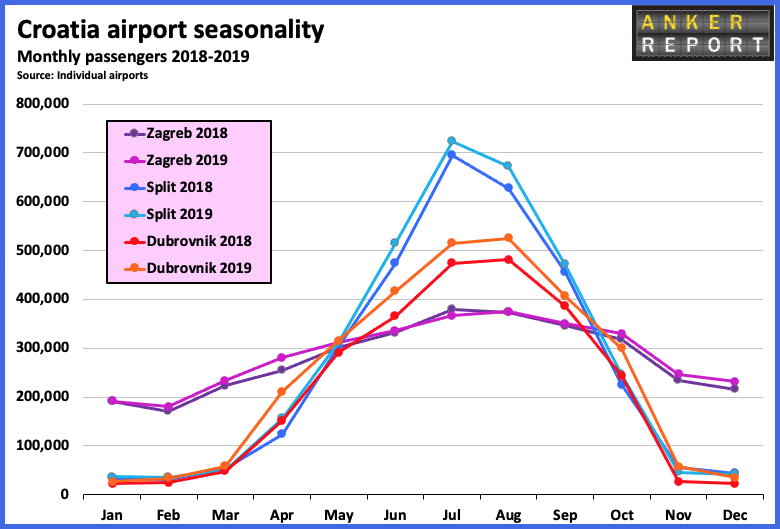 Croatia Airlines still #1
Analysis of schedule data for 2019 reveals that Croatia Airlines is the leading carrier in the country for international capacity. The carrier has a modest fleet of seven A320-series aircraft and six Q400s according to planespotters.net and it is by far the biggest carrier at Zagreb. In 2019, easyJet was the biggest carrier at Dubrovnik, Pula and Split, while Ryanair was the leading carrier at Zadar. The other carriers making up the top 15 of airlines in Croatia include a mix of LCCs (Eurowings, Jet2.com, Norwegian, Volotea and Vueling) and legacy carriers (Austrian Airlines, British Airways, Lufthansa, Qatar Airways, SAS and Turkish Airlines).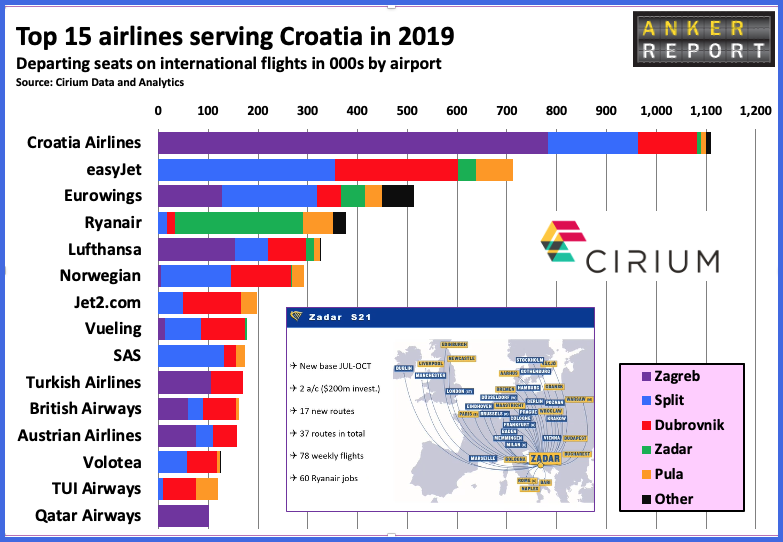 Ryanair arrives in Zagreb and expands in Zadar
Ryanair recently announced plans to expand its presence in Croatia by basing two aircraft in Zadar and adding 17 new routes this summer. More significantly it will base two Lauda Europe A320s in the capital Zagreb from September and launch 12 new routes generating 36 weekly flights. It will not compete head-to-head with Croatia Airlines on these route as it will concentrate on serving the secondary airports in the main cities, such as Brussels CRL (starting in June), Frankfurt HHN, London STN, Milan BGY (starting in July), Oslo TRF, Paris BVA and Rome CIA.
Croatia Airlines not resuming 10 S19 routes
According to analysis of Cirium Data and Analytics schedule information, Croatia Airlines is not resuming service this summer on 10 destinations that were served in S19 but were not operated in S20. They are Barcelona (still served by Vueling), Bucharest, Helsinki, Lisbon (served by TAP Portugal from June), Milan MXP (Ryanair will serve Milan BGY), Mostar, Oslo OSL (Ryanair will serve Oslo TRF), Prague, St. Petersburg and Stockholm. While Qatar Airways continues to serve Zagreb from Doha, Emirates no longer serves Zagreb, while flydubai services are not set to resume until 1 September. North American flights to Toronto with Air Canada and Air Transat are not currently scheduled in S21.