Customer Success with Zulu Airline Systems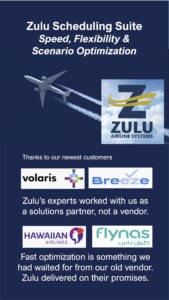 Zulu's integrated planning platform and customer success model have led the company to be the fastest growing choice for airline planning groups.
The key advantages are:
Scalable architecture – efficient, high-performance and flexible to adapt for customers.
Problem solving – Zulu listens to user pain points and quickly provides solutions that automate manual tasks and increase flexibility. Machine learning and smart optimization tools provide intelligent decision support to enable fast, confident decision-making.
Customer success – Zulu's scheduling experts and IT team partner with customers to ensure usability and functionality, solving problems and automating your work.
Lower cost and quick delivery – efficiency at every step reduces costs, enables quick implementation (2-3 weeks) and provides requested feature upgrades and new solutions every month that have been pre-tested by Zulu's team.
Zulu's software-as-a-service (SaaS) includes licensing for an unlimited number of users and enables schedule building, slots, scenario analysis, codeshares, publications, rotation optimization, and gate management from early network planning through schedule development and booking data-driven adjustments up to the operations window.
Let us know when you are ready to experience a new way to work with a software provider. Link to www.zuluairlinesystems.com