Cyprus Airways is Larnaca's second-largest carrier; 18 scheduled routes and 56 weekly flights in September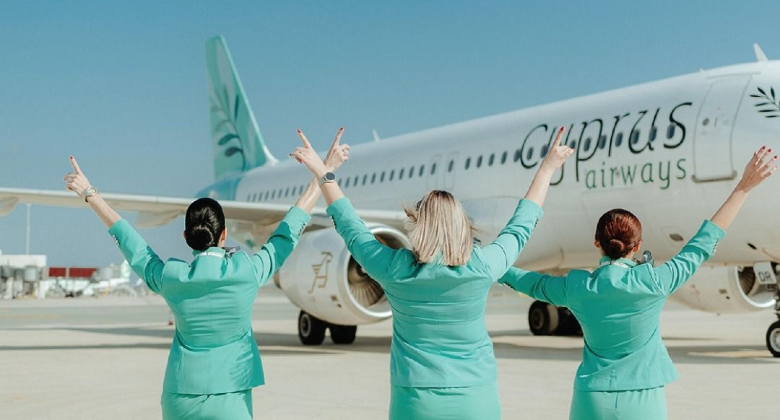 The 'new' Cyprus Airways launched operations in 2017 and remains a small operator. According to Planespotters, it has five aircraft: three 180-seat A320s and two 133-seat A220-300s. The A220s joined its fleet in June 2023 and entered revenue service in August, although September is the month with much greater activity. Last year, Cyprus Airways said it would have 11 aircraft and 30 destinations by 2026, but it is unclear if this plan has changed.
Cyprus' seventh-largest carrier with 56 weekly flights in September
Cirium schedules information tells that Cyprus Airways is only the seventh-largest carrier to serve the country by September flights. However, as it only operates from Larnaca – and not Paphos – this is rather unfair. When only Larnaca is examined, Cyprus Airways' is the airport's second-largest carrier, based on flights.
It has 56 weekly departures in September, well behind forerunner Wizz Air with 127. Cyprus Airways' services are fraction of what they were under the previous iteration, which will hopefully help with a stronger, more sustainable foothold. Flights have risen by three quarters versus 2022 although they remain down by nearly a fifth over September 2019.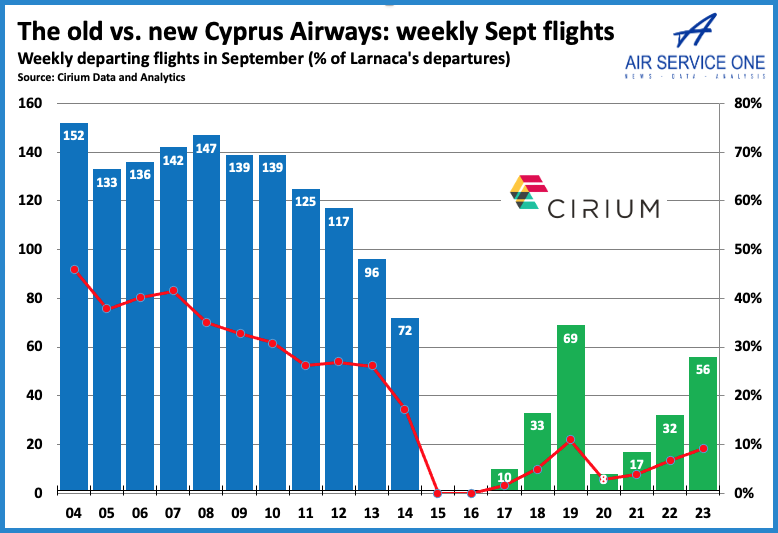 18 routes in September; Athens is first
The airline's September network comprises 18 scheduled routes in Europe, the Middle East and North Africa. They include a small number of low-frequency services to Greece that end early in the month. (They exclude charter destinations, which will presumably continue to run in the examined month.) Overall, Cyprus Airways' scheduled network is served an average of 3-weekly, with only three routes daily or more.
With 12 weekly flights, the 930-kilometre link to Athens is Cyprus Airways' most served route. It is the third largest of the five carriers on it. It joins Aegean (42-weekly), Sky Express (19), Wizz Air (daily) and Gulf Air (daily). Gulf Air routes Bahrain-Larnaca-Athens and vice-versa and has fifth freedom traffic rights.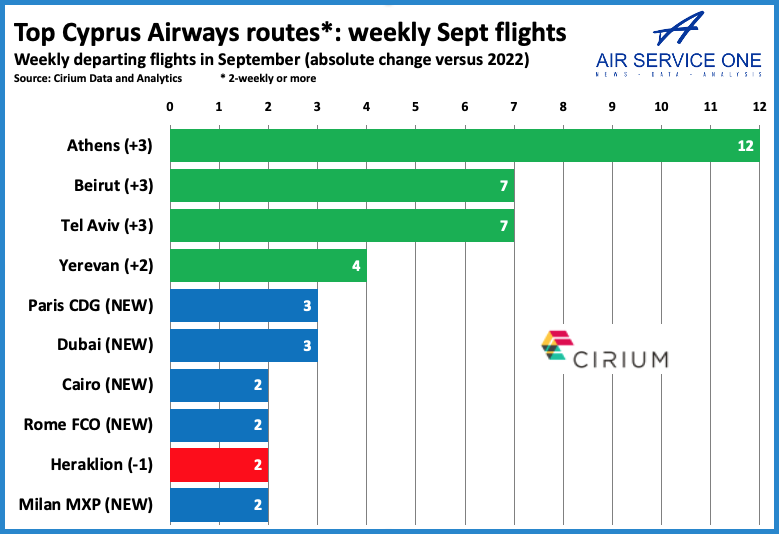 Eight new routes launched since April 2022
Cyprus Airways has launched the following routes, of which six were served by the old carrier: Dubai (until 2009), Cairo (until 2011), Milan MXP (until 2012), Rome FCO (until 2013), Santorini (until 2014) and Paris CDG (until 2015). Only Basel and Yerevan were not served.
1 June 2023: Larnaca-Milan MXP (2-weekly); competes with easyJet (2-weekly)
7 May 2023: Larnaca-Basel (up to 2-weekly); competes with easyJet (2-weekly)
29 March 2023: Larnaca-Dubai (3-weekly); competes with Emirates (daily)
20 December 2022: Larnaca-Rome FCO (2-weekly); competes with Wizz Air (2-weekly)
18 December 2022: Larnaca-Paris CDG (3-weekly); competes with TUS (3-weekly) and easyJet (2)
3 August 2022: Larnaca-Yerevan (4-weekly); competes with Wizz Air (11-weekly) and FlyOne (3)
20 June 2022: Larnaca-Santorini (2-weekly); no direct competition
30 April 2022: Larnaca-Cairo (2-weekly), competes with EgyptAir (7)
In 2023, Cyprus Airways reintroduced Zurich on 6 May (last served in 2020) and Prague on 7 June (last served in 2021). Both routes have multiple other operators.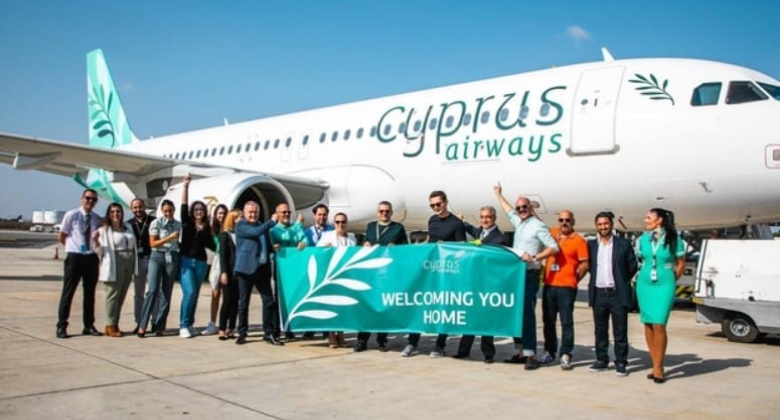 Cyprus Airways has dropped 13 routes since 2017
Using Cirium to examine the carrier's network since 2017 indicates that 13 scheduled routes from Larnaca are no longer served. Three ended due to the Ukraine war. In order of total departures, it dropped the following, many lasting only one year or one season:
St Petersburg (2017-2018, then in 2021)
Moscow DME (2020-2022)
Bucharest (2019)
Verona (2018)
Kyiv KBP (2020-2021)
Stuttgart (2018)
Malta (2021)
Munich (2018)
Kosice (2019)
Dubrovnik (2022)
Mykonos (2022)
Jeddah (2022)
London LHR (2020)