Cyprus' TUS Airways introduces Dubai, but the carrier has more routes from Tel Aviv than Cyprus in Q4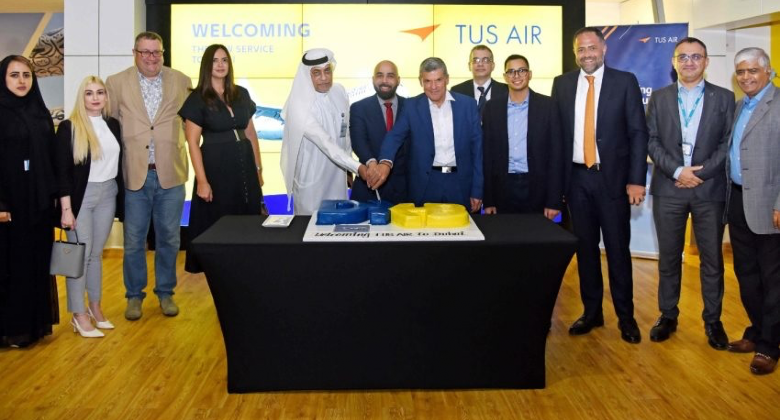 TUS Airways serves both Larnaca and Paphos, although it also operates routes originating in Tel Aviv. According to Planespotters.net, the carrier has five 180-seat A320ceos, making it Cyprus' largest carrier by fleet size.
While now operating standard equipment, TUS, whose first flight was in 2016, previously used Fokker 70s/100s and Saab 340s/2000s. Cirium information data tells that it has about 512,000 scheduled seats in full year 2023, by far its record. But in terms of capacity to/from Cyprus, it is the nation's second-largest operator behind Cyprus Airways.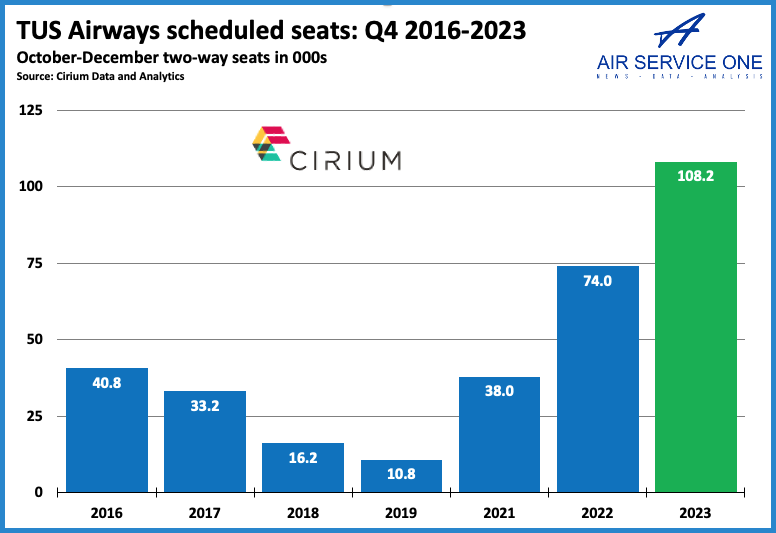 Dubai joins network, with Bucharest coming
TUS' most recent launch was Larnaca-Dubai. It began on 1 October and operates 2-weekly. It is the first time the carrier has served the 2,350-kilometre route, which is its third-longest route network-wide this year.
It is one of three carriers on the airport pair – the first time it has had that many operators. It joins Emirates' long-standing Dubai-Larnaca-Malta and vice-versa service (daily; 777-300ER) and Cyprus Airways, which began on 29 March 2023 (3-weekly; A320/A220). It last had more than one carrier in 2009, when the original iteration of Cyprus Airways competed directly with Emirates. Providing indirect competition is Wizz Air to Abu Dhabi (3-weekly in October).
In addition, TUS will begin Larnaca-Bucharest on 16 February 2024 (2-weekly), with the service only operating until 29 March. It will compete directly with Wizz Air (4-weekly), which, having last operated in 2018, resumed the route in December 2022 following Blue Air's cessation.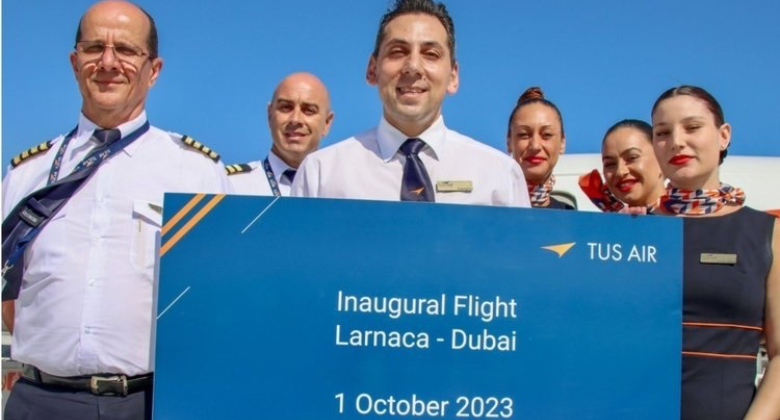 Eight routes in Q4, with six involving Tel Aviv
According to Cirium data and TUS' website, only eight scheduled routes operate in the October-December (Q4) off-season. Its Q4 network has reduced from 12 routes in 2022, more than counteracted by capacity increases on those that remain. In the all-important July-September 2023 period (Q3), it had 14 routes, including multiple routes to Greek islands from Larnaca and Tel Aviv.
Six of the eight routes involve Tel Aviv, one of eight airports in TUS' network in these three months. Indeed, with about 44,000 one-way seats, Tel Aviv has the most capacity, with the airline greatly exposed to the consequences of the Israel-Gaza conflict.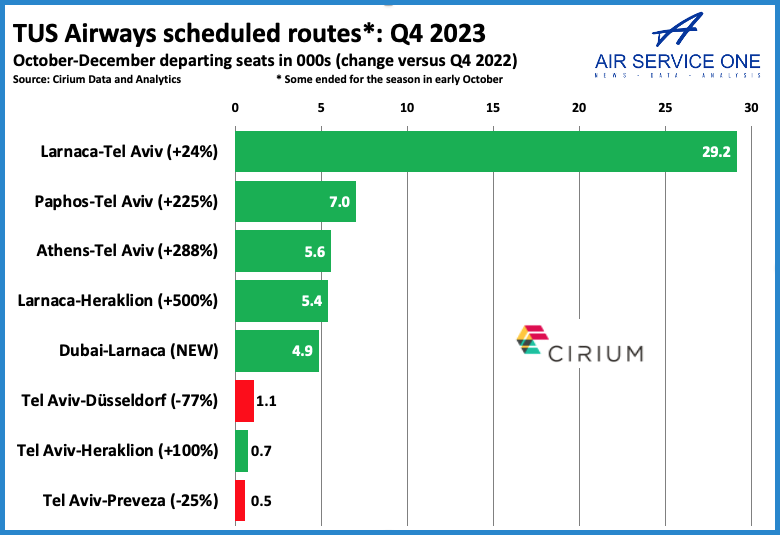 Larnaca-Tel Aviv remains the leading route
In the first week of November, Larnaca-Tel Aviv is TUS' most-served route. It has 12-weekly flights, according to Cirium and its website, with more flights and seats than any other carrier on the 340-kilometre airport pair. In the analysed seven days, it faces Wizz Air (9-weekly), El Al (8), Arkia (7), Cyprus Airways (7) and Israir (4), all bookable.
23 airports are no longer served
Using Cirium to compare TUS' served airports from its inaugural flight in early 2016 to September 2023 with those scheduled/bookable from October 2023-August 2024 indicates that 23 airports have been cut, some because of the fleet change. This is based on having at least 10 flights and does not include airports with charter services. In order of flights, the 23 are:
Haifa
Rhodes
Paris CDG
Rome FCO
Ioannina
Skiathos
Kos
Thessaloniki
Samos
Corfu
Amman
Kefalonia
Alexandroupolis
Toulouse
Karpathos
Mytilene
Patras
Mykonos
Tel Aviv (SDV)
Verona
Santorini
Chania
Zakynthos