Delta flights still down 17% in December versus 2019; seats down only 10% while ASKs are down just 6%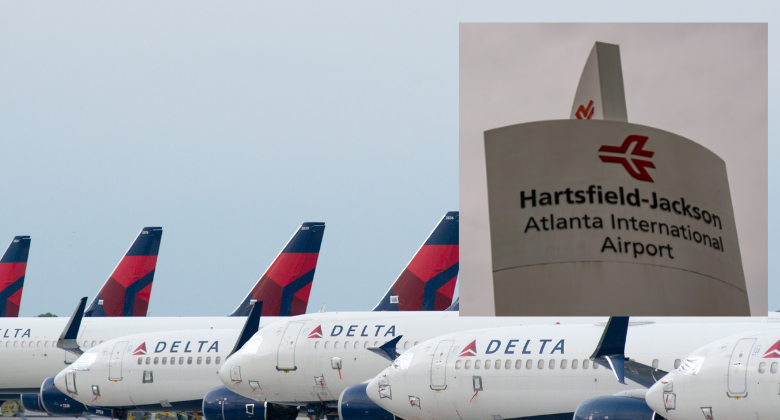 This December, Delta's weekly seat capacity across its global network is set to be down 10% compared with the same month in 2019. Interestingly, the number of flights is down 17%, while ASKs (Available Seat Kilometres) are down by just 6%. What this means is that according to analysis of Cirium schedules data, the average number of seats per flight has increased from 124 to 136, while the average sector length has risen from 1,727 kilometres to 1,795.
Looking purely at weekly seat capacity, Atlanta remains by far Delta's busiest airport, offering well over three times as much capacity as the airline's second busiest airport, Minneapolis/St. Paul, which has overtaken Detroit. Then comes Salt Lake City and the two New York airports of JFK and LaGuardia. On a city basis, New York easily moves up to second place behind Atlanta.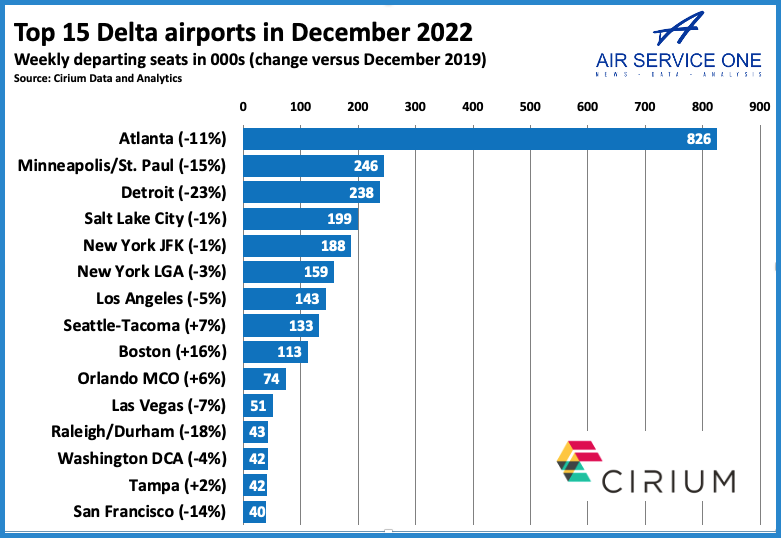 While overall seat capacity was down 10%, among Delta's top 15 airports four are registering growth versus December 2019. In Boston, seats are up 16% with Seattle-Tacoma seeing 7% more seats. Delta's growth in Boston means that it is now within striking distance of JetBlue to be the airport's biggest carrier. In December 2019 JetBlue was almost 50% bigger than Delta in terms of weekly seats. Similarly, Delta has narrowed the gap to Alaska Airlines at Seattle-Tacoma, though the local carrier is still twice as big as the SkyTeam carrier.
There is also growth at two Florida airports; Orlando MCO is up 6% and Tampa's seat offering on Delta flights is up 4%. Across all airports in Florida, Delta's capacity is up 1% (versus December 2019) and it still ranks as the state's third biggest carrier after American and Southwest, though fast-growing Spirit (capacity up 28%) may soon demote it to fourth.
New winter destinations in Europe
Compared with December 2019, Delta is now serving six airports that it did not serve back then. Three of these are in Europe; Athens, Copenhagen and Stockholm ARN while Cape Town (South Africa), Marsh Harbour (Bahamas) and Juneau (Alaska) also welcome winter service from the SkyTeam carrier. The three European cities were previously summer-only destinations.
Again, comparing only December 2022 with December 2019, there are 33 airports that Delta was serving three years ago at this time of year that are not currently seeing flights from the carriers. Broken down by geographic region, these airports are:
Asia: Beijing, Manila, Osaka KIX, Shanghai PVG, Tokyo NRT
Canada: Edmonton, Ottawa, Saskatoon
Europe: Düsseldorf, Stuttgart
Latin America & Caribbean: Cartagena, Cozumel, Havana, Managua, Port au Prince, Rio de Janeiro, St. Kitts, Tegucigalpa
US: Akron/Canton, Aspen, Erie, Flint, Fort Smith, Grand Junction, Hilton Head Island, Lincoln, Manchester MHT, New Bern, New York SWF, Newport News, Peoria, Santa Barbara, Wilkes-Barre/Scranton
Over 30 new routes launched in 2022
According to analysis by Air Service One, Delta will have launched 32 new routes in 2022 by the end of December. Among US carriers only Spirit (37), Breeze (56) and Frontier (66) will have launched more. Out of the 32 new Delta routes, nine are from Boston and eight from New York LGA. There were just five new international routes, two of which are set to start in mid-December:
26 May 22: Boston to Tel Aviv
27 May 22: Boston to Athens
1 Jun 22: New York JFK to Stockholm ARN
17 Dec 22: Atlanta to Cape Town, Los Angeles to Tahiti