Denmark now has half of Nordics-US capacity; SAS has grown market share as US carriers have just 10%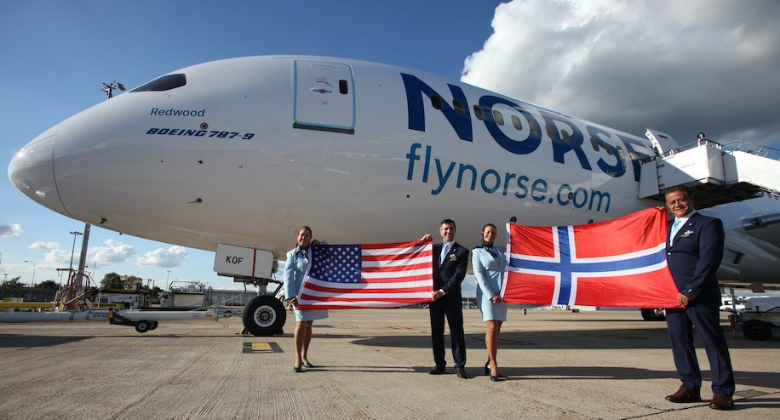 Some 22 European countries have non-stop flights to the US in Q2 (April-June) of this year, according to Cirium schedules information data. Four of these are Denmark, Finland, Norway and Sweden in the Nordics. They collectively have 402,000 of the 12.1 million one-way seats – just 3%. Denmark ranks 12th out of the 22, Finland 17th, Sweden 18th and Norway 19th. It doesn't help that approximately two-thirds of passengers connect at a hub en route, especially London LHR, Amsterdam, Reykjavik, Frankfurt – and Copenhagen, SAS's primary long-haul airport.
Sweden's US capacity is down by 40%
Analysis of the four Nordic countries to the US using Cirium data tells us that Denmark has 197,000 out of the 402,000 one-way seats (49%), Finland 77,000 (19%), Sweden 74,000 (18%) and Norway 54,000 (14%). In comparison to Q2 2019, Sweden has experienced the biggest drop (-40%), pushing back its US capacity by a decade.
Sweden has suffered because of the end of Norwegian, which in Q2 2019 had four US routes and 40% of the market; Norse Atlantic hasn't entered yet. Meanwhile, SAS is down by a fifth, not helped by Los Angeles moving to Copenhagen. The June 2022 return of Delta on New York JFK-Stockholm ARN after a five-year gap only partly helped to recapture the country's capacity. While Sweden was historically the second biggest country market of the four to the US, it is now third, helped by Finland's only marginal reduction (-2%).
Denmark now has almost half of seats
Despite having one fewer airline than previously, Denmark has exceeded its pre-pandemic Q2 2019 US volume (+3%). Yes, Norwegian has gone, but the market has benefited from 30% more SAS seats. After a 26-year absence, Copenhagen to Los Angeles returned in January 2020. There are also two more Denmark routes in 2023, as detailed below. While always the biggest market to the US, Denmark has benefited from the decline of the other nations to grow its capacity share by eight percentage points to nearly half of the market (49%).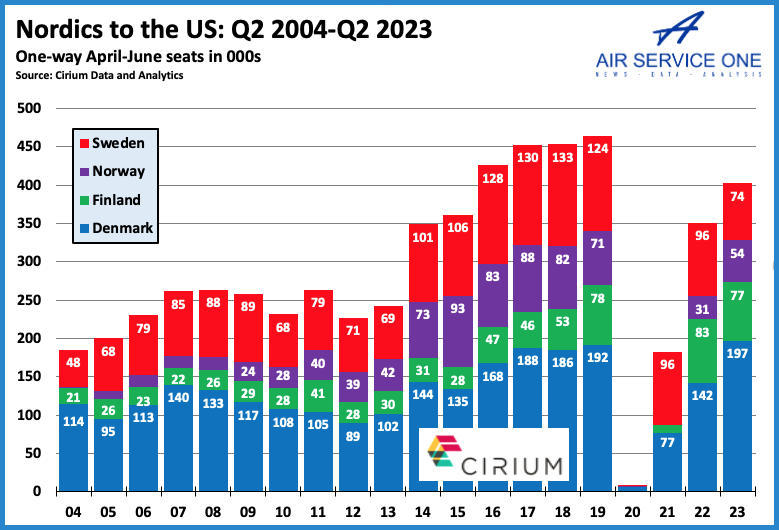 Many new routes have started or are coming
Last year saw multiple new routes: Finnair to Dallas DFW and Seattle, Norse Atlantic from Oslo to Fort Lauderdale, New York JFK, Los Angeles and Orlando and United to Bergen from Newark – but not all remain. The first 'new' route to begin in 2023 was SAS from Copenhagen to JFK, back after 33 years. US flights return to Gothenburg in April after nearly a quarter of a century, when they were very time limited. While they are noteworthy in themselves, the biggest network development is the launch of Aalborg-Newark: it is the first time the Danish airport has had long-haul flights. Aalborg will serve the whole of the Jutland area of Denmark.
9 February 2023: SAS, Copenhagen to JFK (5-weekly in winter, daily in summer)
27 April 2023: SAS, Aalborg to Newark (3-weekly)
28 April 2023: SAS, Gothenburg to Newark (3-weekly)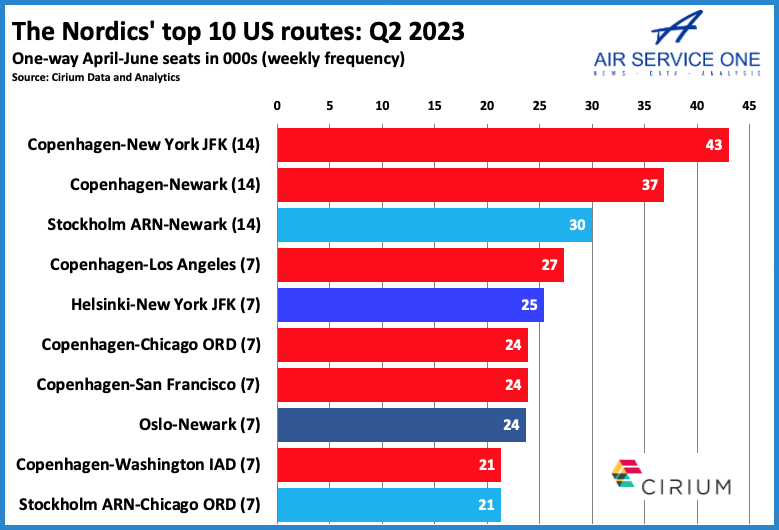 SAS has over 60% of non-stop seats
In April-June 2023, six airports have US flights: Copenhagen (48% of available capacity), Helsinki (19%), Stockholm ARN (17%), Oslo (14%), Aalborg (1%) and Gothenburg (1%). When combined, they have 23 airport pairs involving 11 US airports. As the figure below shows, SAS has never had so many US seats, enabling it to capture a 63% share of non-stop capacity – its highest proportion in more than a decade, excluding the pandemic. Elsewhere, it is Finnair's second-best Q2 on record (behind 2022, when it reoriented aircraft from Asia to the US), while US carriers – benefiting from the exit of Norwegian – collectively have the most volume since 2015.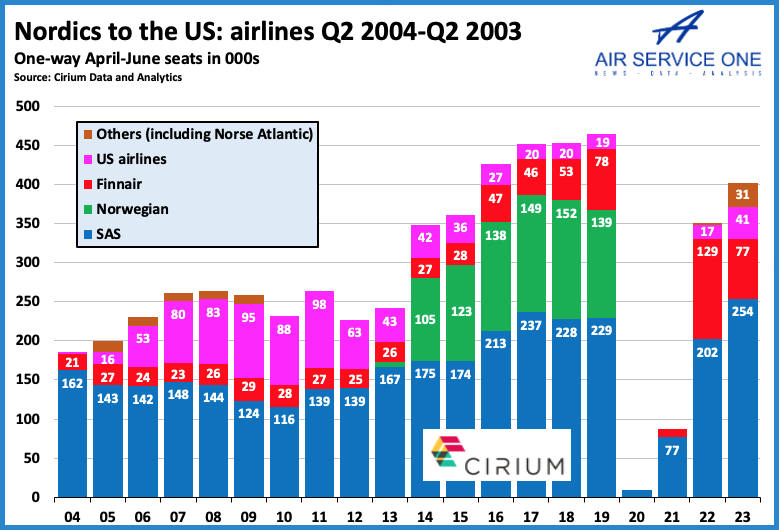 Bergen lost US flights last year
Of course, not everything has worked: Bergen and Stavanger no longer have US flights. Bergen had United from Newark last summer, and before that, Norwegian to JFK (2014-2016), New York SWF (2017-2018) and Providence (2017). Rather differently, SAS had an all-business 'Oil Express' route linking Stavanger to Houston IAH (2014-2015). Houston IAH is one of eight US airports (including Puerto Rico) that no longer has flights to any of the four analysed Nordic nations, joining Atlanta, Las Vegas, Oakland, Orlando MCO, New York SWF, Philadelphia and San Juan.