Dublin capacity down just 6% in Q3; Eastern Airways, EGYPTAIR and PLAY new carriers since S19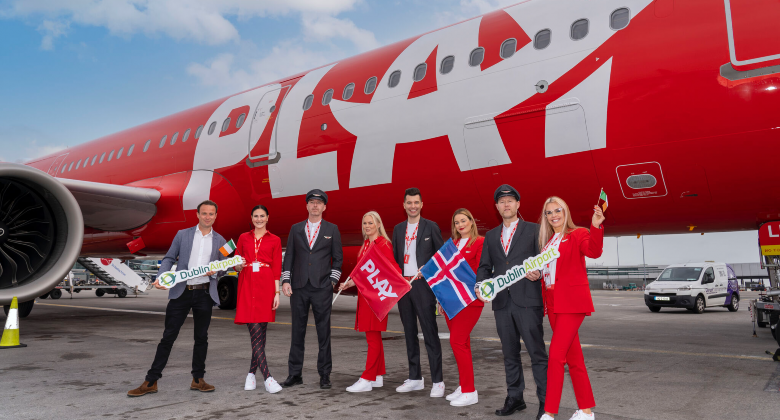 Ireland's busiest airport is seeing traffic recover rapidly in 2022. Though passenger numbers were down 52% in January compared with 2019, the latest figures for April show that demand is now at 85% of the level it was three years ago, in other words, down just 15%. Schedule data provided by the airlines suggests that by the third quarter of this year (July to September), capacity will be only 6% below the level of 2019.
In 2019, Dublin welcomed a record 32.9 million passengers, an increase of 4.5% on the 2018 figure. Ryanair and Aer Lingus accounted for around three-quarters of all scheduled seats, with Ryanair having around 10% to 15% more seats than Aer Lingus between 2016 and 2019. This year that advantage has grown to around 50%, as Ryanair has grown its capacity versus 2019 by around 6%, while Aer Lingus's seat offering is expected to be down around 20%. However, between them, the two carriers are still responsible for almost 80% of capacity at Dublin this year.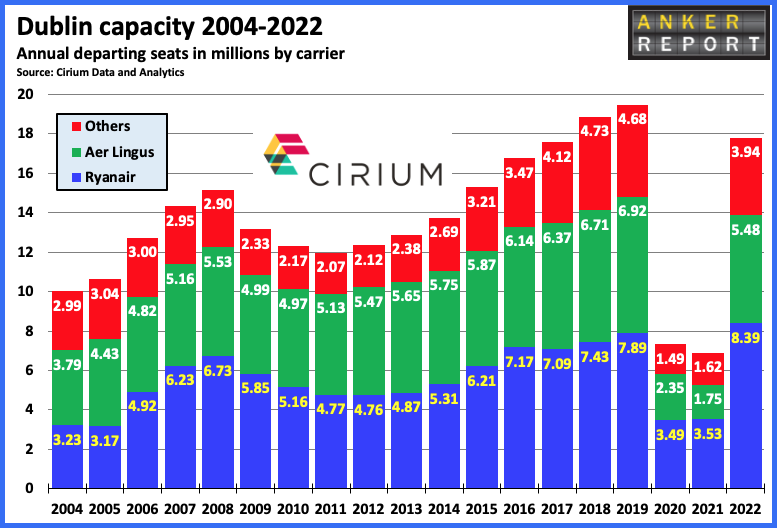 New airlines and new routes
The pandemic and the war in Ukraine mean that Dublin has 'lost' a number of airlines that it welcomed in 2019. These include Aeroflot, Cathay Pacific, Flybe, Hainan Airlines and S7 Airlines. However, it has also welcomed a number of new carriers during the same period, notably Aurigny (from Guernsey), Blue Islands (from Jersey), Eastern Airways (from Southampton), EGYPTAIR (from Cairo, starting in June) and PLAY (from Reykjavik).
Not surprisingly there has also been considerable route churn since 2019 with over 20 destinations served that summer, not currently served this summer. However, there are also over 20 destinations that are now served non-stop that were not available three years ago. Destinations not served this August that were served in August 2019 include Carlisle, Catania, Doncaster/Sheffield, Hamilton, Hartford, Hong Kong, London SEN, Minneapolis/St. Paul, Montpellier, Moscow SVO, New York SWF, Providence, Pula and Rennes.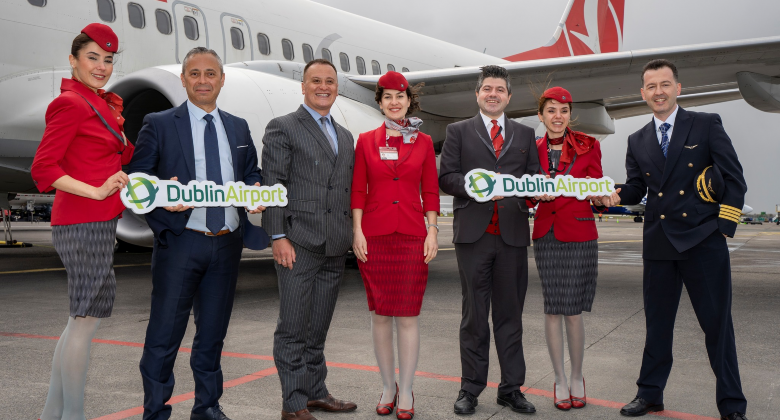 New destinations that were not served in August 2019 are Alghero, Antalya (see picture above), Billund, Cairo, Frankfurt HHN, Funchal, Guernsey, Iasi, Kosice, Menorca, Milan LIN, Nimes, Nuremberg, Palanga, Plovdiv, Santorini, Sibiu, Suceava, Teesside and Turin. Some of these routes launched in 2020, some in 2021 and some in 2022. A few are still to launch in 2022.
Compared with 2019, Aer Lingus is offering non-stop service to 70 destinations from Dublin, down from 80. The only new destinations it has added since 2019 are Exeter (launched recently in partnership with Emerald Airlines) and Santorini (launched last July).
Ryanair now serves over 120 destinations non-stop from Dublin
Back in August 2019, Ryanair served 100 destinations from Dublin according to Cirium schedule data. This August, that figure is set to reach 121. The only routes that have been dropped are London SEN, Munich and, for obvious reasons, Kiev KBP. Berlin flights have moved to the new airport while Frankfurt FRA flights have been redirected to Frankfurt HHN.
Routes added by Ryanair since 2019 also include Agadir, Alghero, Billund, Cardiff, Corfu, Funchal, Kosice, Marseille, Menorca, Nimes, Nuremberg, Palanga, Plovdiv, Rhodes, Santiago de Compostela, Santorini, Sibiu, Suceava, Toulouse, Turin, Verona, Vienna and Zagreb. Some of these destinations had been operated in the past.
UK still #1 country market from Dublin
Not surprisingly, the UK is still the leading country market from Dublin, followed by Spain and the US. Most of the leading country markets have recovered to similar levels seen in 2019 Q3. The relatively small Greece and Turkey markets have seen growth of more than 20%, while Germany is down almost 20% and the UAE down 40%. The latter has seen both Emirates and Etihad cut capacity.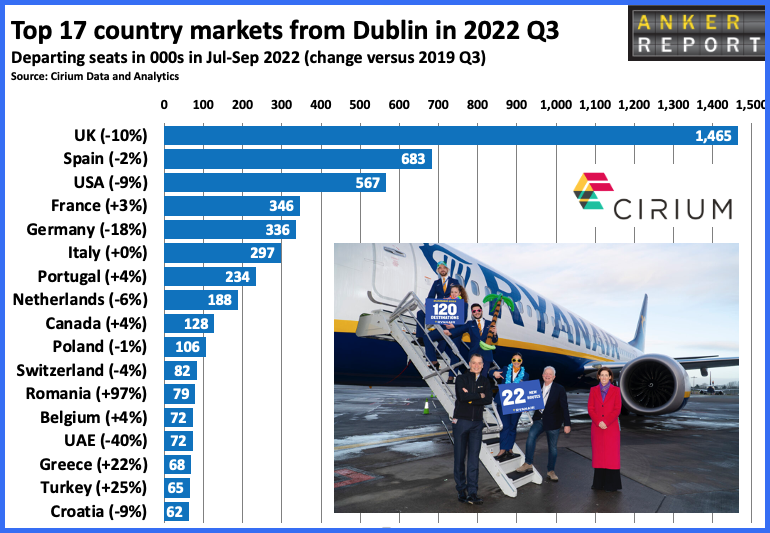 The biggest change has been in the Romanian market, which has seen capacity virtually double. Blue Air and Ryanair are the only airlines serving the market. Ryanair has added new routes to Sibiu and Suceava, while Blue Air has added service from Iasi and increased frequency on its Bacau, Bucharest and Cluj-Napoca routes.