Dublin opens new North Runway as traffic now at 89% of 2019; almost 20 new routes added this year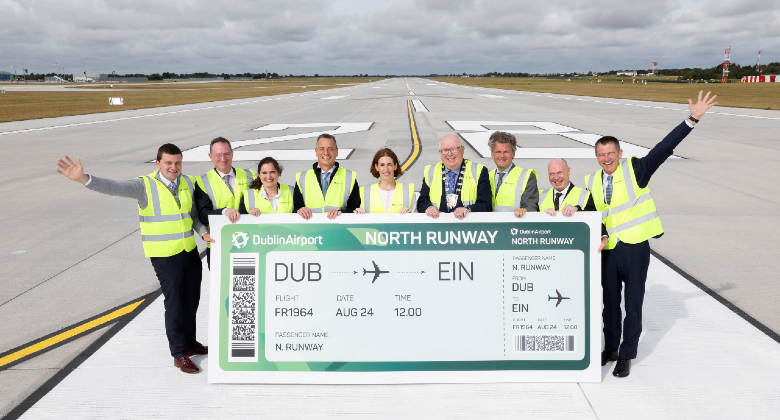 Dublin Airport celebrated the opening of its new northern runway on Wednesday 24 August. The first flight to use the new runway was flight FR1964 to Eindhoven, operated by Ryanair's 737 MAX 8-200 (registration EI-HAW), which departed at 12:10 local time, according to flightradar24.com. Construction of the 3,100-metre runway began in 2016 and was mostly finished last year. The need for an additional runway had been recognised decades earlier.
In 2019, Dublin handled 32.9 million passengers, up 4.5% on its 2018 figure. When the pandemic struck, Ireland introduced some of the most stringent travel restrictions in Europe. As a result, demand from April 2020 to July 2021 was consistently at least 80% below pre-pandemic levels. Things improved in the second half of 2021 but even in January 2022 traffic was still down over 50% compared with 2019.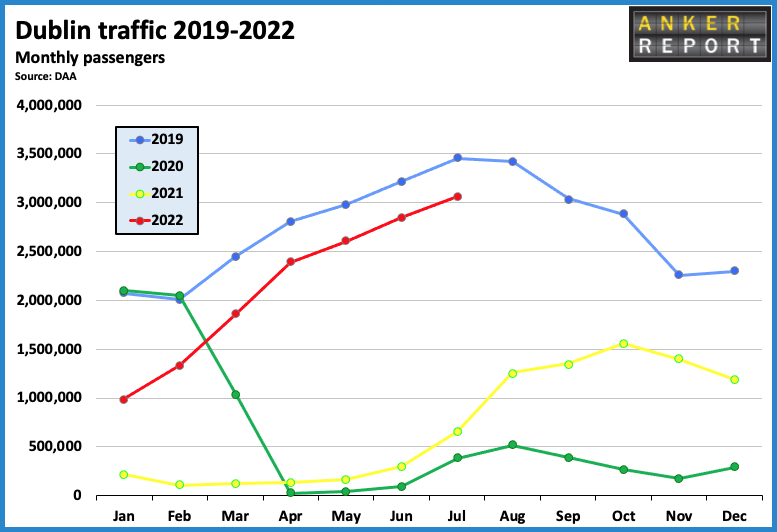 However, in the second quarter of 2022 the recovery rate has improved, and demand has been down just 13% compared with three years ago. The latest figure for July, shows the airport welcomed over three million passengers in a month for the first time since September 2019. Compared with July 2019, demand was down just 11%
Airlines have launched almost 20 new routes this year
Air Service One previously looked at the development of Dublin Airport back in May. This showed how Ryanair and national carrier Aer Lingus are the dominant carriers in Dublin. Analysis of Air Service One's New European Route Database reveals that almost a dozen airlines have launched new services to/from Dublin in 2022. These are:
Aer Lingus Regional: to Donegal (26/2), Exeter (29/4)
Aurigny: to Guernsey (16/3)
BA CityFlyer: to Southampton (15/5)
Blue Islands: to Jersey (19/5)
Croatia Airlines: to Split (12/6)
EGYPTAIR: to Cairo (2/6)
Loganair: to Teesside (29/5)
PLAY: to Reykjavik (28/4)
Ryanair: to Alghero (27/3), Frankfurt HHN (27/3), Funchal (30/3), Nimes (29/3), Nuremberg (30/3), Santiago de Compostela (27/3), Suceava (17/4)
Turkish Airlines: to Antalya (6/4)
WestJet: to Toronto YYZ (15/5)
These are new routes for the airlines, or at least routes that the airlines were not serving in 2019. Looking ahead, Ryanair is set to launch new services this winter to Asturias, Castellon, Genoa, Klagenfurt, Leipzig/Halle, Rome FCO (replacing Rome CIA), Rovaniemi and Venice VCE (replacing Venice TSF).