Dublin traffic 2% above pre-pandemic levels in Q1; almost 200 destinations served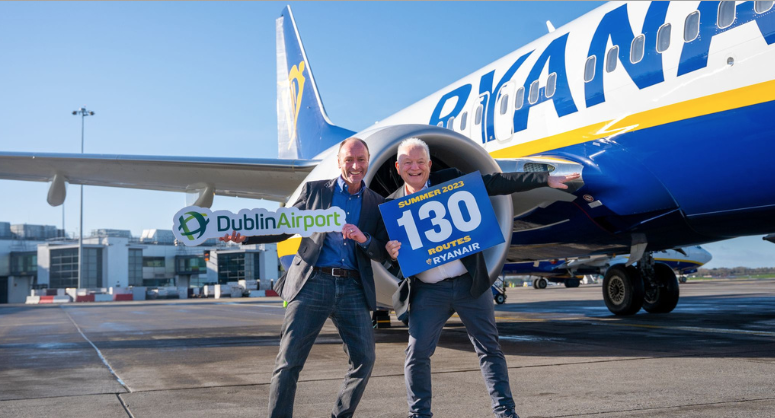 According to ACI Europe statistics, Ireland's Dublin Airport ranked as Europe's 16th busiest airport in 2022 with 28.1 million passengers. This was just 15% fewer than it handled in 2019 when it ranked 14th in Europe with a record 32.9 million passengers. The airport has grown impressively this century. Demand passed 15 million passengers for the first time in 2002, while the 20 million milestone was first achieved just four years later in 2006. Due to the global recession, it would be another nine years before the 25 million mark was reached, with over 30 million passengers being handled for the first time just three years later in 2018. This growth has resulted in the airport building a second parallel runway which opened last year.
Ryanair and Aer Lingus account for almost 80% of capacity
Between them the two Irish carriers account for almost 80% of all seats being flown to and from Dublin. Since 2015 the ULCC has been the airport's largest airline by seat capacity. This summer will see Ryanair offering more capacity and routes than ever before. Aer Lingus has not yet quite rebuilt its capacity to 2019 levels.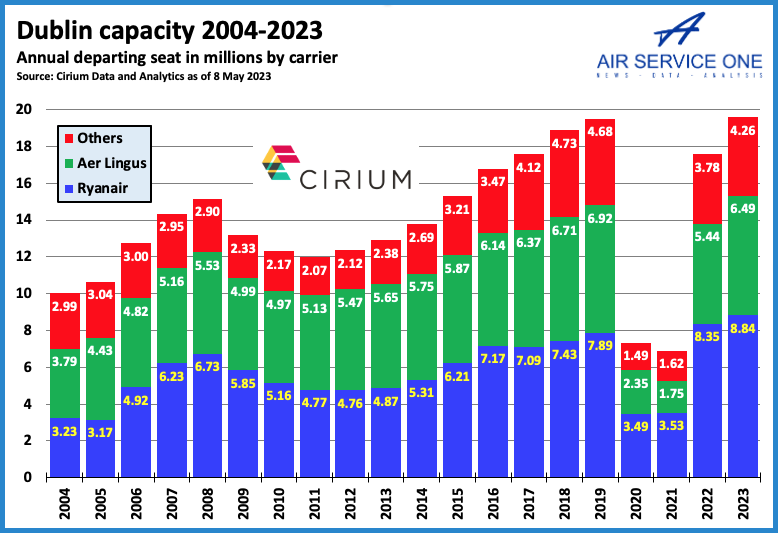 This summer the next biggest carriers in Dublin are British Airways, American, Lufthansa, United and Delta. Carriers present this summer that were not operating in 2019 include Blue Islands, Egyptair, El Al, PLAY and Widerøe. Several carriers have been lost during the same period including Aeroflot, Blue Air, Cathay Pacific, Flybe and Hainan Airlines. At least a couple of these may return at some point in the future.
Traffic up 2% in 2023 Q1
Irish authorities were quite tough in imposing travel restrictions after the start of the pandemic, with traffic only picking up significantly in the third quarter of 2021. By the end of last year demand was almost back to pre-pandemic levels. The latest figures from DAA show that demand in the first quarter of 2023 is just under 2% above the level seen four years earlier. Traffic at the airport peaks in July and August when demand is around 75% higher than in January and February.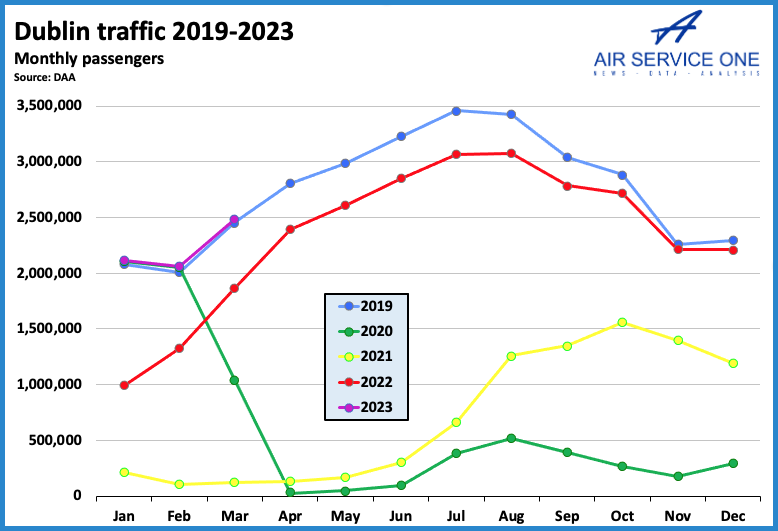 UK is leading country market
Not surprisingly the UK is by far the leading country market for flights from Dublin. With over 1.6 million departing seats in 2023 Q3, it is more than twice as big as the Spanish market. According to Cirium data, capacity is set to be 1.3% higher in the third quarter than in the equivalent period in 2019. Among the top 15 country markets seven have seen an increase in capacity, six have seen a decrease, while two (the UK and Switzerland) are virtually unchanged.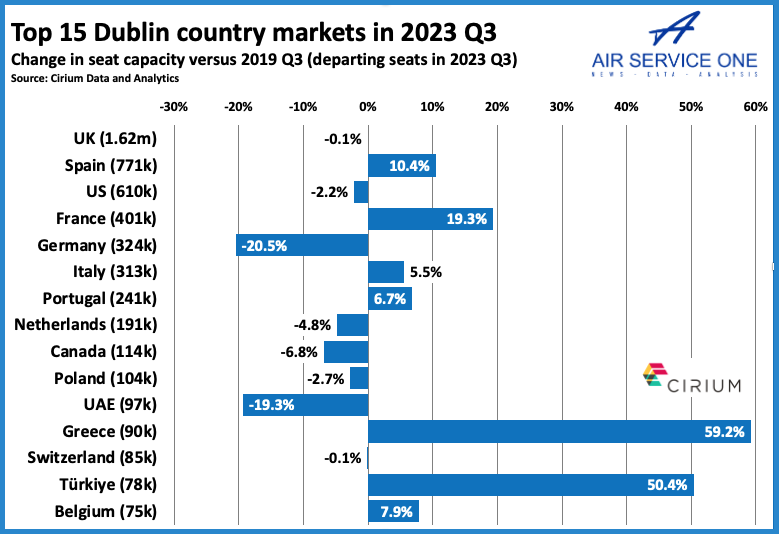 Capacity on flights to Germany and the UAE are still down around 20%. On a positive note, two of the top five country markets, Spain and France, have seen growth of 10% and 19% respectively compared with 2019. Two popular leisure destinations, Greece and Türkiye, have both recorded capacity increases of more than 50%. Egypt is the only new country market added since 2019 thanks to Egyptair's Cairo service which began in June 2022. However, non-stop services to China, Estonia, Hong Kong, Russia and Ukraine are not currently available.
Almost 200 destinations served non-stop
Looking at a route level, London LHR is 50% bigger than any other route, though capacity is down 8% compared with 2019. Nine of the top 20 routes in Q3 are to the UK (shown in red), while there are three each in Spain (orange) and the US (dark blue). There are two routes to Portugal (green) plus the major hubs of Amsterdam, Paris CDG and Frankfurt. Missing from the top 20 are Palma de Mallorca (24th), Dubai (25th) and Alicante (30th). In total almost 190 destinations will be served non-stop this summer, with some other destinations served non-stop only in winter resulting in a total network of almost 200 routes.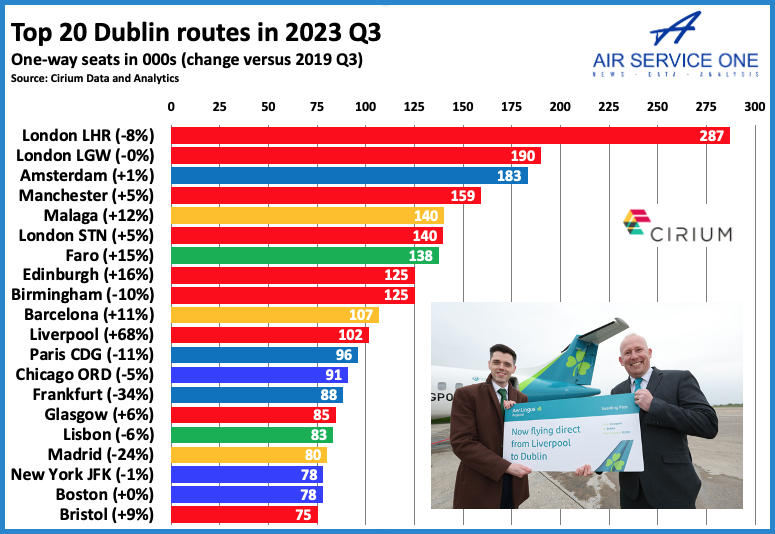 Since the third quarter of 2019 Dublin has seen a significant number of route launches but also route suspensions.
Destinations gained (25): Alghero, Antalya, Asturias, Bergen, Billund, Brest, Brindisi, Cairo, Castellon, Cleveland, Frankfurt HHN, Funchal, Genoa, Guernsey, Iasi, Kosice, Leipzig, Menorca, Nimes, Nuremberg, Olbia, Palanga, Santorini, Trieste and Turin.
Destinations lost (22): Aalborg, Bacau, Beijing, Carlisle, Catania, Doncaster/Sheffield, Halifax, Hamilton, Hong Kong, Kiev, London SEN, Miami, Minneapolis/St. Paul, Montpellier, Moscow SVO, New York SWF, Providence, Pula, Rennes, Shenzhen, Tallinn and Venice TSF.