Düsseldorf grows Middle East network with launch of new Qatar Airways service in time for World Cup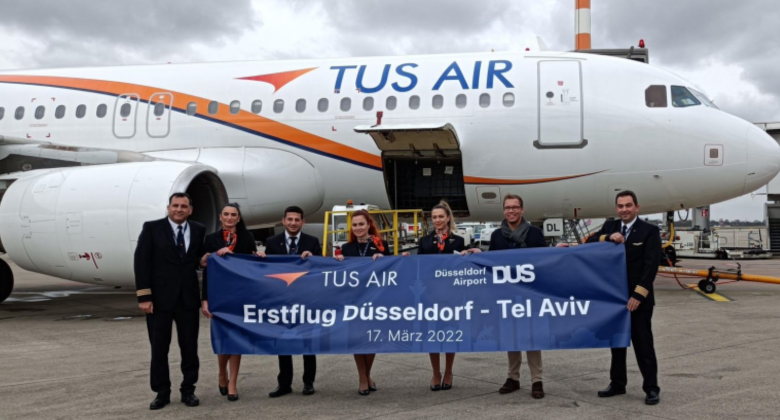 More than 100 European airports have Middle East flights this winter. With 250,000 one-way seats, Düsseldorf ranks 21st, based on Cirium schedules information data. Capacity has risen by a 13% versus W19, helped by the launch of various new routes – including daily service from Doha with Qatar Airways.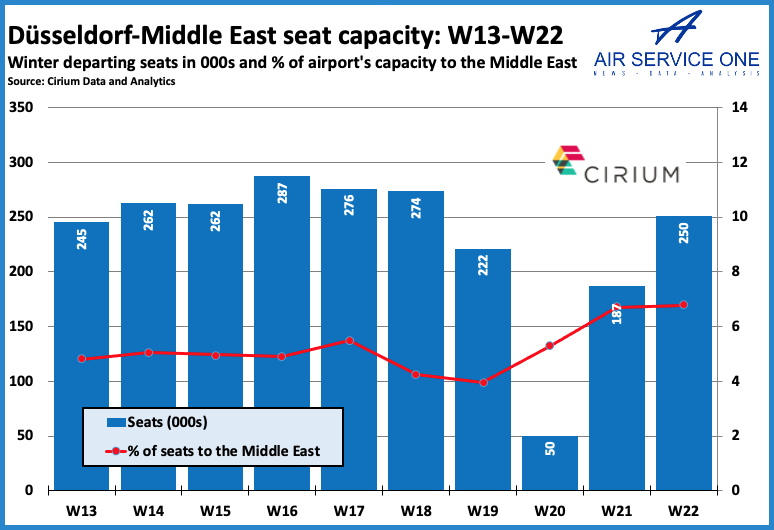 Five new and resuming Middle East routes
While Düsseldorf has had Dubai flights from Emirates for 18 years, it has not been served by Qatar Airways from Doha. Timed to coincide with the start of the football World Cup, the route began on 15 November.
Doha is one of five new and resuming routes. Also notable is Condor to Abu Dhabi. Although they are charter flights, Düsseldorf is again connected to the UAE capital, following the end of Etihad service in September 2020. Like Abu Dhabi and Condor to the UAE, they are driven by tour operators.
1 November: Corendon Airlines Europe to Ras Al Khaimah (3-weekly)
15 November: Qatar Airways from Doha (1-daily)
17 November: Condor to Dubai Al Maktoum (1-weekly); last served by Condor in April 2019
19 November: Condor to Abu Dhabi (1-weekly)
7 December: Condor to Beirut (1-weekly); last served by Condor in January 2022
Düsseldorf 's Middle East winter routes
Aside from Qatar, the UAE and Lebanon, analysis of Cirium and airline websites identify that Düsseldorf also has departures to Israel and Iraq. There is a big focus, whether by German or Middle East carriers, on the diaspora in Germany's populous state of North Rhine-Westphalia.
Abu Dhabi: Condor
Baghdad: Iraqi Airways (via Erbil)
Beirut: Condor, Eurowings, Middle East Airlines, Sundair
Doha: Qatar Airways
Dubai: Emirates, Condor
Erbil: Eurowings, FlyErbil, Iraqi Airways, UR Airlines
Ras Al Khaimah: Corendon Airlines Europe
Sulaymaniyah: Condor
Tel Aviv: TUS Airways
Because of the large Iranian population in this part of Germany, Düsseldorf had Tehran flights for decades, but these ended in 2021. They remain at nearby Cologne.
Where is the US?
While Düsseldorf has in the past decade had winter US flights to Atlanta, Chicago, Fort Myers, Los Angeles, Miami, New York JFK and Newark, it has none this winter – quite a contrast to its growing Middle East network.