Düsseldorf is dominated by Eurowings but Condor and Corendon are growing in S22; US routes lost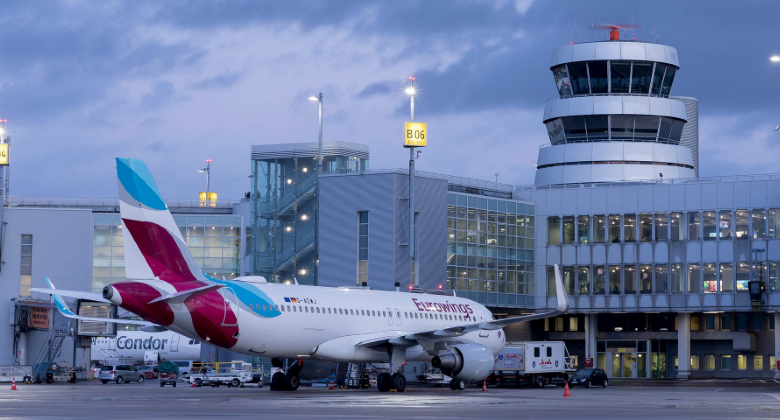 With 25.5 million passengers in 2019, Düsseldorf Airport was Germany's third busiest airport that year. However, with the opening of the new airport in Berlin (which in effect combined the traffic from Schönefeld and Tegel), Düsseldorf slipped to fourth in Germany in 2020 and 2021. Last year, the airport welcomed almost eight million passengers, 21% more than in 2020, but still almost 70% fewer than in 2019.
Since airberlin's collapse in late 2017, Lufthansa's in-house, low-cost subsidiary Eurowings has been the biggest carrier at the airport. Lufthansa still serves the airport, but only with flights to its main hubs at Frankfurt (5-daily this summer) and Munich (up to 19 daily flights this summer). Between them, Eurowings and Lufthansa have been accounting for between 40% and 50% of seat capacity at the airport in recent years.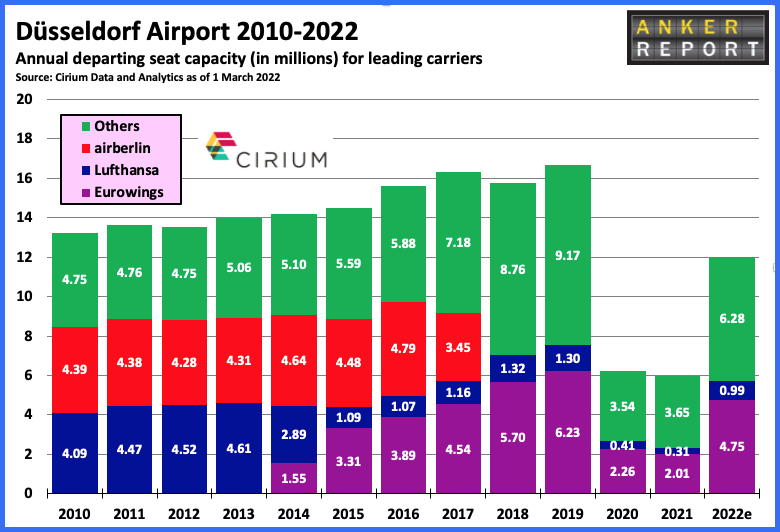 Condor and Corendon growing leisure capacity
This summer (April to October) seat capacity is down around 20% compared with S19, but the figure for individual airlines varies significantly. Eurowings (down 9%) and Lufthansa (down 12%) have done slightly better than the average, while TUIfly Deutschland (down 17%) and British Airways (down 17%) are close to the average. However, leisure airlines Condor (+14%) and in particular Corendon (+474%) have increased capacity significantly. The latter opened a base at the airport in 2021.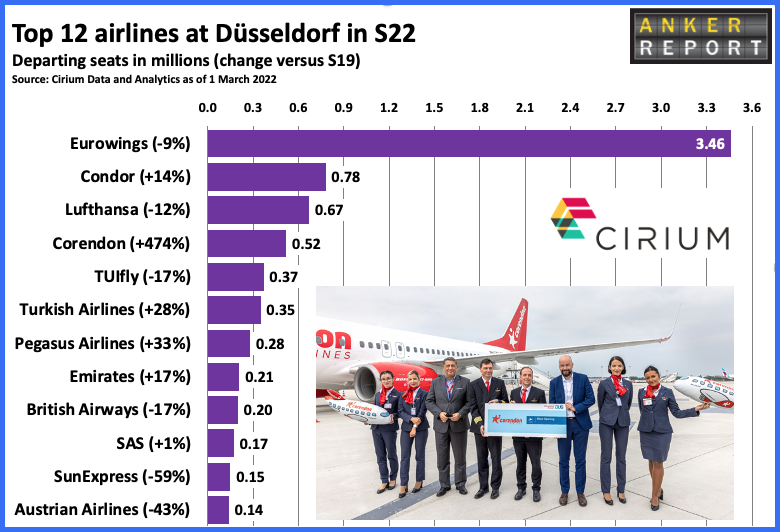 Notably absent from these rankings are easyJet, Flybe, Lauda/Ryanair and SunExpress Deutschland which were all among the airport's top 20 airlines by seats in S19. Having acquired Lauda, Ryanair was offering flights to 16 destinations in the summer of 2020, but suspended all routes at the end of October 2020. easyJet, which had been offering flights from its bases at London LGW and Berlin TXL prior to the pandemic, no longer operates either route.
Palma is #1 for seats
The airport's busiest route for traffic this summer looks likely to be Palma de Mallorca, which has seen an impressive 9% increase in capacity since 2019. Eurowings accounts for two thirds of the capacity on this route, with Condor, Corendon and TUIfly all offering passengers an alternative. Among the top 10 destinations, apart from Palma de Mallorca, capacity has also been increased compared with S19 to Dubai (served by Emirates), Heraklion and Istanbul SAW.
The leading domestic routes, shown in grey, have all seen significant cuts, though the key routes to Lufthansa's global hubs have fared better than other domestic routes which rely more on point-to-point traffic. Three of the top 10 routes are in Turkey (shown in red) with Istanbul SAW capacity up over 30%, while Antalya and Istanbul IST have seen seats cut by over 30%.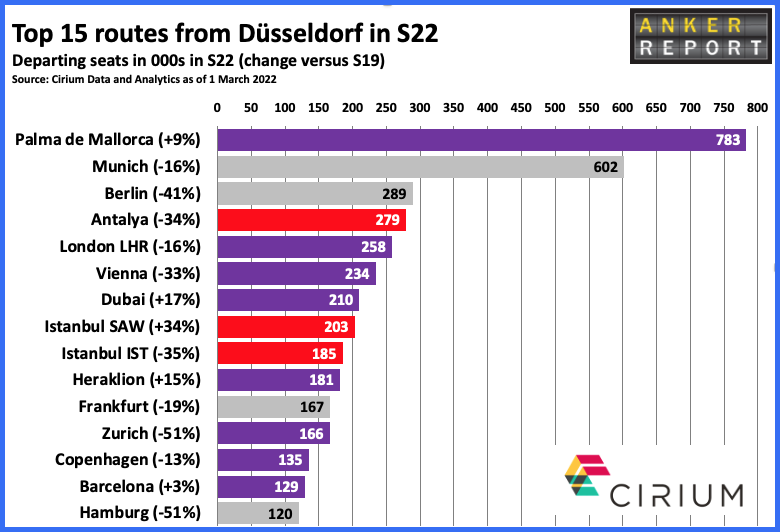 According to analysis of Cirium data, new destinations available on non-stop flights in S22 that were not available in S19 include Bolzano, Cairo, Chisinau, Fez, Gdansk, Santorini and Tbilisi. The list of destinations no longer served (at least right now) is rather longer and includes domestic routes (Friedrichshafen, Leipzig, Nuremberg and Stuttgart), international routes to Europe (Basel, Bordeaux, Florence, Glasgow, Leeds Bradford, London LGW and Nantes) and long-haul routes (Abu Dhabi, Atlanta, Bangkok, Beijing, Miami, New York EWR and Singapore).
Spain is #1, Greece is up 30%, US routes have all gone (for now)
Looking at capacity data by destination country for 2022 Q3, overall capacity across all countries is set to be down 17% compared with the same period in 2019. However, the popular Spanish market is down just 1%, while five of the top 15 markets are actually showing an increase at present, including favourite leisure destinations Croatia (+35%), Greece (+30%) and Portugal (+23%). Countries served three years ago but not yet in 2022 Q3 include China, Cuba, Dominican Republic, Japan, Mexico, Singapore and Thailand.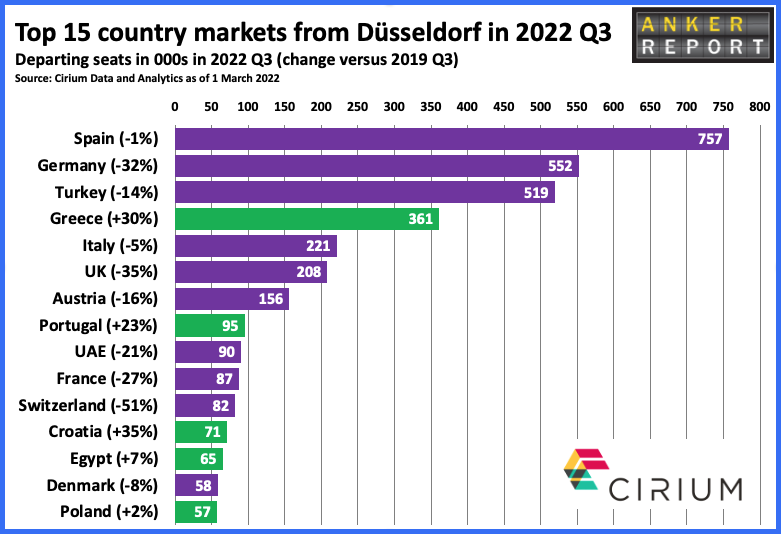 The significant US market has also disappeared from Düsseldorf, at least for now. Eurowings previously served Fort Myers, Las Vegas, Miami, New York EWR and New York JFK, while Delta had flights from Atlanta. None of these are set to operate this summer, which may represent an opportunity for some other carrier(s).