Dutch Transavia now much smaller than Transavia France; still planning almost 130 routes in S23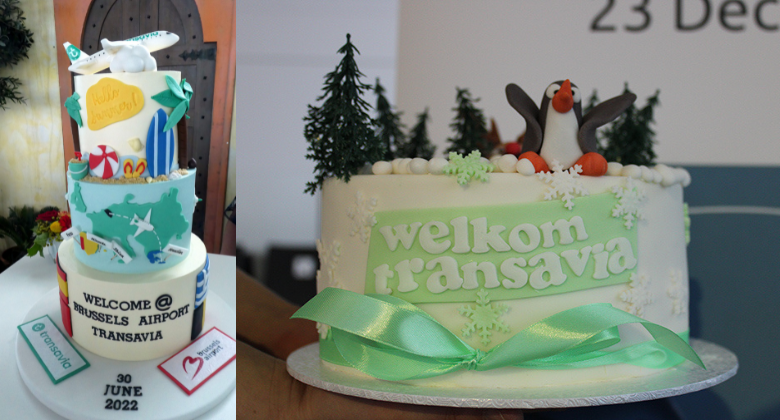 A subsidiary of Air France-KLM, Transavia has grown significantly. This summer, it has 9.56 million one-way seats, up by an astonishing 52.3% versus S19 and 9.5% over the previous record. In comparison to S19, it has grown much quicker than other European LCC subsidiaries Vueling (5.4%) and Eurowings (-14.5%), although these remain much bigger by absolute capacity.
Transavia comprises two units: the original Netherlands operation (IATA code HV) and Transavia France (TO). The considerable growth was because of the French unit. According to Cirium schedules information data, one-way seats have more than doubled versus S19, with 3.2 million added. In comparison, the Dutch unit grew much more modestly: +3.8%, +132,000. While the gulf between them had been narrowing, Transavia France became the larger entity in S21, since when its lead has only increased. Nonetheless, the original carrier still has a vital role to play.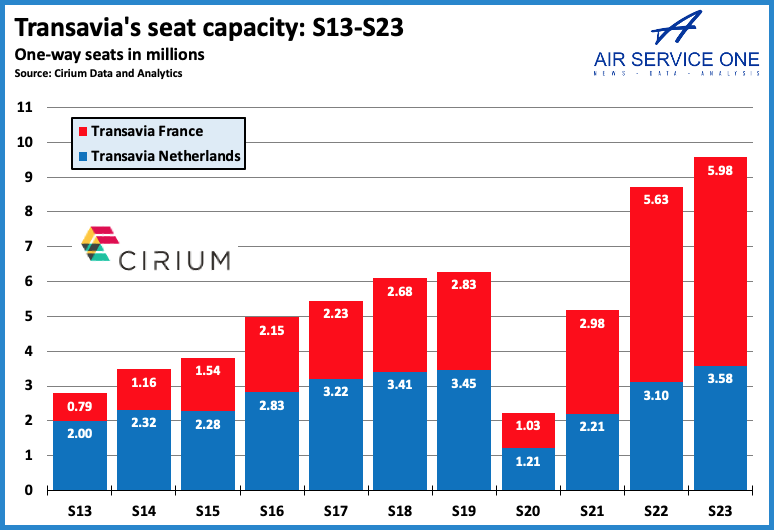 It is worth recalling that Transavia has ventured outside of its home territories in the past. In December 2008 it opened a base at Copenhagen shortly after the collapse of Sterling. Transavia offered a total of 17 routes before closing the base less than a year later in August 2009. Another failed experiment was its decision to open a base in Munich in March 2016. This time operations last 19 months until the end of the S17 season. Over 20 destinations were served during the three seasons the carrier was in Bavaria.
Amsterdam is still number one, but it has declined
Transavia (HV) has 37% of the pair's seat capacity this summer, down from 55% in S19 and 72% a decade ago. Given Maastricht exited its network in 2015 and Groningen in 2020, it now serves four airports in the Netherlands and Belgium. Amsterdam has fewer seats this summer than in S19 (-0.7%), while Rotterdam (+6.1%) and Eindhoven (+5.5%) are at record levels. Brussels was not part of Transavia's network in 2019.
Amsterdam: 53.7% of Transavia (HV) capacity; 57 routes
Eindhoven: 23.2%; 27 routes
Rotterdam: 20.4%; 36 routes
Brussels: 6%; 8 routes
With 8 in 10 seats, Transavia is solidly dominant at Rotterdam and almost ten times bigger than number two, BA CityFlyer. It is the second biggest carrier at Eindhoven, behind Ryanair, and the third largest at Amsterdam, trailing KLM and easyJet.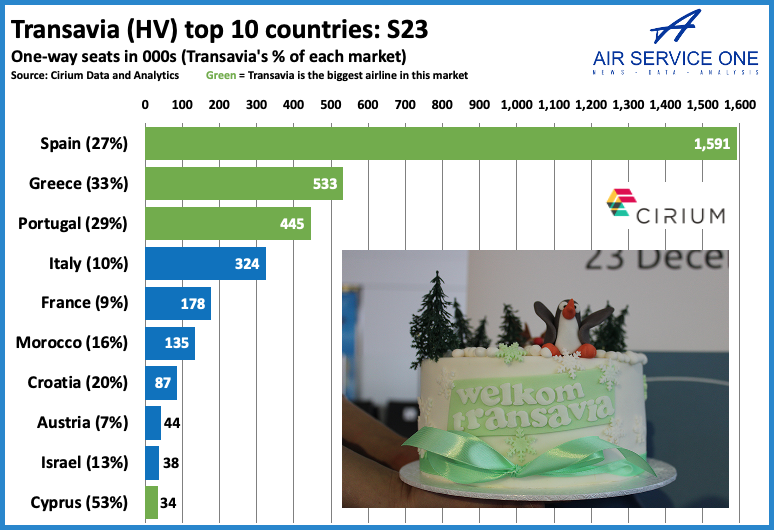 128 routes, including Dubai
Transavia has 128 routes from the Netherlands and Belgium this summer, encompassing 20 countries. With 44.4% of capacity, Spain is very much its top nation, with 16 destinations served. It is followed by Greece (14.9%, 14 airports) and Portugal (12.4%, five). Transavia's top 15 routes are only to these three countries, as shown in the following figure.
Its 128 routes involve 80 destinations. These include Dubai, which it has served since 2012. While it normally operates to Dubai DXB, it will temporarily fly 4-weekly to Al Maktoum instead from 26 March until 17 April. It will use 189-seat 737-800s on the 5,190-kilometre route, which stops in Budapest to refuel inbound to Amsterdam.
While Transavia's routes obviously revolve around tourism, VFR markets are important too. For example, it has seven routes to Morocco, including Amsterdam to Casablanca and Rotterdam to Al Hoceima and Nador, while elsewhere it serves Riga, Beirut and Amman from Amsterdam.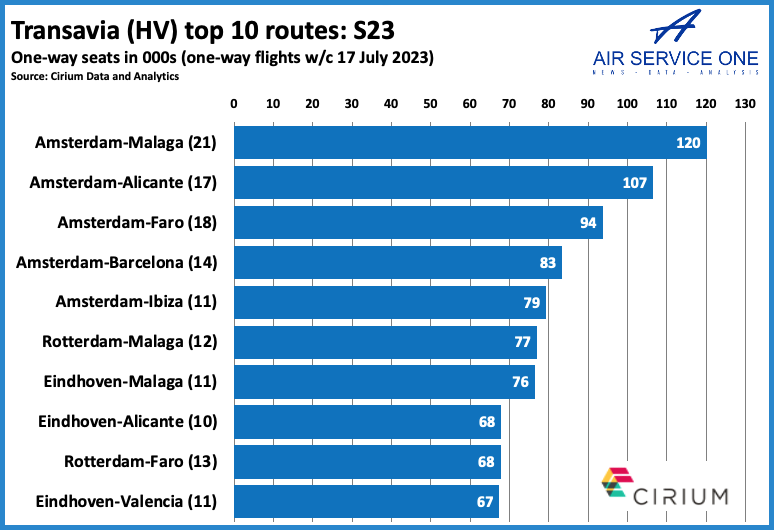 17 routes introduced
Between the start of 2022 and the upcoming summer season, Transavia has started, or will begin, the following routes. A few of these were previously operated several years ago. Of the 17 routes, seven are from Brussels, five are from Amsterdam, three from Rotterdam and two from Eindhoven. It will be the only airline on five of them this year, as indicated with an *.
31 March 2022: Amsterdam-Riga (3)
31 March 2022: Rotterdam-Edinburgh (3)
31 March 2022: Rotterdam-Milan BGY* (3-weekly)
1 April 2022: Eindhoven-Bilbao* (3)
22 April 2022: Amsterdam-Kefalonia (1)
22 April 2022: Rotterdam-Bastia* (2)
24 April 2022: Amsterdam-Ponta Delgada (1)
30 June 2022: Brussels-Alicante (5)
30 June 2022: Brussels-Faro (4)
1 July 2022: Brussels-Ibiza (4)
2 July 2022: Brussels-Heraklion (2)
31 October 2022: Brussels-Tenerife TFS (2)
1 November 2022: Amsterdam-Hurghada (1)
2 November 2022: Amsterdam-Sharm El-Sheikh (2)
21 December 2022: Brussels-Salzburg* (2)
30 March 2023: Eindhoven-Bordeaux* (4)
29 April 2023: Brussels-Zakynthos (1)