easyJet and Ryanair route churn at UK airports compared; over 1,900 routes offered 1,100 still going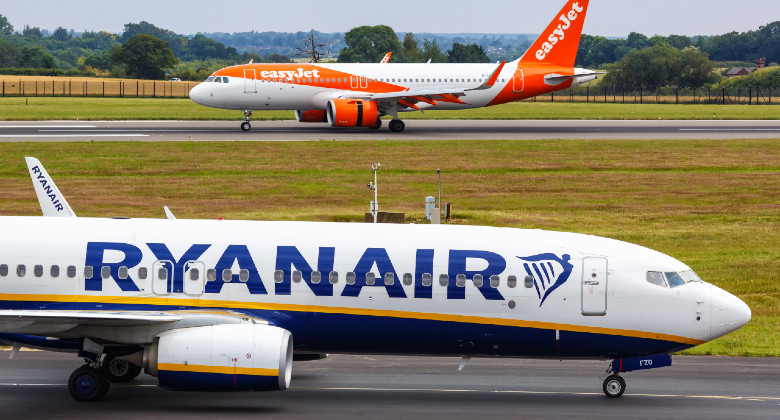 Latest schedule data for this summer (April to October) indicates that Ryanair is planning to operate around 20% more flights than it did in the same period in 2019. Europe's second biggest (U)LCC, easyJet, has not quite recovered to the same extent with flights still set to be down 6% and seats around 4% compared with three years ago.
Looking specifically at the UK market, Ryanair's flights are virtually unchanged from S19 while easyJet's flights are up 2%. One thing both carriers have in common is that their biggest base anywhere is in London with Stansted being Ryanair's busiest airport and Gatwick being number one for easyJet. In easyJet's case, Gatwick is more than twice as busy as the airline's second busiest airport, Milan MXP. It is also worth noting that Europe's third biggest (U)LCC, Wizz Air, also has its biggest base in London, ironically at Luton, where easyJet still has its head office.
Route churn a way of life for (U)LCCs
One of the defining characteristics of (U)LCCs is their willingness to try new routes and their ruthlessness in dropping them again if they fail to deliver satisfactory financial results. In this analysis we take a look at easyJet and Ryanair's route churn (or route reliability) at UK airports. Using Cirium schedule data that goes back to 2004, we compare the number of routes each carrier is planning to operate from its UK airports in 2022, with how many routes it has operated from those airports since 2004. If no routes have ever been dropped then that would mean that the airline is operating 100% of the routes ever tried. If, however, it started 10 routes but is only still operating seven of those routes (having dropped three), then its percentage figure would be 70%. These are the percentage figures shown in the graphs below.
Ryanair has operated over 1,000 routes from UK airports
This year Ryanair is currently planning to operate 584 routes from 20 UK airports. Since 2004 it has offered a total of 1,076 routes from 27 UK airports. Therefore, it is operating 54% of all UK routes it has flown in the last 18 years. The seven UK airports from which it has (currently) withdrawn all services are Belfast BFS, Belfast BHD, Blackpool, Doncaster/Sheffield, Humberside, Inverness and London SEN. Of these, London SEN, which opened as a base in 2019, had Ryanair flights to 19 destinations. The two Belfast airports have also both seen Ryanair offer flights to more than a dozen airports across Europe.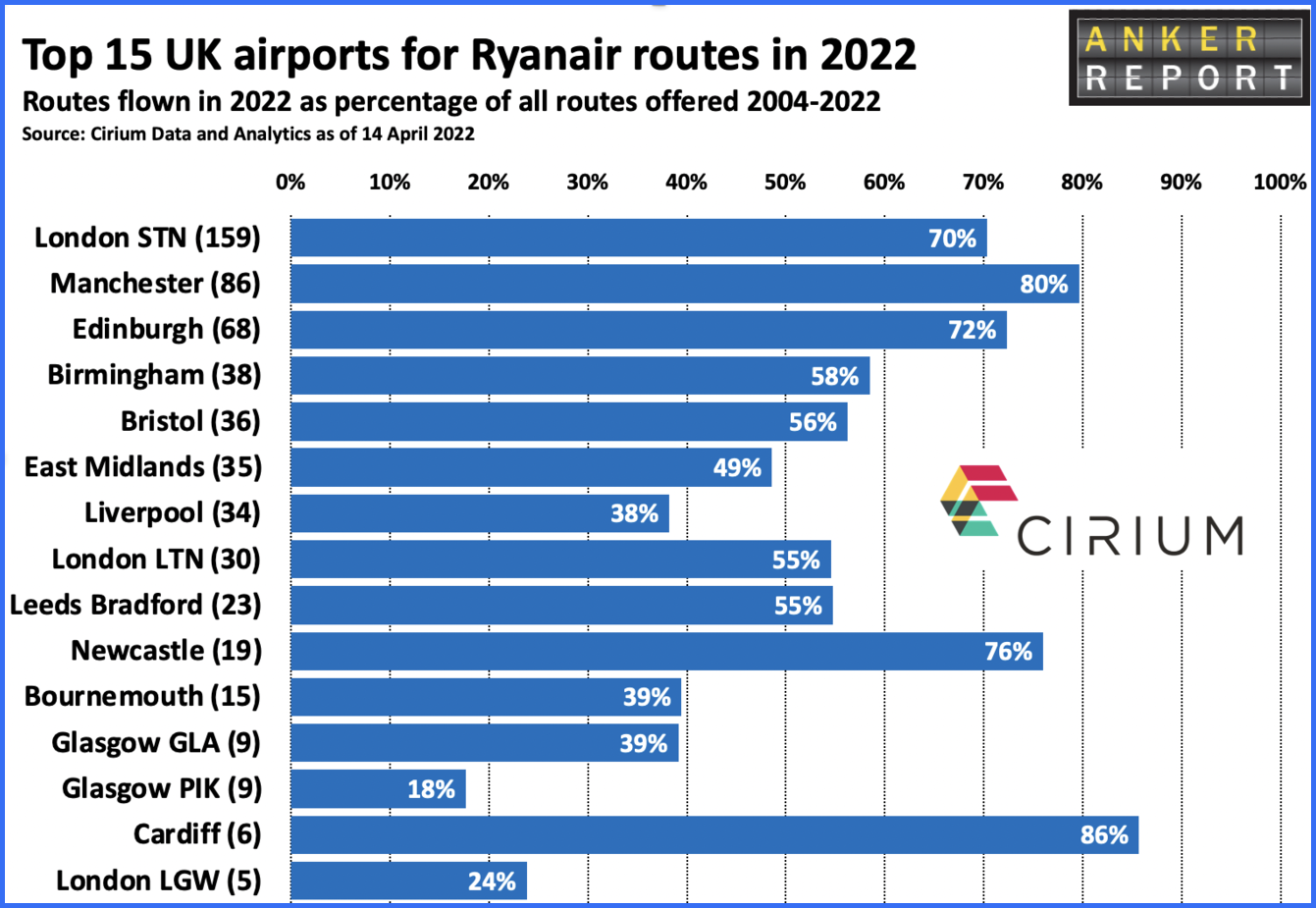 Ryanair's three biggest UK bases at London STN, Manchester and Edinburgh have all recorded a route reliability rate of between 70% and 80%. For most of the airline's other leading airports, this figure is more typically between 40% and 60%. A notable exception is Newcastle, which has just become a Ryanair base and therefore many of the routes have only started this year. However, what the data for the other airports suggests is that several of these new Newcastle routes may not survive in the longer term.
easyJet still serving 22 of 23 UK airports
This year easyJet is currently planning to operate 496 routes from 22 UK airports. Since 2004 it has offered a total of 821 routes from 23 UK airports. Therefore, it is operating 60% of all UK routes it has flown in the last 18 years. The only UK airport from which it has (currently) withdrawn all services is Doncaster/Sheffield, from where it once served six destinations in Europe (Amsterdam, Barcelona, Faro, Geneva, Palma de Mallorca and Prague).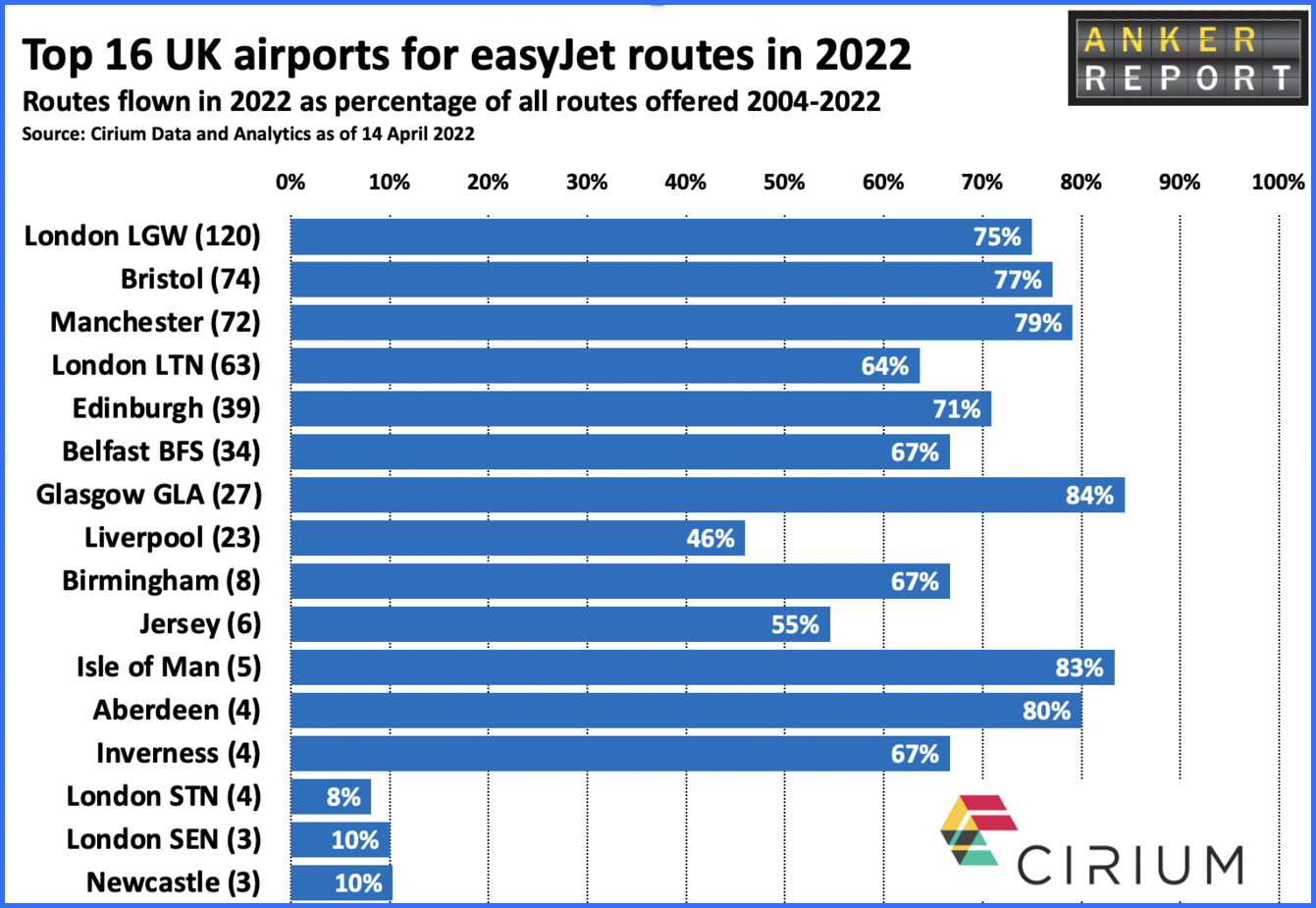 As with Ryanair, easyJet's top three UK airports at London LGW, Bristol and Manchester also have a route reliability of between 70% and 80%. However, where easyJet outperforms Ryanair is among its second tier UK airports where the route reliability is between 60% and 85%, with the exception of Liverpool which is at 46%. Conversely, easyJet has been more ruthless at completely closing down several UK bases, notably London SEN, London STN (which it inherited after it acquired Go in 2002) and Newcastle, which it opened as a base in 2003 but which this year has just three easyJet routes, to Belfast BFS, Bristol and Palma de Mallorca.
Back in 2004, Stansted was easyJet's second biggest UK base (behind Luton) with Gatwick in third place. How times have changed. In total, easyJet has offered service on almost 50 routes from Stansted. This summer, easyJet still ranks as Stansted's third biggest carrier (behind Ryanair and Jet2.com) with its four routes to Amsterdam, Belfast BFS, Edinburgh and Glasgow, but these routes only account for less than 4% of the airport's summer seat capacity.