easyJet capacity in Scotland down just 3% in 2022 versus 2019; has added 10 new routes this year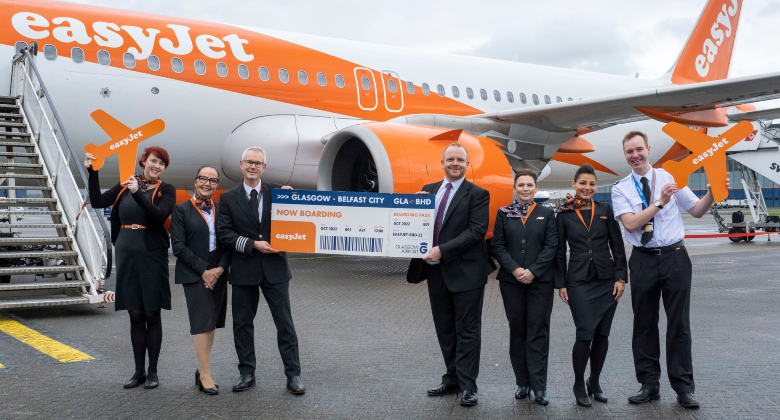 The inaugural easyJet flight on 10 November 1995 was between London LTN and Glasgow GLA in Scotland. Five days later it launched service between Luton and Edinburgh. This highlights the importance of Scotland to easyJet in its early days. Since then both Glasgow GLA and Edinburgh have become bases for the LCC. According to analysis of Cirium schedules data for 2022, Edinburgh is easyJet's 13th busiest airport with Glasgow GLA 19th based on annual seat capacity. easyJet's presence in Scotland expanded in 1996 to include Aberdeen and Inverness. Between 2010 and 2019 easyJet's Scottish capacity increased by 46%. This year the airline's capacity is set to be only 3% lower than in 2019.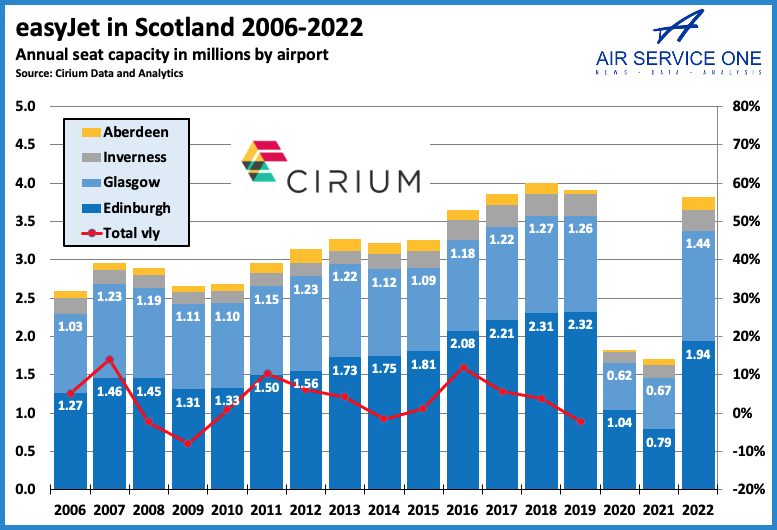 Over 50 routes from Edinburgh and more than 30 from Glasgow
Since 1995 easyJet has flown over 50 routes from Edinburgh of which 37 were operated this summer. From Glasgow GLA it has tried over 30 routes of which 23 were operating this summer. This year has seen the airline launch several new routes from Scotland (weekly frequency when launched):
27 March 2022: Glasgow – Barcelona (3)
2 May 2022: Edinburgh – Malaga (3), Edinburgh – Rhodes (2)
27 June 2022: Glasgow – Pula (2), Inverness – Manchester (3)
29 June 2022: Glasgow – Chania (2)
30 June 2022: Edinburgh – Corfu (2), Edinburgh – Kefalonia (2)
31 October 2022: Glasgow – Belfast BHD (3)
8 November 2022: Glasgow – Agadir (2)
Of the 10 new Scottish routes launched this year four were to Greece, two to Spain and one each to Croatia, England, Morocco and Northern Ireland. As a result, looking at the leading international country markets by seats in 2022 versus 2019 reveals that Greece has seen the biggest percentage increase. Overall, international routes only account for one-third of easyJet's Scottish seat capacity with domestic routes accounting for two-thirds.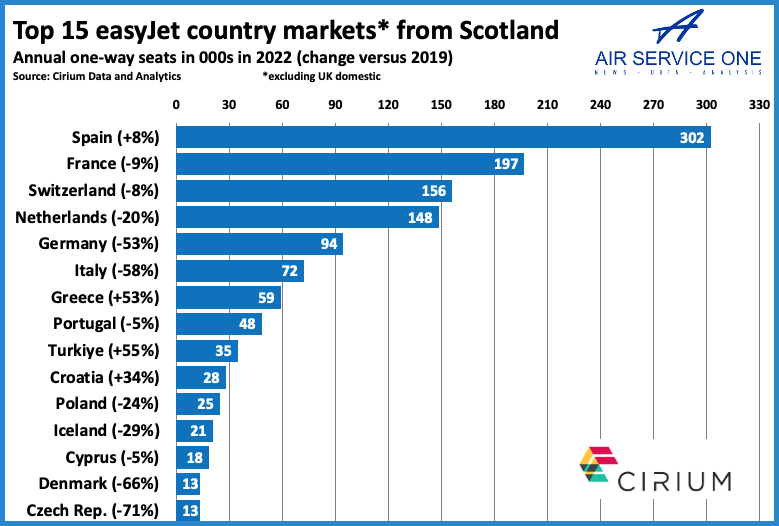 Routes to Gatwick lead the way
Analysis of schedule data in the peak summer period of August, reveals that the top two routes for weekly ASKs (Available Seat Kilometres) this summer were domestic routes to London LGW. In fact, six of the top 15 routes for ASKs are domestic (shown in pale blue). Two of the leading domestic routes are to Bristol, which easyJet acquired when it bought British Airways's low-cost subsidiary Go way back in 2001/2002.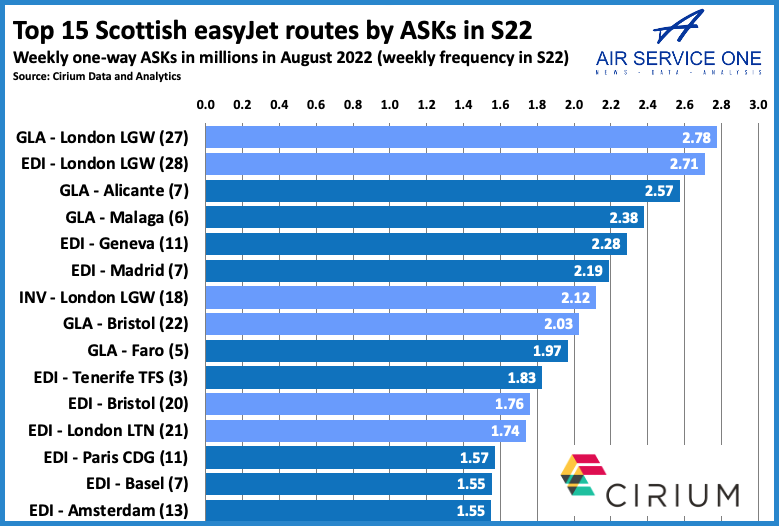 Of the nine international routes in the top 15, four are to Spain, two to Switzerland and one each to France, the Netherlands and Portugal. Looking ahead, easyJet has not currently revealed plans for any new routes from Scotland in 2023.