easyJet capacity still down 23% in November versus 2019; Lisbon and Birmingham top growth rankings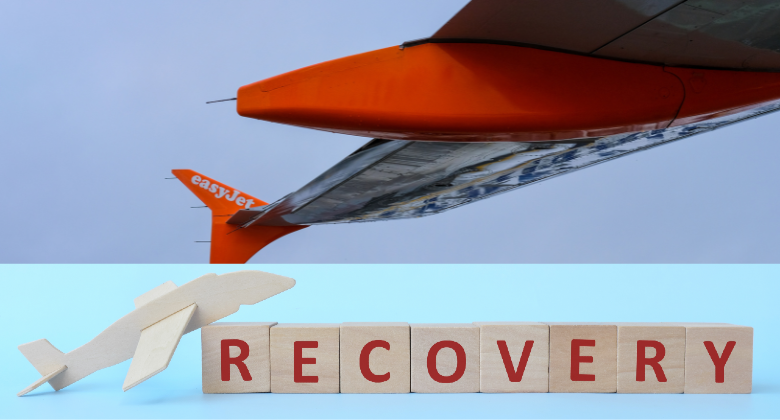 As revealed in last week's lead story, both easyJet and Ryanair are currently seeing significantly lower capacity recovery figures for November 2022 than for August 2022 (when compared with the same months in 2019). However, while Ryanair's November capacity is still 13% higher than in 2019, analysis of Cirium schedule data shows that easyJet is currently planning to offer around 23% fewer seats in November than it did three years previously. Maybe surprisingly, this ranks it just 15th for recovery rate among Europe's 20 biggest airlines, ahead of only Finnair, ITA Airways/Alitalia, Norwegian, SAS and SWISS.
Despite this, easyJet has increased the number of weekly flights it offers from a number of airports compared with November 2019. This obviously includes any airports it was not serving at that time, such as Belfast BHD, Dalaman, Enfidha, Leeds/Bradford, Milan BGY, Paris BVA, Porto Santo, Sharm el-Sheikh, Skopje and Toulon. However, the biggest increase in flights is happening in Lisbon, where easyJet was awarded additional slots as a result of an agreement allowing the Portuguese government to financially support its flag-carrier, TAP Portugal. As a result, easyJet will be operating 47 more weekly departures from the Portuguese capital in November compared with 2019. These additional slots have enabled easyJet to launch nine completely new routes and resume service on five routes it has not operated for several years. The nine new routes are Birmingham, Fuerteventura, Gran Canaria, Marrakech, Marseille, Milan BGY, Paris BVA, Rennes and Tenerife TFS. The five resumptions are Barcelona, Bilbao, Toulouse, Valencia and Zurich.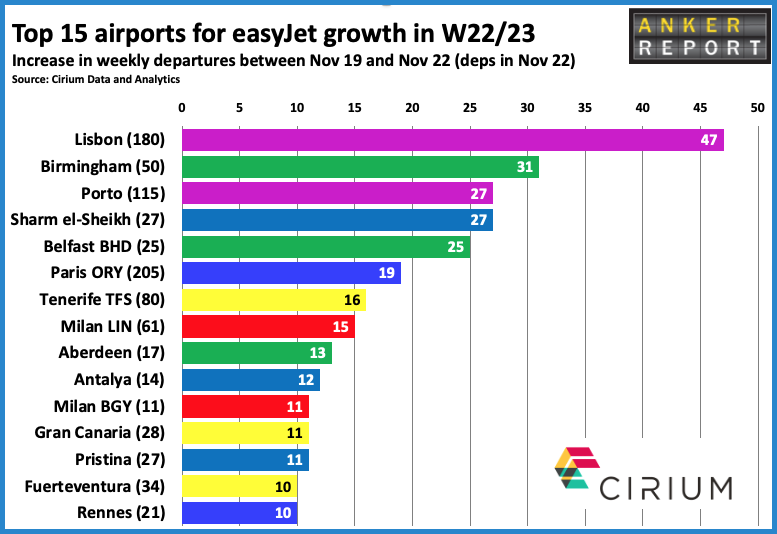 Birmingham ranks second for additional weekly flights, with an increase of 31 to 50. Compared with 2019, easyJet has added flights to Edinburgh and Glasgow (following the collapse of the original Flybe), Amsterdam and Lisbon. Two other UK airports (shown in green) also make the top 15, while three Spanish (yellow), two French (Blue) and two Italian airports (red) also feature.
Massive cutbacks in Germany
At the other end of the scale, the city with the biggest reduction in flights is Berlin. With Schönefeld and Tegel having been replaced by the new Berlin airport, easyJet has cut its weekly departures from 599 to 197, a drop of 402 weekly flights. Maybe surprisingly, it is still the leading airline at Berlin this November in terms of flights, though Ryanair is slightly bigger as measured by seat capacity. easyJet has also stopped all flying from six other German airports; Cologne/Bonn, Dortmund, Dresden, Düsseldorf, Frankfurt and Stuttgart. Overall, easyJet has cut its German flights by 74% in the last three years.
Many of the airline's busiest bases have also seen significant cuts, including Amsterdam, Belfast BFS, London LGW, London LTN and Milan MXP. Among the airline's busiest airports, Geneva and Manchester have seen the fewest cuts, while Paris ORY has even seen some growth.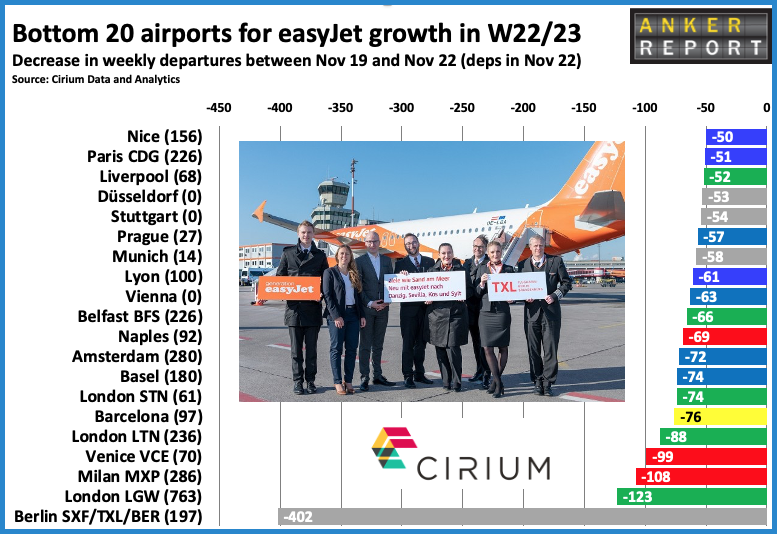 Another airport from which easyJet has withdrawn completely is Vienna. Back in November 2019, it was operating flights to the Austrian hub from 11 airports, including five in the UK. Ryanair has firmly established itself as the dominant (U)LCC in Vienna, offering almost twice as many flights as Wizz Air and Eurowings combined.