easyJet opens seasonal base in Malaga with 14 routes served this summer; Birmingham from July is only new route planned so far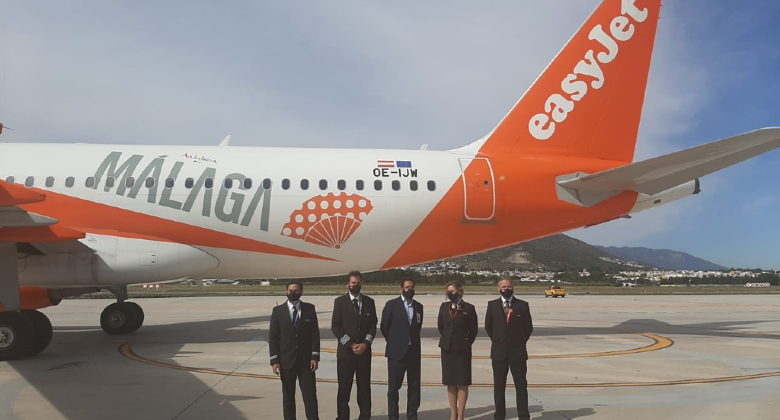 Malaga has become a seasonal base for easyJet. Although this happened operationally on 1 June, the event was not celebrated until one week later. According to the airline, Malaga has welcomed more easyJet passengers than any other airport that is not already an easyJet base. It joins Barcelona (year-round) and Palma de Mallorca (also summer only since 2017) as the airline's third Spanish base. Readers with long memories may recall that Madrid was also an easyJet base between February 2007 and October 2012.
First Malaga services launched from UK in 1999
easyJet first began serving Malaga way back in 1999 from both Liverpool and London LTN. In 2002 it started service from London LGW and also inherited routes from Bristol, East Midlands and London STN when it acquired British Airways' in-house LCC Go. Newcastle and Belfast BFS links were added in 2003 and 2004 respectively, before launching routes from its Swiss bases in Basel and Geneva in 2005. In 2006, connections from Berlin SXF, Dortmund, Glasgow GLA and Milan MXP were added. Manchester service commenced in 2007, followed by Paris CDG in 2010, London SEN in 2012, Amsterdam in 2016, Toulouse in 2017 and, most recently, Porto in 2019.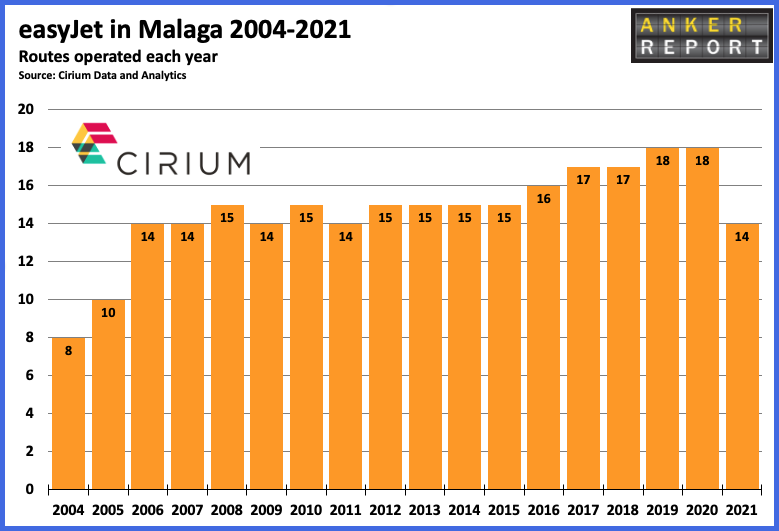 Routes dropped for this summer include London SEN, London STN, Newcastle, Porto and Toulouse. However, Toulouse is currently bookable from March 2022. So far, the opening of the base has yielded only one new route for this summer, Birmingham in the UK. This 2-weekly service (Tuesdays and Saturdays) was set to launch in June. However, the airline's website is currently showing the first flight as happening on 24 July.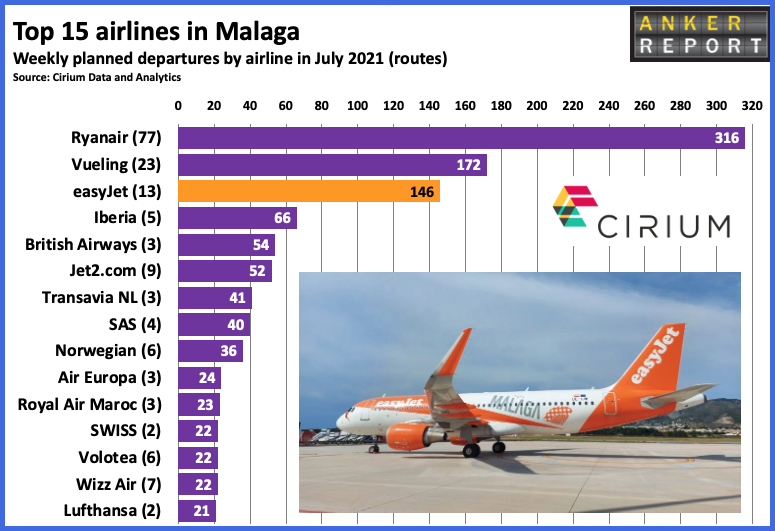 This summer, easyJet appears likely to be Malaga's third biggest airline, well behind Ryanair but not far off Vueling. By the middle of July, easyJet will be operating 13 of its 14 planned routes for this summer with Milan MXP service currently set to resume at the end of July. Further changes are possible, especially given the uncertainty around travel restrictions from the UK to Spain.