easyJet, Ryanair and Wizz Air: leading country markets for each carrier in December 2021 revealed
As the Omicron variant threatens to create additional uncertainty around the demand for air travel this winter, we take a closer look at Europe's three biggest low-cost carriers; easyJet, Ryanair and Wizz Air. In particular, we examine their leading country markets in December 2021 and how this compares with the pre-pandemic month of December 2019. First of all, let's take a look at which are Europe's biggest (U)LCCs based on planned flights from European airports in December.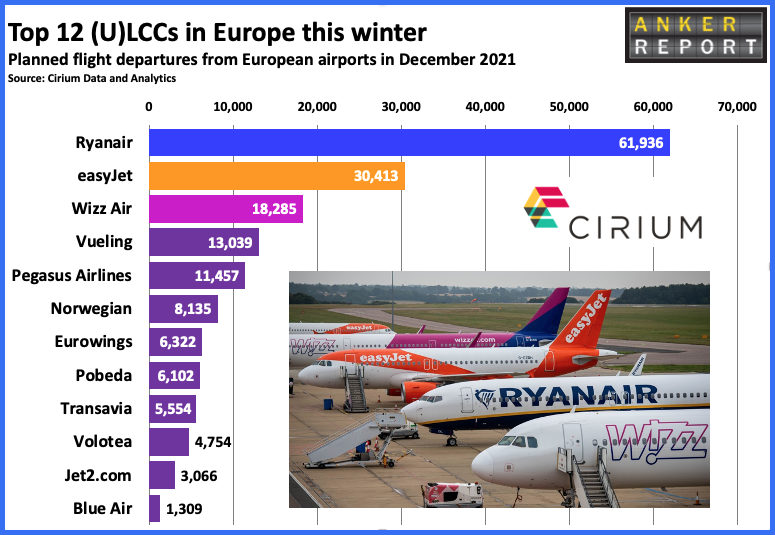 The top three are indeed Ryanair, easyJet and Wizz Air, with Vueling ranked fourth and Pegasus Airlines fifth. What is impressive is that Ryanair is offering as many flights as the next three biggest (U)LCCs combined. Yes, you would have to merge easyJet, Wizz Air and Vueling (all airlines operating Airbus aircraft) to match the size of Ryanair this winter.
Ryanair: Italy, Spain and UK are biggest markets this winter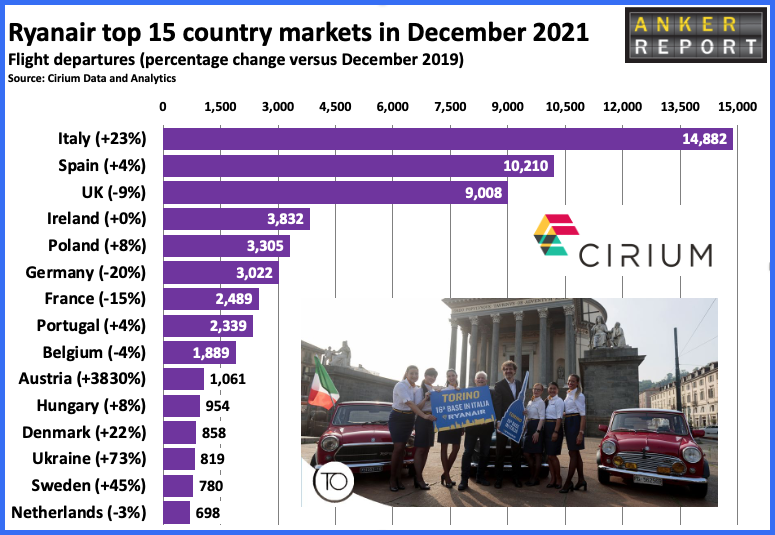 Ryanair is currently looking at operating 5% more flights this December than it did in 2019, though this may still change. Italy is Ryanair's leading country market with almost 15,000 flights planned in December. It is almost 50% bigger than the Spanish market and over 60% bigger than the third-ranked UK market. All other country markets, including the airline's home market of Ireland, are a long way behind these top three.
Among the airline's top 15 country markets, nine have grown compared with December 2019, with the leading Italian market seeing the biggest increase in the actual number of flights (up almost 3,000), ahead of Austria (up just over 1,000) and Spain (up 400). The biggest reduction (hopefully temporarily) is to Morocco, as a result of the country basically banning all international flights in December. Ryanair recently confirmed that it would not be resuming service to Morocco before February.
easyJet: UK, France and Italy are top three markets in December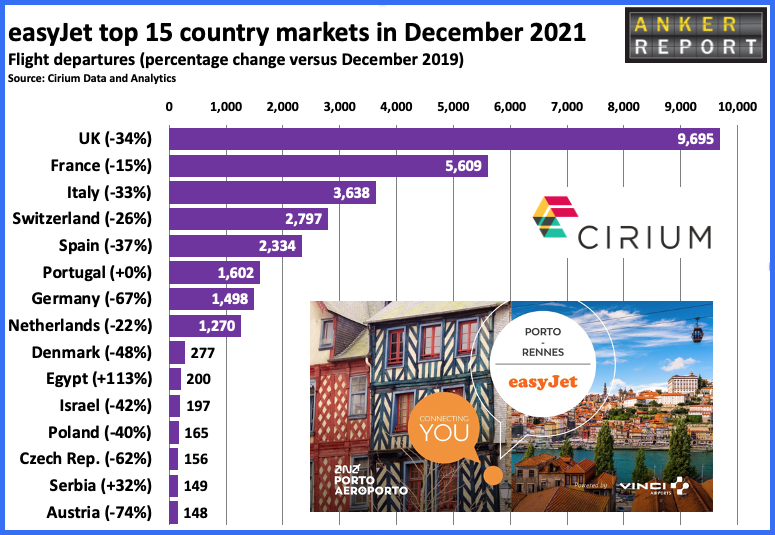 The depressed (emotionally and mathematically) UK market remains easyJet's biggest with almost 10,000 flights planned for December. That makes it over 70% larger than the second-ranked French market. With planned flights down 33% in December, it's little wonder that there are few country markets that have seen growth. Among the eight biggest markets (those with at least 1,000 flights in December), Portugal has done best as the number of flights has not changed compared with December 2019.
However, the UK market is down by almost 5,000 flights (or 34%), while Germany is down over 3,100 flights (or 67%). Among smaller markets, Egypt is up 113% (from 94 flights to 200) and Serbia up 32% (from 113 to 149 flights). Compared with December 2019, easyJet has added North Macedonia as a new country market, but lost Estonia and Norway, at least for now. Not surprisingly, easyJet has also taken a hit in the Moroccan market with a loss of over 400 flights.
Wizz Air: Italy now clear #1 ahead of UK, Romania and Poland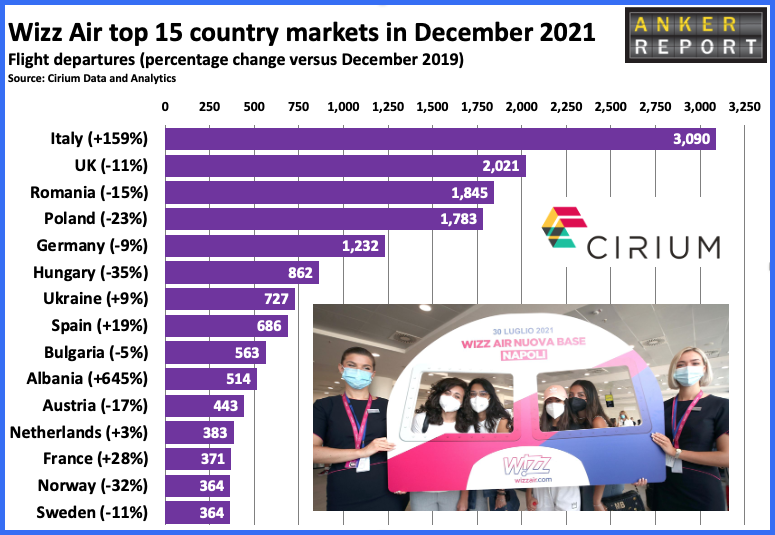 Wizz Air's planned December flights are currently around 2% higher than in 2019. While the number of flights are down in five of the top six country markets, the now leading Italian market has grown by almost 160% since December 2019. Back then, Italy ranked only sixth among Wizz Air's leading country markets. Now it is 50% bigger than the second-ranked UK market.
Poland, which ranked first two years ago, has slipped to fourth, while Romania remains in third place. Apart from Italy (almost 1,900 additional flights), other country markets to see a significant increase in flights are Albania (up 445), Bosnia & Herzegovina (up 172), UAE (up 133 thanks to the airline's Abu Dhabi based subsidiary) and Spain (up 109). Country markets now served, that were not served by Wizz Air two years ago, are Armenia, Bahrain, Egypt, Gibraltar, Jordan and Oman.
Ryanair leads way in Italy, Spain and Germany, easyJet in France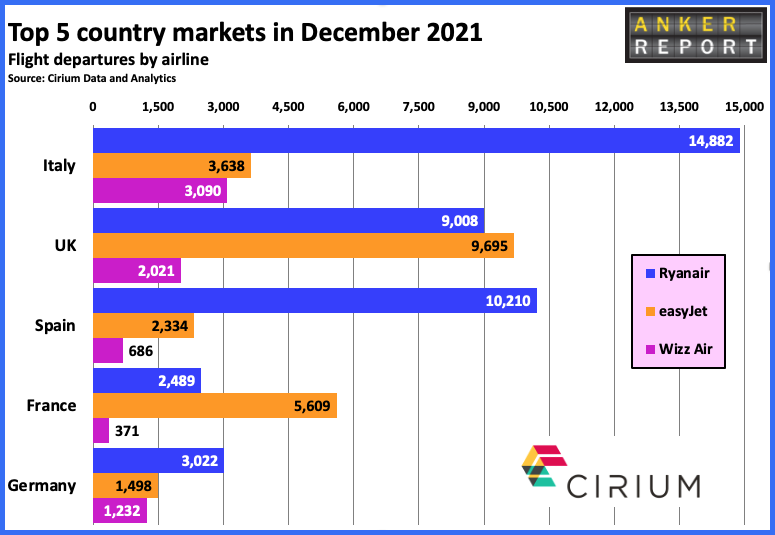 Comparing the presence of these three leading carriers in western Europe's five biggest country markets, reveals the relative strength (or weakness) of each carrier. Adding the number of flights together provided by these airlines in each country, confirms that the five biggest country markets for them are Italy (21,610 flights), the UK (20,724), Spain (13,230), France (8,469) and Germany (5,752). Poland ranks sixth on 5,253 flights. Despite Wizz Air's rapid growth in the Italian market, it still lags behind easyJet, with Ryanair more than four times bigger than either of the others.
Ryanair is also a clear winner in Spain (four times bigger than easyJet and even 10% bigger than locally based rival Vueling) and in Germany (twice as big as easyJet but around 20% smaller than local LCC Eurowings). However, easyJet is a clear winner in France (more than twice as big as Ryanair), while in the UK, easyJet and Ryanair are evenly matched.