easyJet seat recovery rate at 89% in July; some domestic markets, Greece, Portugal, Turkey growing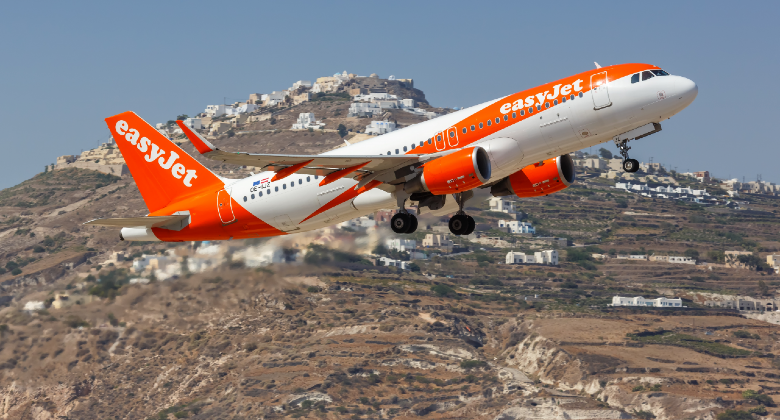 Europe's second largest (U)LCC, easyJet, has had a slower post-pandemic recovery than its more high-profile rivals Ryanair and Wizz Air. With a higher proportion of its pre-pandemic capacity tied up in the slow-to-recover UK market, it has been outperformed by its main rivals. Current Cirium schedule data for July 2022 shows that easyJet's seat recovery rate is at 89% (versus July 2019), while Ryanair is at 123% and Wizz Air at 144%. easyJet's recovery rate puts it more in line with Europe's main flag carriers than with the region's (U)LCCs.
However, while easyJet's overall seat capacity may be down 11%, there are considerable variations when individual country markets are analysed. easyJet has actually increased capacity in 12 of its 34 country markets, with three of these markets (Albania, North Macedonia and Tunisia) having been added since 2019. Many of the growth markets are among easyJet's smaller country markets. The most significant growth has been in Greece, Portugal and Turkey, which appear to be this summer's boom holiday destinations.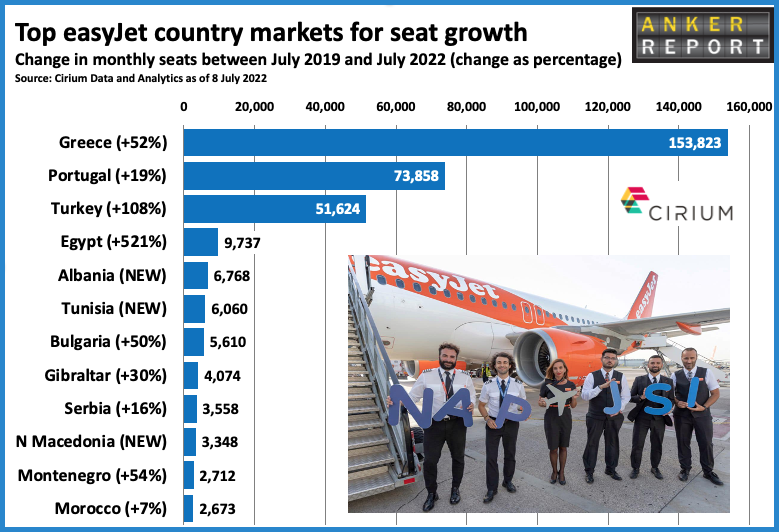 Only two of top 15 country markets have seen capacity growth
If we analyse easyJet's top 15 pre-pandemic country markets, we see that only two of those (Greece and Portugal) have achieved recovery rates of more than 100%. Four of the top 15 country markets are showing a seat recovery rate of under 70%; Czech Republic (56%), Poland (33%), Germany (31%) and Austria (3%). The airline's four biggest country markets of the UK, France, Italy and Spain have all seen reasonably similar recovery rates of between 86% and 96%.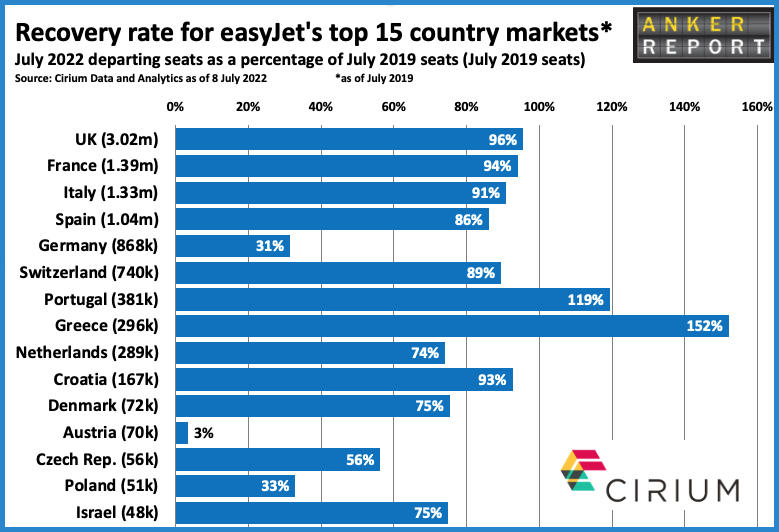 Domestic capacity up in France, Italy and UK
Scrutinising the airline's top 15 country pair markets as of July 2019, reveals that six of the top 15 have seen an increase in seats. Three of those are the domestic markets in the UK, France and Italy. Conversely, easyJet has virtually abandoned the German domestic market. The UK markets to Greece and Portugal have seen additional capacity as has the market between France and Switzerland.