easyJet this summer: seven of top 10 fastest-growing airports are in UK; seats up just 4% in Q2 versus '22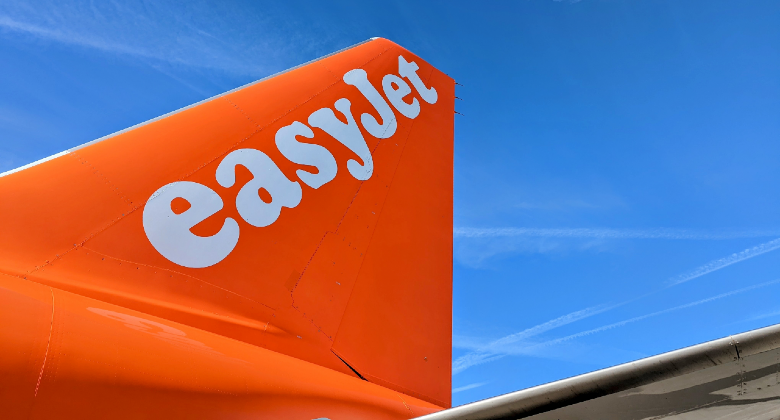 Unlike Ryanair and Wizz Air, who have both increased their market share of European air travel since 2019, easyJet's share has remained virtually unchanged at around 7.5%. This still makes it Europe's second biggest carrier, well ahead of Turkish Airlines, Lufthansa and Wizz Air. Analysis of Cirium schedule data for 2023 Q2 indicated that easyJet's planned seat capacity is currently only 4% higher than that offered during the same period last year.
UK market twice as big as France
The UK has consistently been easyJet's leading country market, with no other country coming close. Back in 2004 it was five times bigger than the next biggest market, whereas in 2019 it was only twice as big as its nearest rival, France. Between 2005 and 2008 Spain was easyJet's second biggest market. During the period 2011 to 2015 there was little to choose between France and Italy as the number two market. Since 2016, France has pulled out a lead over Italy.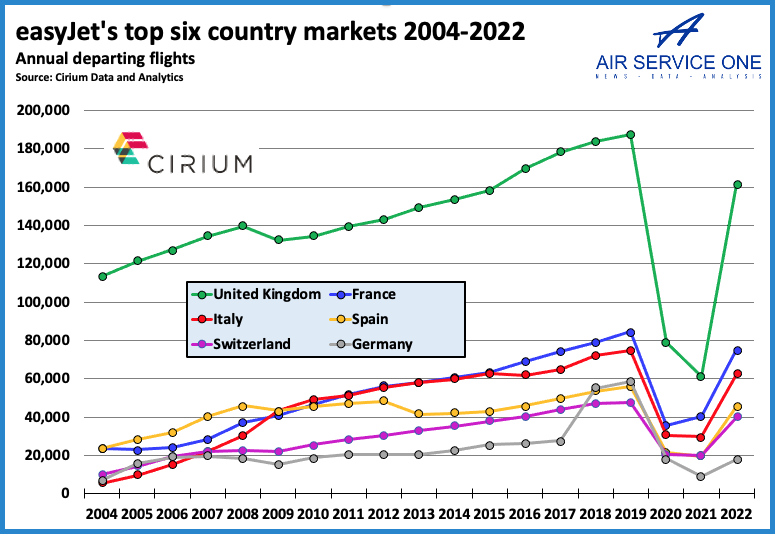 Note how in 2018 and 2019 the German market grew in significance after easyJet took over a lot of airberlin's slot portfolio. However, post-pandemic easyJet has cut its presence in Germany considerably. In fact, in 2021 and 2022, Germany only ranked seventh among easyJet country markets, slipping behind Portugal.
Flights up almost 4% in 2023 Q2 versus 2022
Cirium data shows that easyJet's flights are up almost 4% in the second quarter of 2023 compared with the same period in 2022. Of the airline's top 15 country markets 11 are showing an increase in flights ranging from just under 2% in Spain and Switzerland to over 22% in Portugal.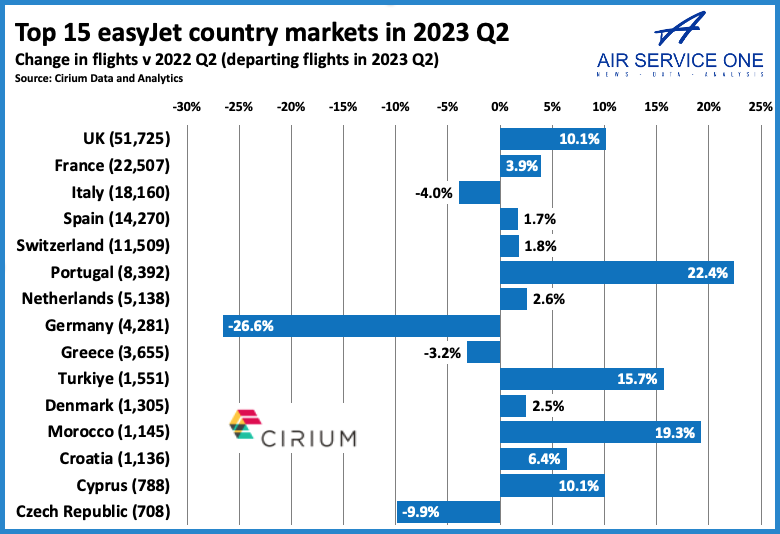 Apart from Germany (down 26%), easyJet has also cut flights versus last year in the Czech Republic (down 10%), Italy (down 4%) and Greece (down 3%). Among smaller markets easyJet flights are down significantly in Poland (down 13%), Albania (down 23%), Luxembourg (down 29%), Hungary (down 52%) and Sweden (down 58%). In contrast flights to Egypt are up 52% while Tunisia sees an increase in service of 112%.
In total, easyJet is offering flights to 33 countries between April and June, one fewer than in 2022 Q3. easyJet no longer serves Finland with its Berlin to Helsinki service suspended.
Lisbon welcomes most additional flights
Compared with 2022 Q2, easyJet has seen the biggest increase in flights in Lisbon. It has increased its flights by 45% in the last year, primarily as a result of being awarded slots at the airport as part of a deal relating to the Portuguese government's financial support of its national carrier TAP Air Portugal.
Seven of the top 10 airports for most additional flights are in the UK, involving airports in England, Scotland and Northern Ireland. Apart from Lisbon, the other two non-UK airports in the top 10 are Nice and Porto. In percentage terms, none are growing by more than 17% apart from Lisbon.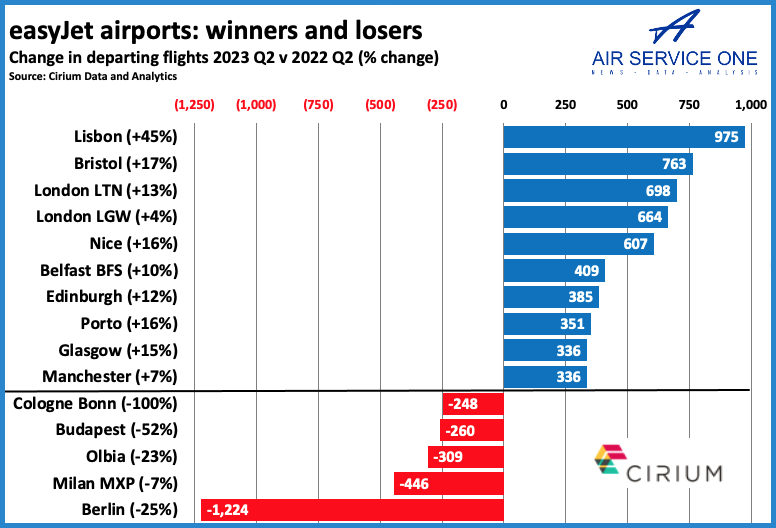 Berlin will see by far the biggest reduction in easyJet flights versus 2022 Q2. There will be 1,200 fewer flights in 2023 Q2 representing a reduction of 25% versus las year. Two Italian airports, Milan MXP and Olbia, have seen the next most flight reductions, followed by Budapest (down 52%) and Cologne Bonn (no longer served).
Four airports added, four dropped
In total, easyJet is flying to 145 airports in 2023 Q2. Compared with last year there are four 'new' airports while four have been dropped. Apart from Cologne Boon and Helsinki, easyJet has also suspended all services to Gothenburg and La Palma. The four 'new' airports are:
Essaouira: Flights resume in April 2023 to Bordeaux. Last served in November 2021
La Coruna: First flight to Geneva begins on 26 March followed by Milan MXP on 28 March. Both routes will be served 2-weekly. La Coruna was served from Madrid between February 2007 and May 2008 and again between May 2012 and December 2012.
Paris BVA: Flights to Lisbon began in November 2022. Service to Milan MXP and Nice being added in S23.
Tarbes/Lourdes: First flight to Milan MXP begins on 31 March. Service will operate 2-weekly.
Air Service One currently estimates that easyJet is looking to launch around 47 new routes this summer. This is in addition to over 20 new routes the airline launched in W22/23, the majority of which will also continue to operate this summer.