easyJet's Gatwick base turns 20; over 150 routes operated so far and 200 million passengers carried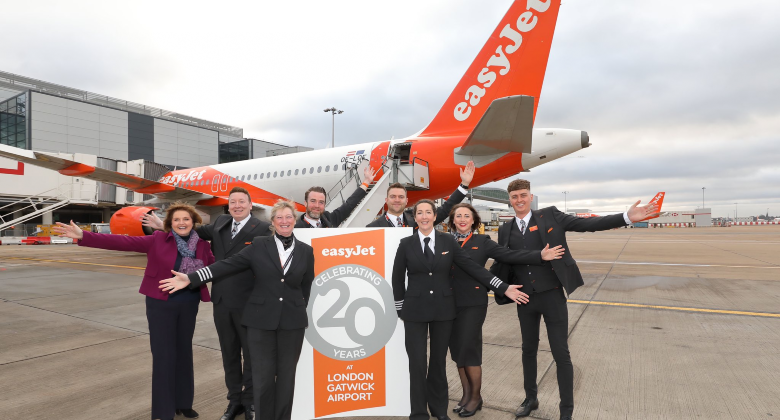 The first day of February marked the 20th anniversary of the start of easyJet opening a base at London LGW. Over the years Gatwick not only became the airline's biggest base, but it also usurped British Airways as the biggest carrier at the airport. Prior to Gatwick becoming a base on 1 February 2002, easyJet had already served the London airport from Geneva (since 16 December 1999), Amsterdam (5 April 2001) and Nice (19 July 2001). The first route to be launched from the Gatwick base was to Barcelona (on 1 February 2002) followed within a fortnight by flights to Edinburgh, Malaga, Palma de Mallorca and Zurich.
Became Gatwick's biggest carrier after GB Airways acquisition
In 2008, after the acquisition of Gatwick-based GB Airways, easyJet overtook British Airways (BA) as the biggest carrier at the airport and since 2010 has offered more than twice as many seats as the UK's flag-carrier. easyJet's share of Gatwick capacity was stable at around 40% between 2013 and 2019. With BA virtually abandoning Gatwick for a couple of years and Norwegian shrinking dramatically, easyJet's share of capacity at the airport increased to 50% in 2020 and 57% last year.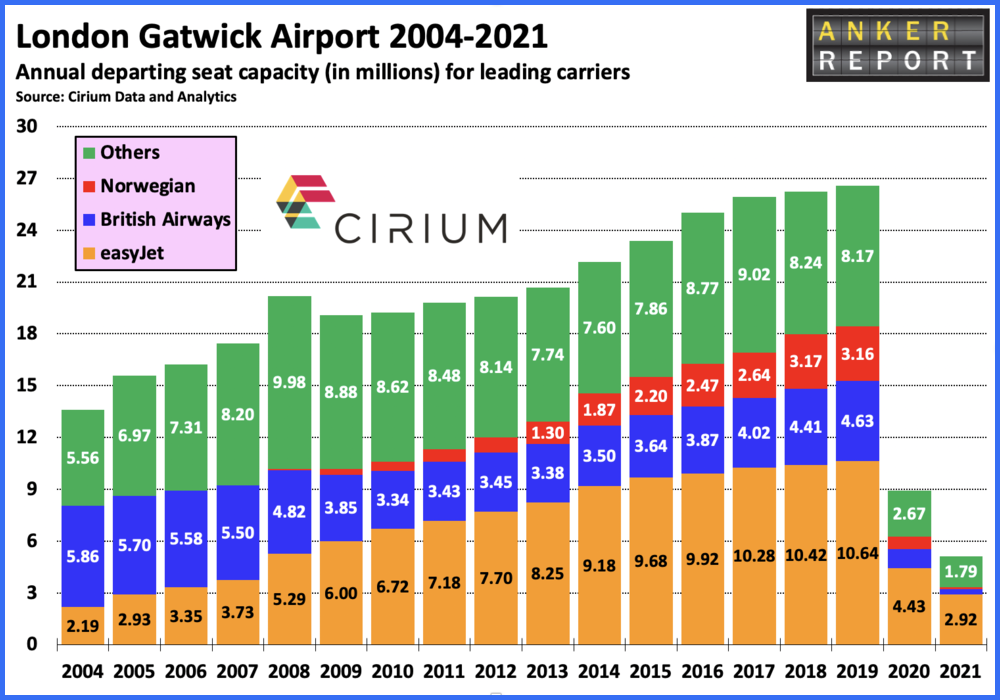 After the surge of new routes in 2008 as a result of the takeover of GB Airways, easyJet has continued to add at least four new routes from Gatwick every year since then, including in 2020. The first year of the pandemic saw easyJet launch new routes to Enfidha in Tunisia (briefly), Sharm El-Sheikh in Egypt (technically a resumption), Stockholm ARN and Tirana.
However, most years have also seen at least one route dropped. Looking back it is worth remembering that easyJet did briefly serve three Irish destinations; Cork, Knock and Shannon, but not Dublin. All three routes started in January 2005, but service to all three ended in early October 2006. In more recent times, domestic routes to Newcastle and Aberdeen have been suspended (though Aberdeen flights resumed in May 2021), as well as two German routes, Cologne Bonn and Düsseldorf (though Düsseldorf service resumed in 2019, before being suspended again).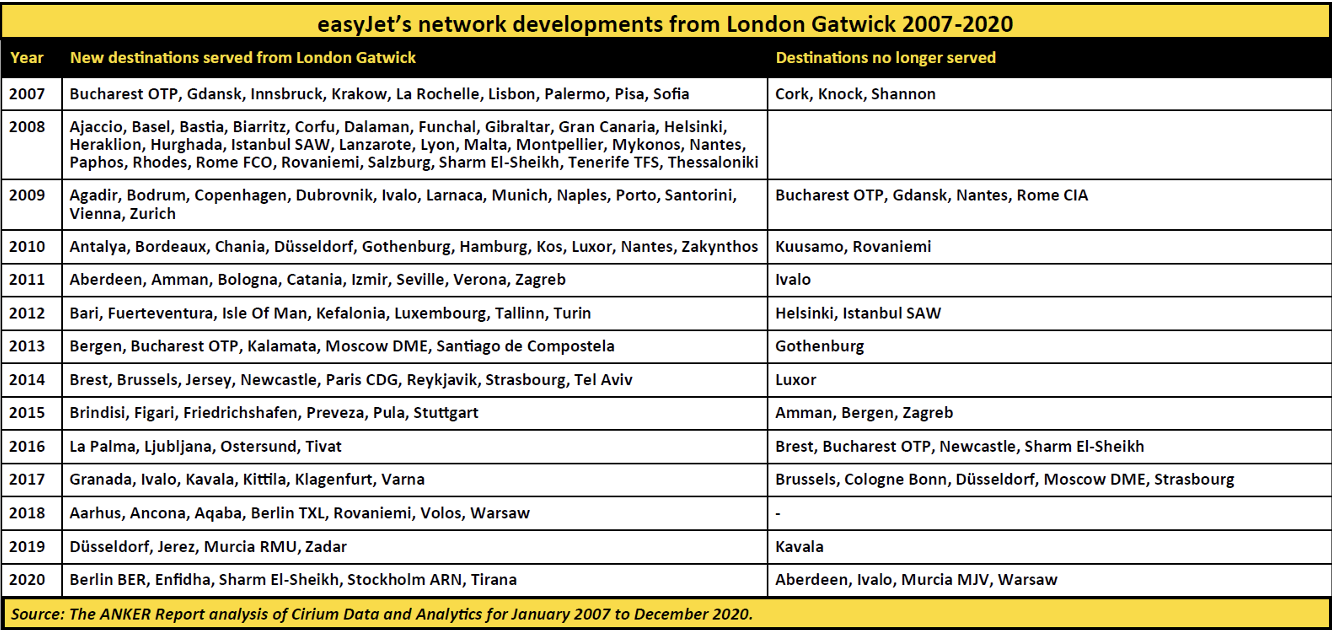 Apart from resuming service to Aberdeen in 2021, easyJet also added new routes from Gatwick to Newquay (in June), Belfast BHD, Bourgas and Cagliari (all in July), and Milan BGY (in October). However, over 20 destinations served in 2020 were not served in 2021 due to the pandemic and travel restrictions. Several of these (including Düsseldorf, Stockholm ARN, Tallinn and Vienna) do not appear to be returning in 2022, suggesting that they have been suspended indefinitely.
In total, easyJet has carried over 200 million customers to and from the airport over the last two decades (including around 19 million in 2019) on over 150 routes and this summer the LCC plans to base 79 aircraft at the airport and operate around 120 routes. New routes continue to be added, with Rijeka service starting in May, Toulon service starting at the end of June and Bilbao service resuming at the end of March, after an absence of many years.
BA returns, Wizz Air and Vueling expand
This summer will be interesting for easyJet at Gatwick as BA is returning with a new, lower-cost and lower-fare operation. All of BA's routes announced so far look set to compete head-on with easyJet. Meanwhile, both Wizz Air (now with over 20 routes from Gatwick) and Vueling are also expanding at the airport. Ryanair is currently not much of a threat at Gatwick as it operates just five routes this summer, three of them to Ireland as well as Alicante and Malaga.
What they said
Ali Gayward, UK Country Manager, easyJet, said: "easyJet is delighted to be celebrating 20 years at our London Gatwick base, our largest base in the network. Over the last two decades we have remained committed to providing even more choice for our customers travelling to and from the airport, growing our operation to become Gatwick's largest airline. And we remain focussed on growth at Gatwick; we recently added over a million extra seats from the airport for this coming summer and new routes such as our new flights to Krk (Rijeka) off the coast of Croatia, continuing to provide passengers with an ever-greater range of destinations all with a convenient schedule, low fares and great service for both leisure and business travellers."
Stephanie Wear, VP of Airline Development, Gatwick Airport, said: "easyJet and Gatwick have grown together over the last 20 years and, since that first flight to Barcelona, we have helped millions of passengers go on holiday, visit friends and family or take an important business trip.  The events of the last two years make today's 20th anniversary of easyJet at Gatwick even more poignant and it feels fantastic that together we can once again offer our passengers the opportunity to enjoy the delights of so many destinations across Europe and beyond."