Edelweiss's short-haul capacity rises by 6% as long-haul lags; five new routes introduced this summer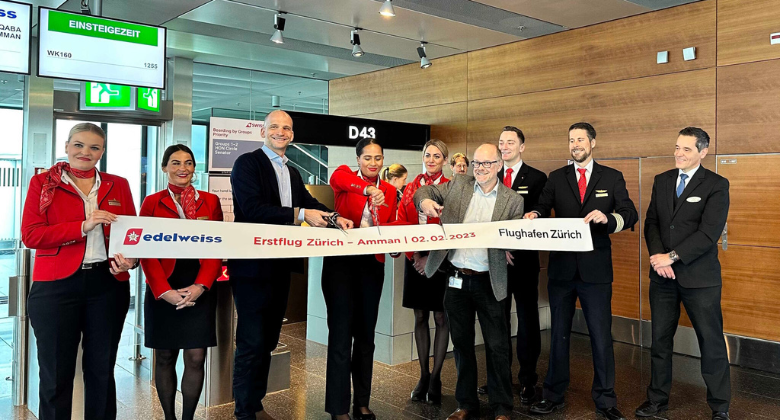 Self-described as Switzerland's leading holiday airline, you would think that Edelweiss is the nation's second-biggest carrier by seat capacity after SWISS. But that is not the case, easyJet is. However, while easyJet serves Geneva, Basel and Zurich, Edelweiss focuses only on Zurich. The airline has 1.3 million departing seats from the airport this summer – not quite exceeding the record set in S22 – accounting for 10% of Zurich's total. Using its own A320s and A340s, along with wet leased A220s, A320neos and A321s from sister SWISS, Edelweiss's expected summer network comprises 86 destinations in 36 countries.
Europe has 70% of capacity; three new routes are coming
This summer, 70% of Edelweiss's seats are within Europe, according to Cirium schedules information data. The region has risen by three percentage points versus S22 on the back of a 3% rise in Europe capacity and cuts or shallower growth in other geographies. Indeed, short-haul seats have risen by 6% year-on-year (YOY) while long-haul is down by a fifth. The latter is principally because of Africa and big reductions to Mauritius, Kilimanjaro, Seychelles and Zanzibar.
Europe has benefited from increased capacity to a small number of countries, notably North Macedonia (+24% YOY), the UK (+19%) and Portugal (+10%). Additionally, three new routes launch in 2023: Bari (31 March, 2- to 3-weekly); Biarritz (23 June, 2-weekly); and Akureyri (7 July, weekly). Biarritz and Akureyri are new to Zurich. However, these were offset by the loss of Paphos (ended in October 2022), although curiously, Larnaca is Edelweiss's second most-served route.
The new additions build on the six new European routes launched in 2022, all of which will operate this summer: Bilbao (27 March, 3-weekly in S23); Cork (15 April, 2-weekly); Pisa (3 June, weekly); Bergen (4 June, 2-weekly); Newquay (3 July, weekly); and Ponta Delgada (11 July, weekly).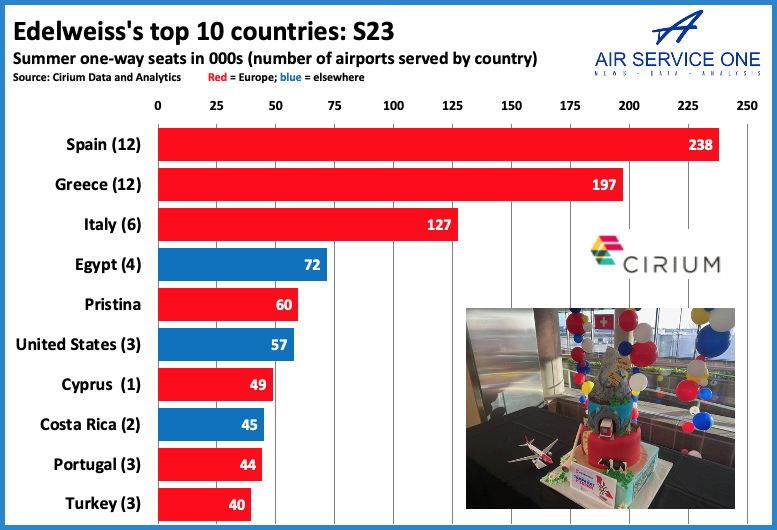 Amman and Aqaba launch
While the Middle East is Edelweiss's least-served region this summer, capacity has grown fivefold YOY. It is from the 2 February introduction of Amman and Aqaba. With a 2-weekly operation, it operates non-stop from Zurich to Amman and continues to Aqaba, where it overnights, and returns to Zurich the next day via the Jordanian capital. It competes directly with Royal Jordanian to Amman (2-weekly).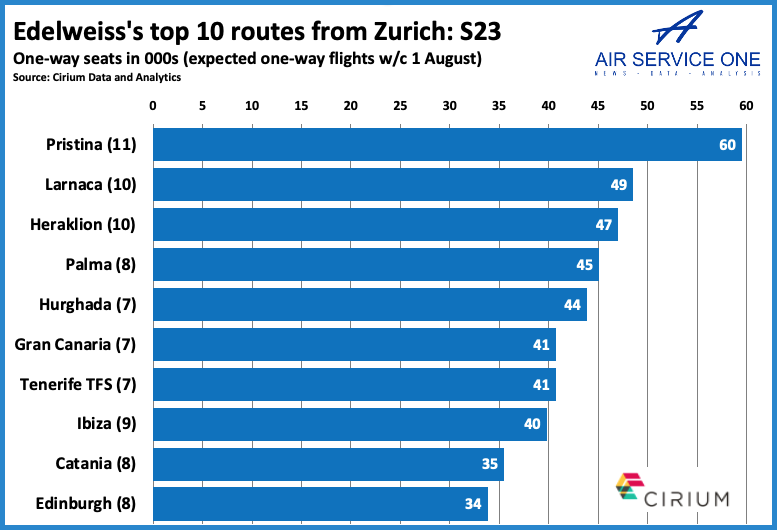 Pristina is Edelweiss's most served route
Despite describing itself as a holiday airline, Edelweiss still serves VFR markets. For example, it has long connected Zurich with Skopje and Pristina, replacing SWISS. Given Edelweiss's lower cost structure, it is better suited to such markets. It perhaps helps to explain the introduction of Amman.
In fact, while Spain, Greece and Italy are Edelweiss's top three countries this summer with 43% of capacity and a third of the destinations, Pristina is its most served route. It has 5% of capacity and 11-weekly A320 flights.