Eight European airports welcome new Dubai service in 2023 including Milan BGY, Stuttgart and Vilnius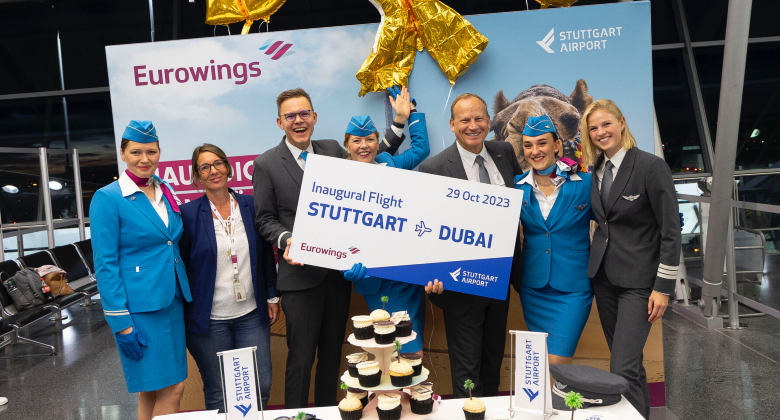 Since 2015 Dubai has been the leading non-European destination from European airports as measured by annual non-stop seat capacity. That was the year when it overtook New York, which had previously held that honour. Just a decade earlier, in 2005, Dubai had only had around 40% of New York's European seat capacity. Since 2015, Dubai has maintained its lead over New York but not really extended it by much according to analysis of Cirium data.
Using 2019 as the benchmark year, the next four leading non-European destinations from Europe were Tel Aviv, Doha, Toronto and Beijing. In 2023, the top four destinations have remained the same. However, Marrakech in Morocco is now ranked fifth ahead of Toronto. China's slow post-Covid recovery regarding international air traffic means that Beijing is currently ranked only just inside the top 40.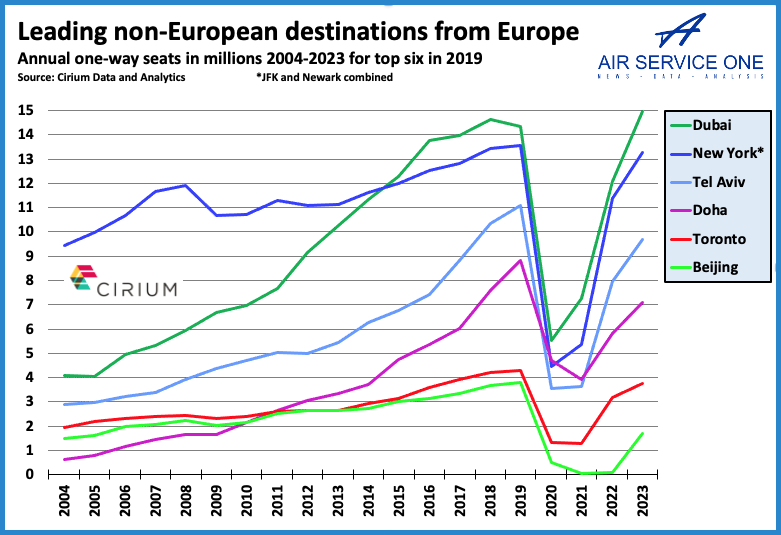 Back in 2019 the destinations ranked 7th to 10th were Bangkok, Chicago, Abu Dhabi and Marrakech. This year those positions are taken by Chicago, Abu Dhabi, Cairo and Los Angeles. This is based on seat capacity.
Dubai connected to over 80 European airports in 2023
While Dubai has more seat capacity from European airports than any other non-European airport, it is not the best connected. According to Cirium data, Dubai had non-stop, scheduled services to 85 airports across Europe in 2023. However, this ranks it only third behind Tel Aviv in Israel (connected to 107 European airports) and Hurghada in Egypt (with 87).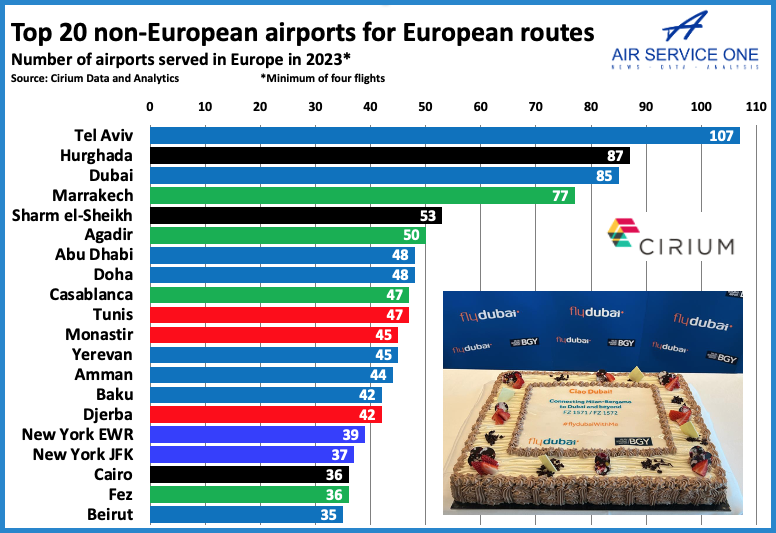 Because New York flights are split between JFK and Newark, neither of the US airports (shown in blue) actually ranks in the top 15 for best connected airports. Several north African countries have multiple airports in the top 20 rankings; Morocco (green), Tunisia (red) and Egypt (black). Dubai is joined by Abu Dhabi in the top 20 giving the UAE two entries as well.
This year has seen eight European airports welcome scheduled Dubai flights for the first time. These are:
Milan BGY: flydubai launched on 10 March
Olbia: flydubai launched on 22 June
Corfu: flydubai launched on 24 June
Berlin BER: Eurowings launched on 29 October
Marseille: Transavia France launched on 29 October
Poznan: flydubai launched on 29 October
Stuttgart: Eurowings launched on 29 October
Vilnius: airBaltic launched on 1 November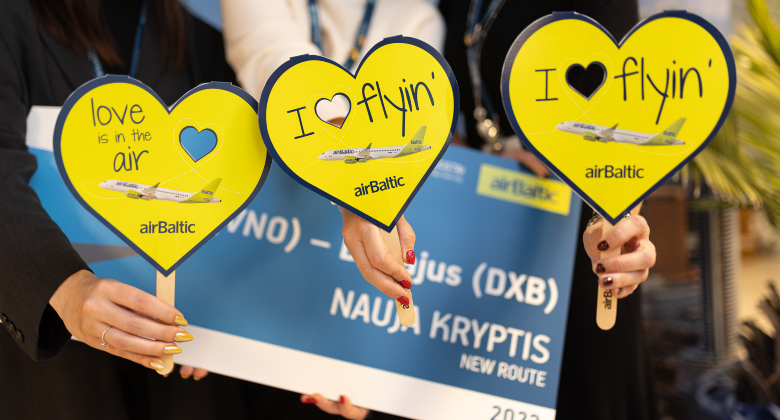 However, analysis of Cirium data also reveals that eight European airports that had Dubai service in 2022, did not have them in 2023. These airports were Bari, Cluj-Napoca, Katowice, Krasnodar, Moscow ZIA, Perm, Rostov-on-Don and Verona.
London Heathrow still #1 for Dubai flights to Europe
A look at the leading European destinations from Dubai, this time measured by annual flights, reveals that London LHR leads the way from Istanbul IST. The UK's busiest airport has averaged more than nine daily flights during 2023, while the Turkish hub has welcomed just over eight daily flights on average. Among the top 15 airports are three in the UK (green), three in Russia (black) and two in Türkiye (red).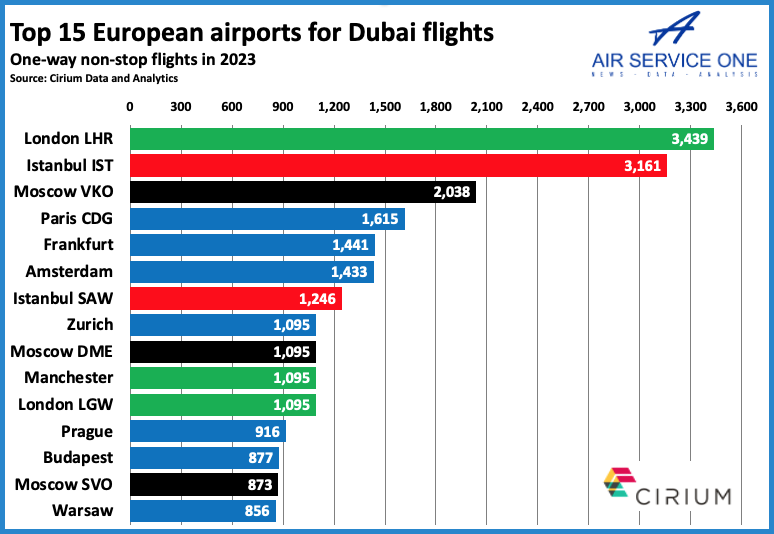 The 85 European airports with non-stop service to Dubai are spread across 36 European countries. Of the 85 airports, 12 are in Russia, nine in Italy, seven in each of Türkiye and the UK, six in Germany and four each in France and Greece. The maximum number of airports that can be served in each country will often be stipulated in the air service agreements negotiated by the individual European states with the UAE.
30 airlines connected Europe with Dubai in 2023
Not surprisingly, Emirates is the leading airline on routes between Dubai and Europe. According to Cirium data the carrier accounted for almost 57% of all flights and a massive 73% of seat capacity, with an average of 428 seats per flight to Europe. Sister airline flydubai generated 25% of all flights and 13% of seats, with an average of 169 seats per flight.
The biggest non-UAE carrier was Turkish Airlines (with between 3% and 4% of flights and seats) followed by British Airways, Aeroflot, Air France, KLM and Lufthansa when ranked by seats.
Among Europe's (U)LCCs Wizz Air leads the way for annual capacity to Europe from Dubai in 2023 followed by Pegasus Airlines, SmartWings and Transavia France. Wizz Air has offered flights this year from Bucharest, Budapest, Sofia and Vienna. This despite having a base at nearby Abu Dhabi from where it serves 19 European destinations with non-stop flights.