El Al plans 40 routes to Europe/North America in S23; seat share fallen to just 20% as competition grows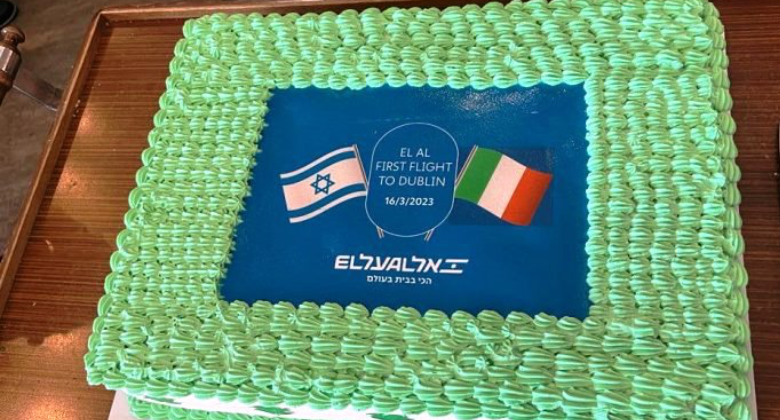 El Al is the largest airline between Tel Aviv and Europe/North America. According to Cirium schedules information data, it has 1.79 million one-way seats this summer – 10% fewer than in S19. That is because its network has shrunk from 52 to 40 routes.
Europe/North America share falls to just 20%
In the past decade, El Al has grown by 27% from Tel Aviv to Europe/North America, while all others have expanded by 163%. This has contributed to El Al's share of capacity falling to 20%, its lowest ever (excluding the pandemic), down from 35% in S13.
El Al's Europe capacity is at the lowest level since S15, while other carriers – especially (U)LCCs – have exceeded pre-pandemic seats. While El Al has 1.46 million Europe seats, it is surpassed by Wizz Air and Ryanair (1.53 million), enabled by EU-Israel open skies. El Al's share of the European market has fallen to less than 19%.
The change is even more dramatic to North America. While El Al retains 37% of non-stop capacity, fast growth by others during the pandemic has cut this by ten percentage points in just four years.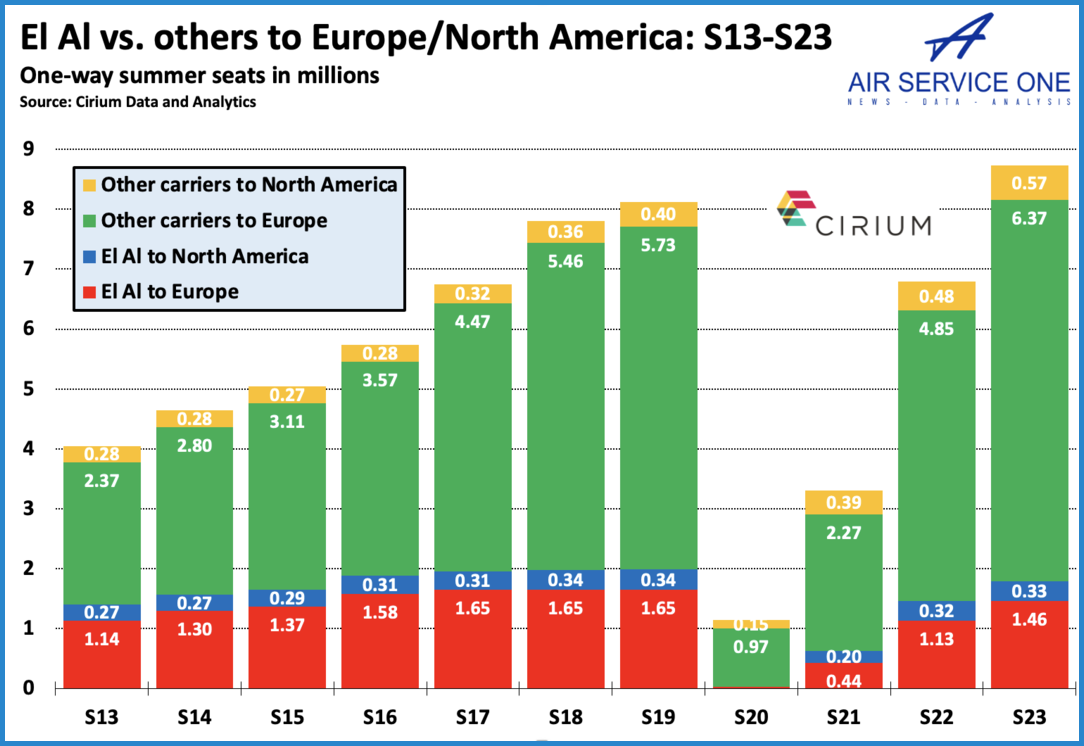 40 summer routes, but 18 have been cut
The Israeli carrier's 40 Europe/North America routes this summer involve 22 countries. With 327,000 one-way seats and nearly a fifth of capacity to the two regions, the US is its number one country, as shown in the figure below. Following the end of long-standing Toronto in 2022, it no longer serves Canada.
Typically, El Al has 42-weekly flights to Boston, Fort Lauderdale (new; see later), Los Angeles, Miami, Newark and New York JFK. Despite this strong network – and that of other airlines – many Tel Aviv-US passengers connect en route; about 45% did so in 2022.
Using Cirium to compare El Al's S23 network versus S19 reveals that 18 routes are no longer served. They include two Ukraine airports that it couldn't serve even if it wanted to. The 18 are: Brussels BRU, Catania, Dubrovnik, Heraklion, Krakow, Kyiv KBP, Las Vegas, Malaga, Manchester, Odessa, Orlando, Rhodes, Salzburg, San Francisco, Sochi, Toronto, Verona and Warsaw WAW.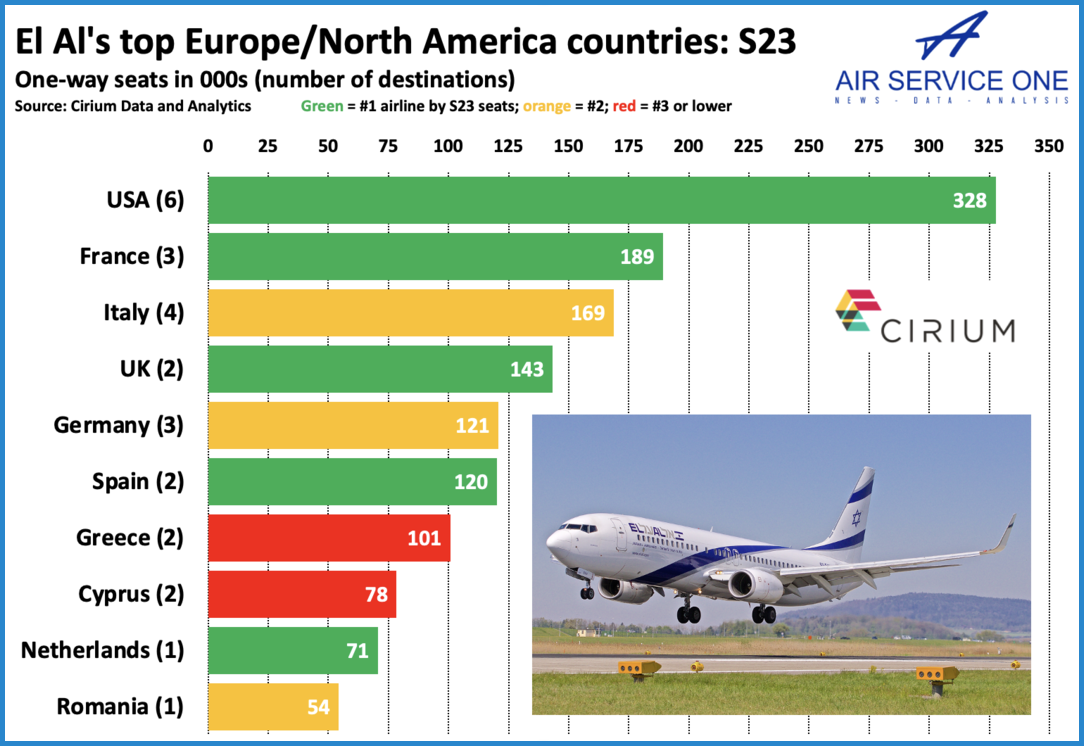 Paris CDG is the #1 route; New York first at city level
With 141,000 one-way seats, Tel Aviv-Paris CDG is El Al's most-served airport pair. It has 43% of the non-stop capacity, making it the market leader, just as it is on half of its top 10 Europe/North America routes, as shown below. It competes directly with three others: Air France (36% of seats), easyJet (12%) and Arkia (9%). Between them, they have 48 one-way flights in the week beginning 1 July.
It is, of course, different at city level. With 212,000 seats, New York (JFK/Newark) is El Al's most-served market, exceeding the 181,000 to London (Heathrow/Luton). El Al is one of four carriers to New York – joining American (started in 2021), Delta and United– and is the market leader.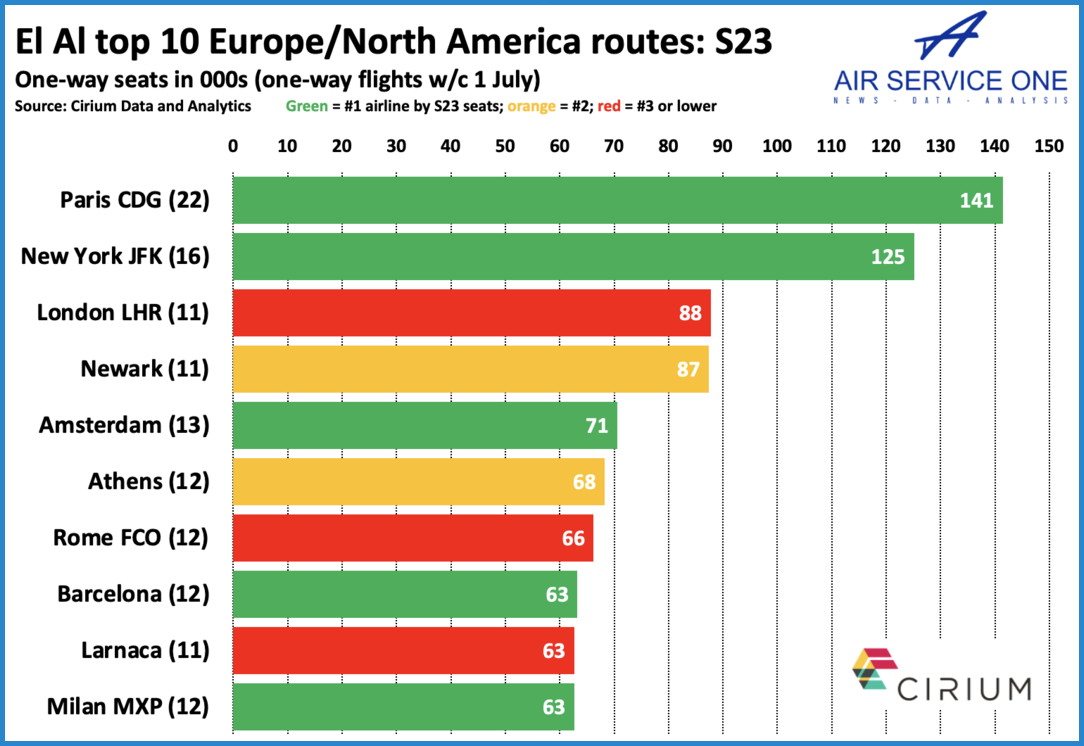 Five new routes in 2023
El Al plans five new Europe/North America routes this year, as shown below. Three are operated by El Al on behalf of leisure brand Sun d'Or; they are highlighted with an asterisk. Notice Fort Lauderdale, which launches in September for the Jewish High Holidays, with year-round service commencing in 2024. It is starting despite having a 6-weekly operation to nearby Miami. It seems more Israelis, and those of Israeli background, live closer to Fort Lauderdale.
13 March 2023: Tel Aviv-Porto (2-weekly)*
16 March 2023: Tel Aviv-Dublin (initially 2, then 3)
30 March 2023: Tel Aviv-Istanbul IST (4)*
18 May 2023: Tel Aviv-Tivat (2)*
13 September 2023: Tel Aviv-Fort Lauderdale (1)
Istanbul returns to El Al's network after last being served 16 years ago in 2007, the relaunch a consequence of the restoration of diplomatic relations between Israel and Turkey. This summer, El Al will be one of five airlines with Tel Aviv-Istanbul flights.