Emirates, Etihad Airways and Qatar Airways have resumed many of their European services; London Heathrow is #1 route for all three
For many years now, the Middle East big three (MEB3) carriers (Emirates, Etihad Airways and Qatar Airways) have connected many cities in Europe with their home hubs (of Dubai, Abu Dhabi and Doha respectively), providing a convenient way to travel to Asia, Australasia and Africa. With virtually no domestic markets to support them, all three carriers are heavily reliant on international services, which have been hit particularly hard by the COVID pandemic.
Qatar Airways looked to take advantage
Looking at schedule data since last April for these carriers on their European routes, reveals how Qatar Airways made a strategic decision to offer significantly more capacity (and flights) in the early months of the pandemic, compared with its UAE-based rivals.
While Emirates (19) and Etihad Airways (68) offered fewer than 100 flights to Europe last April, Qatar Airways offered a staggering 683 according to Cirium Data and Analytics schedule information. Both Emirates and Etihad Airways gradually ramped up European services, so that by August they were offering the level of capacity that they have, on the whole, been offering ever since. Emirates increased European capacity significantly in December and January, but reduced it again in February as a ban on flights to/from the UK took effect.
Qatar Airways reached its European capacity peak in June as its rivals were still planning their recoveries. Since July, Qatar Airways has been offering around 300,000 one-way seats per month across its European routes.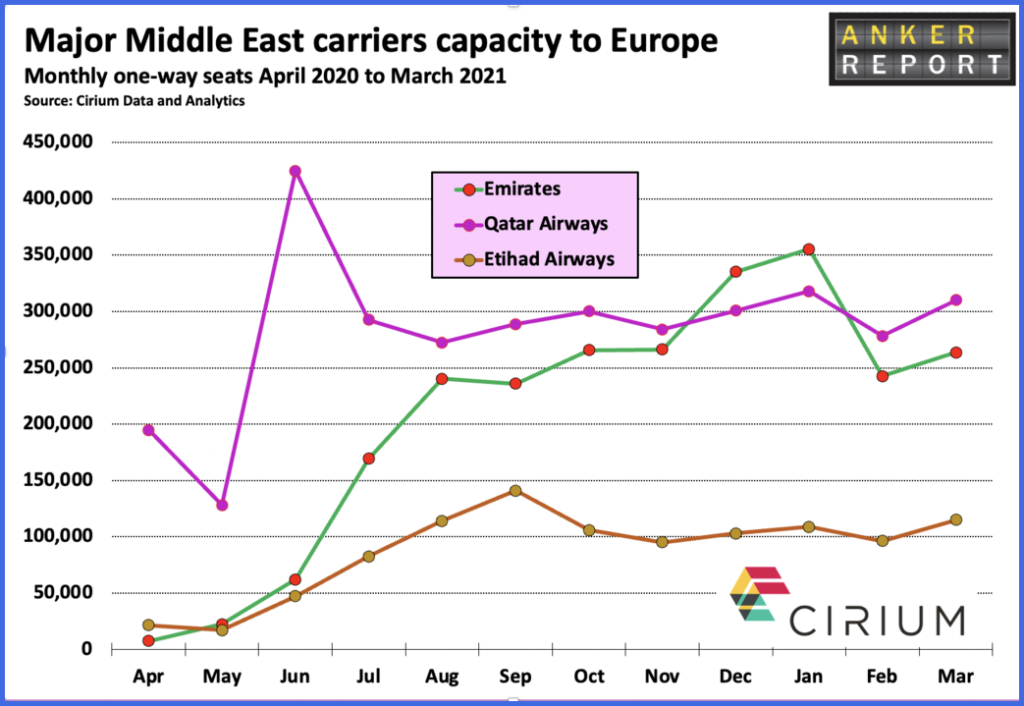 Heathrow was #1 route for all three carriers
For all three carriers, London LHR was the biggest European route by capacity between April 2020 and March 2021. While neither Etihad Airways nor Qatar Airways faced direct competition on their Heathrow routes, British Airways resumed its Dubai service in July, competing directly with Emirates.
Passenger statistics from the UK CAA reveal how this helped Dubai overtake Doha as the leading Middle East route from Heathrow in July. While December was the busiest month for all three routes, the Dubai route saw an almost trebling of demand compared with November, this made Dubai by far the busiest international destination from the UK in December (well ahead of Amsterdam) and ranked third for the period April to December 2020, behind Amsterdam and Dalaman. Doha ranked 13th for the period April to December from the UK, but climbed to fourth when looking at just December. In December Abu Dhabi joined its MEB3 neighbours in the top 15 by ranking 11th.
Qatar Airways is yet to resume service on over a dozen European routes (including Birmingham, Cardiff, Gothenburg, Nice and Sofia) and Emirates on 10 (including Istanbul SAW, London LGW, Nice and Venice).