End of school holidays signals start of period of major demand uncertainty
Seven weeks ago, when the last issue of The ANKER Report was published, schools had just finished and families all across Europe were looking forward to a well deserved holiday. However, many of those hoping to travel internationally may well have been disappointed and frustrated, as many travel restrictions remained in place, making it potentially risky, as well as more expensive, to take a foreign vacation.
While airlines mostly increased capacity for July and August compared with previous months, for many airlines that capacity fell a long way short of what it had been in the last pre-pandemic summer of 2019. Passenger figures for August for Europe's airports are gradually being made public, and while most will show an improvement compared with August 2020, with a few exceptions, they are still a long way short of August 2019.
Ryanair and Wizz Air report August results
Among airlines, Ryanair has already reported that it carried 11.1 million passengers in August at a load factor of 82%. However that compares with 14.9 million in August 2019 at a load factors of 97%. As the graph below shows, Ryanair has been one of the most successful airlines in terms of capacity, operating at about 90% of its 2019 level in terms of flights. Similarly, Wizz Air was operating almost as many flights in August as it did two years ago. It carried 3.58 million passengers at a load factor or 83.6% compared with 4.04 million at a load factor of 96.3% in August 2019. Both of these airlines are more the exception than the rule, with scheduled seat capacity estimated to be down 32% in Europe in August, based on analysis of Cirium Data and Analytics figures.

Recovery stalls in September
Airlines continue to tweak their capacity on a daily basis. However, based on current data for September, scheduled capacity across all of Europe is expected to be down around 33%. With the demand for holidays declining as children go back to school, the market will become more dependent on business traffic, which so far seems to have recovered much less quickly than the leisure market. Last week, schedule data for Europe for October suggested that capacity would be down around 24%. This week that figure has already risen to 27% and is likely to again exceed 30% by the time we get to the end of October.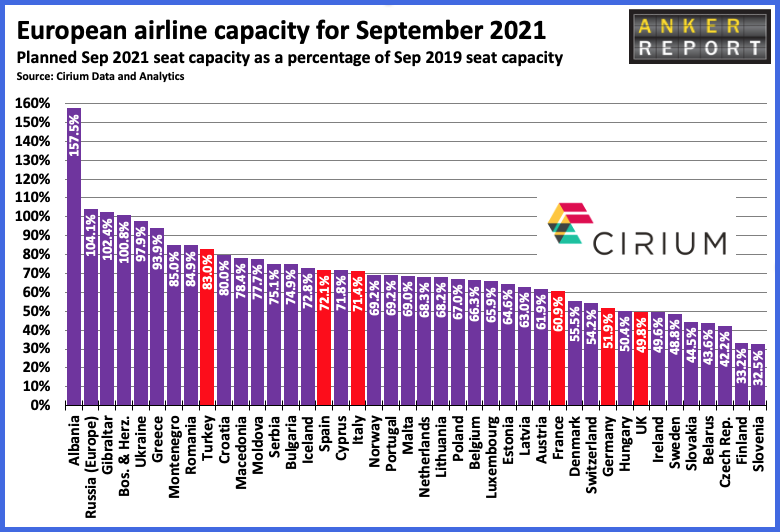 Albania still leading the recovery
Breaking down capacity by country market reveals that the small Albanian market is the only one showing capacity growth of more than 10% in September compared with 2019. Among Europe's big six country markets, the more popular tourist destinations have performed best with Turkey leading the way at 83% recovery, followed by Spain (72%) and Italy (71%). Some way behind come France (61%), Germany (52%) and the UK (just 50%).
The only countries at below 40% in terms of their capacity recovery are Finland and Slovenia, both at 33%. It is worth recalling that September 2019 was the last month of operations for Slovenia's flag carrier Adria Airways.