Europe-Asia market recovery still under 40% in August; Turkish Airlines #1 carrier, India #1 market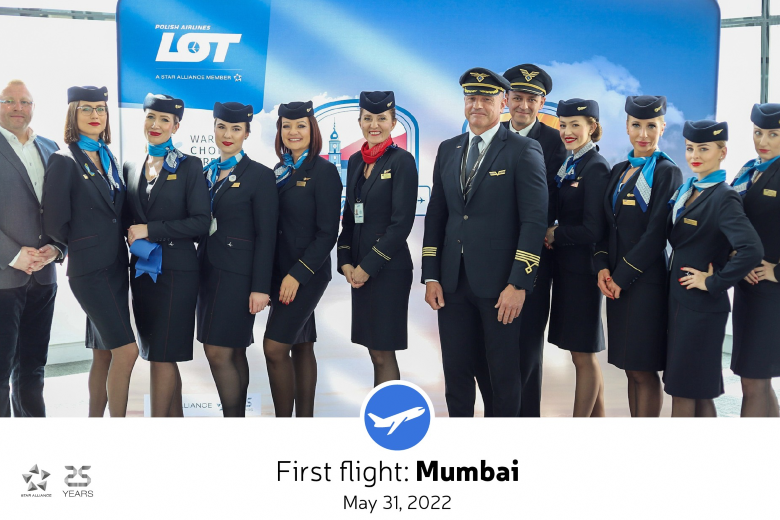 As traffic figures for Finnair recently showed, for European flag-carriers the one part of their global networks that is nowhere near back to normal is Asia. In July, passenger numbers on Asian routes for the Finnish flag-carrier were at just 29% of the figure for July 2019. Looking at Cirium schedule data across all airlines operating between Europe and Asia (defined here as South, East and Southeast Asia) reveals that the seat recovery rate has been climbing steadily from 35.1% in June, to 37.9% in July and currently 39.1% for August. The latest schedule data for September suggests that the recover will finally reach 40%, with available seats at 41.3% of September 2019 figures.
European capacity to China still 96% down on pre-pandemic levels
Unsurprisingly, there are huge differences between country markets. Back in August 2019, China was by far the biggest Asian country market from Europe with just over one million monthly one-way seats, almost three times more than the second ranked Japanese market with 336,000 seats. However, as a result of China's approach to COVID, capacity from Europe is still down 96% compared with pre-pandemic levels.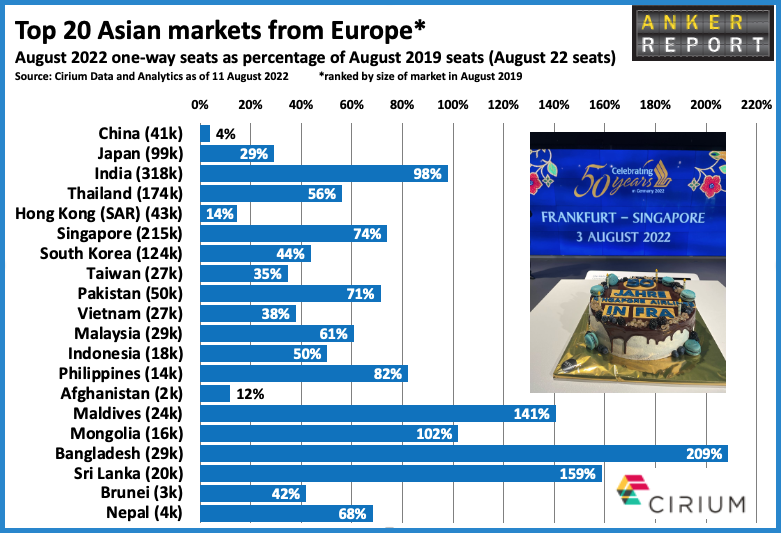 Among the top 10 markets in 2019, China's nearest rival for slowest recovery is Hong Kong (down 86%) followed by Japan (down 71%). The best recovery rates among what were the top 10 are India (98%), Singapore (74%) and Pakistan (71%). The Europe-India market has benefited from the arrival of Vistara (serving Frankfurt, London and Paris from Delhi) into the market as well as new routes from Air India, Air France, KLM, LOT Polish Airlines and Virgin Atlantic.
Outside the top 10, four country markets are showing an increase in European, non-stop seat capacity since 2019; Bangladesh (+108%), Sri Lanka (+59%), Maldives (+41%) and Mongolia (+2%). The growth in the Bangladeshi market is primarily from Turkish Airlines increasing frequency on its Dhaka service from daily to 2-daily. Given Sri Lanka's current economic troubles, it may be a surprise to see capacity growth on European routes. This can be attributed to SriLankan resuming non-stop service between Paris and Colombo, and between Frankfurt and Colombo. Both routes were last served in October 2016.
Turkish Airlines replaces Lufthansa as #1 Europe-Asia carrier
Looking at the leading airlines between Europe and Asia this summer, Turkish Airlines is now a clear leader, well ahead of Singapore Airlines and Lufthansa. The German flag-carrier had been top of the rankings in August 2019. Turkish Airlines has only added one new Asian route (to Mongolia) during the last three years. Lufthansa has not added any, but still has eight Asian services suspended that it was offering in August 2019, and has massively reduced capacity on many other routes.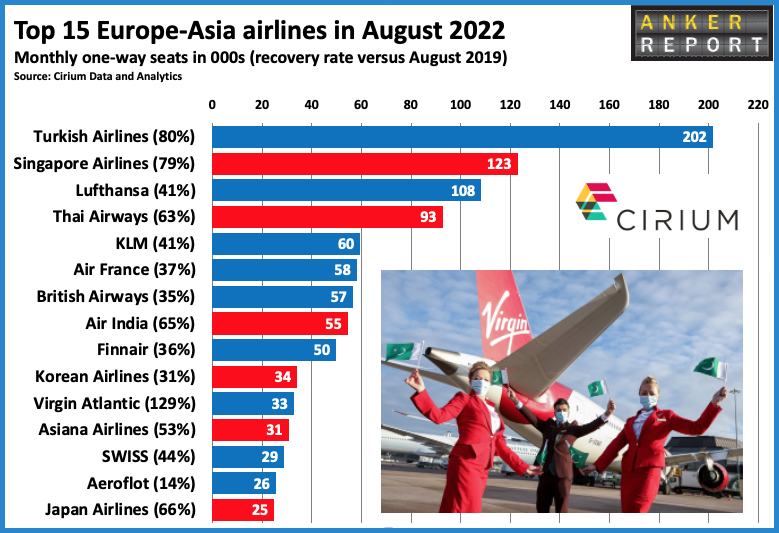 Among the top 15 airlines, only Virgin Atlantic has increased capacity between Europe and Asia. Compared with S19 it has added service from Heathrow to Islamabad, Lahore and Mumbai, and from Manchester to Islamabad. However, its flights from Heathrow to Hong Kong and Shanghai are currently suspended.
While Vistara is the biggest new carrier in the market, other airlines have also started their first flights between Europe and Asia. Vietnam's Bamboo Airlines launched non-stop service from Hanoi to both Frankfurt and London LHR, as well as from Ho Chi Minh City to Frankfurt. Pegasus now serves Pakistan thanks to linking Istanbul SAW with Karachi, while Eurowings Discover connects Frankfurt with Male.