Europe-China market starting to recover; flights and capacity still set to be down over 60% at start of S23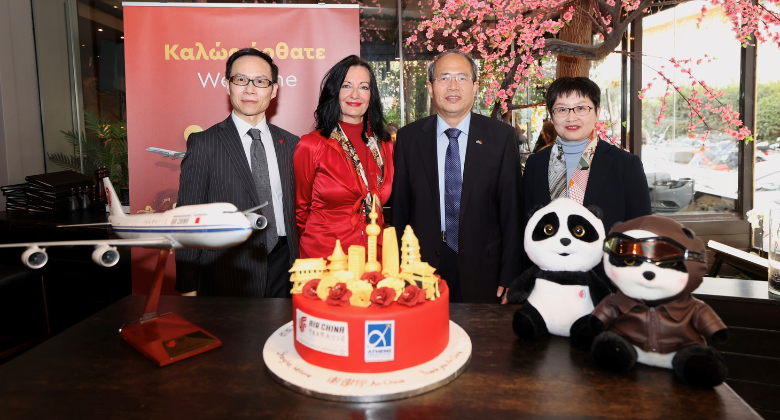 With travel restrictions to and from China finally easing, the number of daily flights between Europe and China is finally showing significant signs of recovery. In December the average number of daily one-way flights was around nine. This increased in early January as extra flights were added for Chinese New Year celebrations. The average number of daily flights then fell again but started picking up again at the end of January and into early February.
During March airlines are scheduling an average of around 17 daily flights from Europe to China. Come the start of the summer season this is set to almost double to 32. Of course, in such a recovering market there is still some uncertainty about how many of these flights will actually take place, but the signs are there that the market is gradually returning.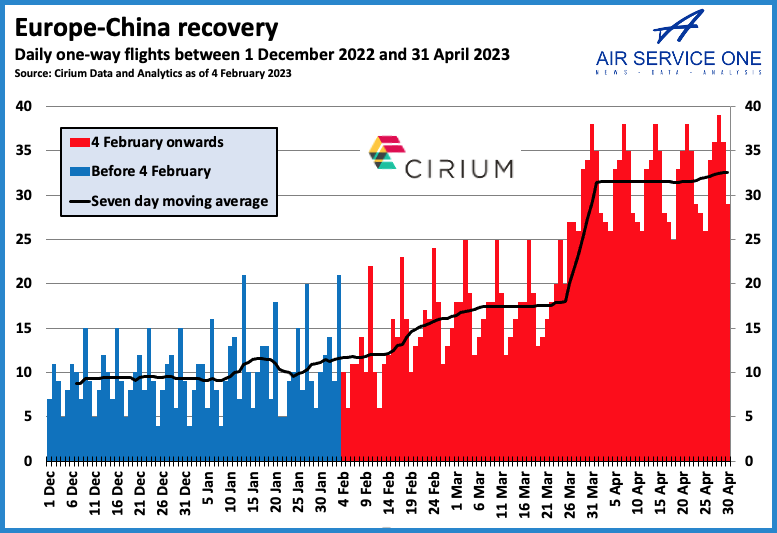 However, it is worth noting that, back in April 2019 there were over 90 daily flights between Europe and China. As a result, flights and seat capacity in April 2023 are still down over 60% compared with pre-pandemic levels.
Several new routes compared with summer 2019
Analysis of Cirium schedule data, cross-checked with actual movement data from flightradar24.com, confirms that the following non-stop services between Europe and China, which did not operate in the summer of 2019, are currently being flown:
Air China: Athens – Shanghai, Budapest – Chongqing, London LHR – Shanghai, Milan MXP – Wenzhou
Air Serbia: Belgrade – Tianjin
Beijing Capital Airlines: Lisbon – Hangzhou
China Eastern Airlines: Rome FCO – Wenzhou
China Southern: Frankfurt – Guangzhou, Istanbul IST – Guangzhou
Hainan Airlines: Belgrade – Beijing PEK, Madrid – Chongqing
Juneyao Airlines: Helsinki – Zhengzhou
Most of these routes are currently only operating on a weekly basis and a few are not currently scheduled beyond the end of the current winter season (end of March 2023). There are also a handful of routes which used to operate to Beijing PEK which now fly to the new Beijing PKX airport.
Wenzhou welcomes return of European flights
Two of the new routes are to Wenzhou, an airport that last welcomed European flights in March 2016. Both routes are from Italy; Air China from Milan MXP (since 28 November 2022) and China Eastern from Rome FCO (since late October 2022). Wenzhou lies on China's south-east coast. According to government statistics, Wenzhou Longwan International Airport welcomed 12.29 million passengers in 2019. This made it China's 34th busiest airport that year.