Europe continues spotty recovery this winter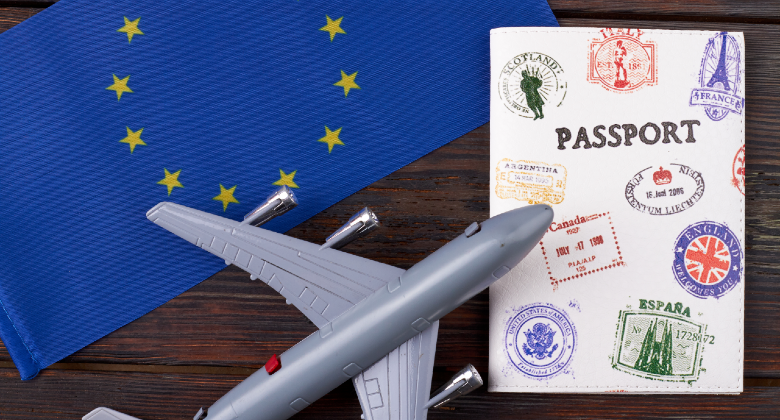 European airlines and airports have struck a cautious tone about travel demand this winter season (29 October 2023 - 30 March 2024) amid uncertainty in the wider economy, geopolitics and supply chain issues causing operational headaches.
Analysis of capacity data provided by airlines to Cirium shows that Europe has 383.3 million available seats in Q4, representing an increase of 0.5% on the same period during the pre-pandemic 2019, illustrating a full but fraught recovery, despite a 5.2% dip in the number of operated flights. Q1 2024 proves more difficult to compare due to the onset of the global health emergency over the same period in 2020.
ULCCs lead European growth
Among Europe's busiest carriers, Wizz Air has expanded strongly (Q4 seats up 65%), as well as Ryanair (30.8%) and Turkish Airlines (17.6%). On the other hand, Aeroflot has seen figures decline (Q4 seats down 39%) due to sanctions and war. Several other large European carriers have also contracted their capacity. These include Air France (17%) and Lufthansa (26%), based in two markets where consumers have recently experienced a squeeze on household incomes from high inflation and rising interest rates.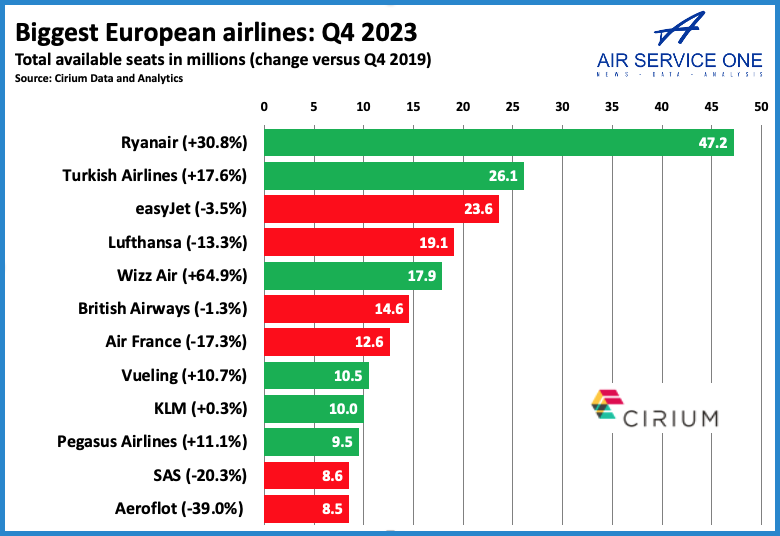 During Q4, 23 European markets will witness capacity growth on four years ago. Notably, those in Southeastern Europe are recovering much quicker compared to the overall European average. The largest growth percentagewise is being recorded by Albania (148.7%) as it becomes a battleground for the continent's two largest ULCCs - Ryanair and Wizz Air
Other notable increases are being recorded in Bosnia and Herzegovina (42.4%), North Macedonia (39.4%) and Serbia (32.2%). Among Europe's top ten largest country markets (shown in red on the figure), half of them see capacity growth in Q4. They include the United Kingdom (4.4%), Spain (11.3%), Turkiye (12.7%), Italy (7.8) and Portugal (14.9%).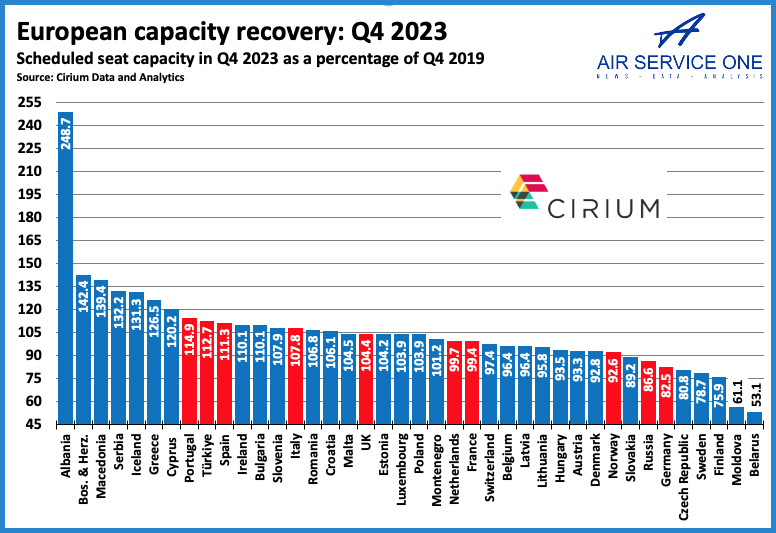 LCCs fuel Albania's meteoric rise
The Albanian aviation market has witnessed unprecedented growth since the pandemic. Wizz Air, which opened a base in the capital Tirana in 2020, now boasts an 11-member fleet in the country. Ryanair enters the Albanian market during Q4 with 17 new routes and 200 weekly flights during the course of the winter season.
Wizz Air has 1.6 million seats in Albania during Q4, while Ryanair features just over 321,000 seats. Neither of the two were present on the Albanian market prior to the pandemic.
Albania has recently been discovered by tourists from Western Europe as a more affordable alternative to other Mediterranean holiday hotspots, while strong VFR traffic, especially to Italy and the United Kingdom, have further generated LCC growth in the country.