Europe-Egypt market set for record winter; Hurghada overtakes Cairo for the most European capacity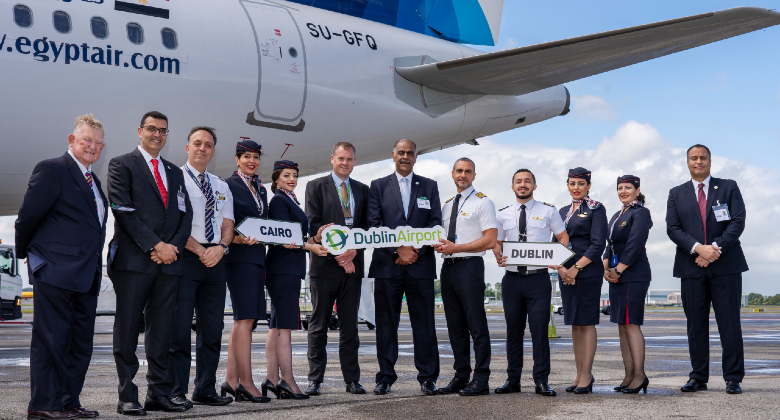 Egypt is Europe's fastest-growing large African market. There are three million departing seats this winter, according to Cirium schedules information data, 33% more than in W19 and the highest winter capacity yet. It is a continuation of a record-breaking summer. Six Egypt airports have 10,000+ Europe seats, four of which have seen big growth:
Hurghada: 1,145,165 W22 seats (+26% versus W19)
Cairo: 1,122,868 (+16%)
Sharm El Sheikh: 528,356 (+188%)
Marsa Alam: 149,559 (-1%)
Alexandria: 44,304 (+22%)
Luxor: 19,935 (-22%)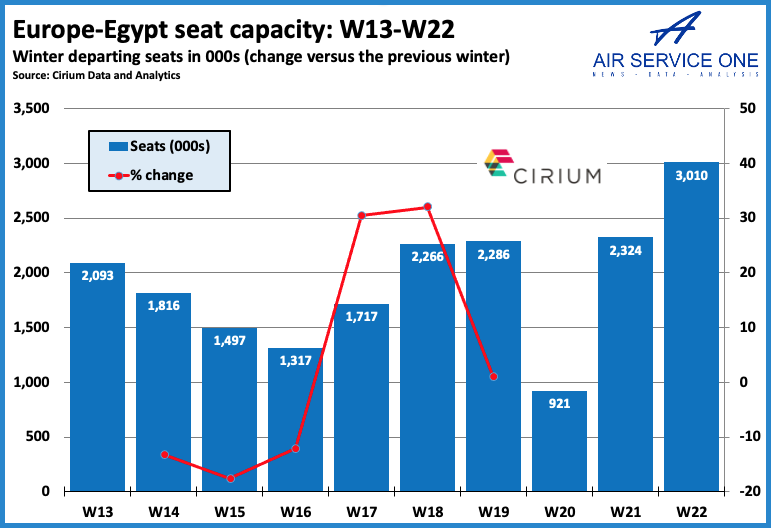 Hurghada: Egypt's leading airport to Europe
Hurghada has overtaken Cairo for the most European seat capacity. They were often close, and just 22,000 seats separate them this winter. Analysis of Cirium schedules information data tells us that it is the first winter the resort-serving Hurghada has surpassed Cairo. However, not all charter operators are captured in the data.
Analysis signifies that Hurghada has benefited from the arrival of multiple Russian carriers, Transavia (France and Netherlands), Wizz Air (Hungary and UK) and Eurowings (which ended in 2018 and returned in 2022). Hurghada has seen a large inflow of Russian capacity, aided by Europe being off-limits, with Russia now the resort airport's third-largest market, behind Germany and the UK.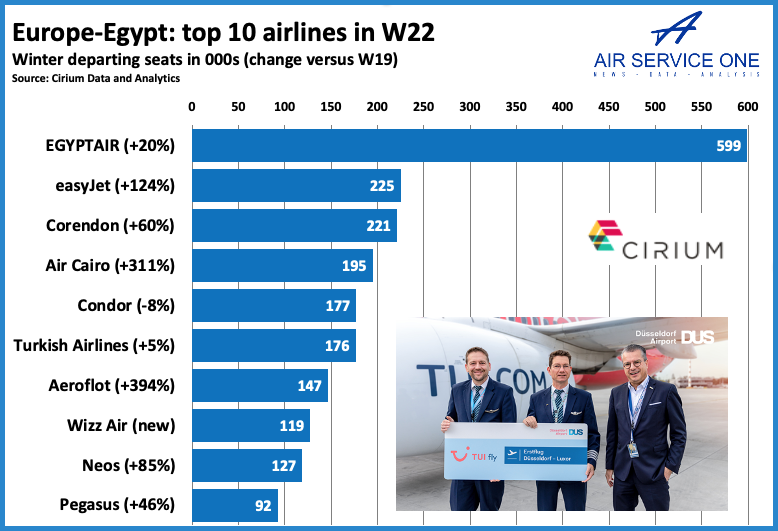 New Hurghada routes
New routes with regular winter flights include:
30 October: Rossiya from Sochi (daily)
1 November: Wizz Air UK from London LTN (2-weekly)
1 November: Red Wings from Sochi (2-weekly)
2 November Red Wings from Mineralnye Vody (2-weekly)
2 November: TUI fly from Rotterdam (2-weekly); Hurghada is triangular with Sharm El Sheikh
5 November: Transavia France from Lyon (weekly)
8 November: Freebird Airlines Europe from Düsseldorf (2/3-weekly)
23 December: Air Cairo to Budapest (weekly)
Sharm El Sheikh-Europe capacity is up by 188%
Located at the tip of the Sinai Peninsula, Sharm El Sheikh has Egypt's third-highest capacity from Europe. What is especially important is that the winter-sun location has grown rapidly to 528,000 departing seats. However, the airport's capacity fell considerably between 2016 and 2019 following the downing of the Metrojet flight in 2015 and the response of nations to it, so its growth is somewhat artificial.
Italy is up, while the UK remains down
Sharm El Sheikh's recovery continues, with particularly robust development from Italy: capacity has risen by +92% versus W19 and is the highest to date. It is from the entry of Wizz Air (which now has four routes) and easyJet (three), while capacity of incumbent Neos has doubled (nine routes). Wizz Air is now the largest carrier from Italy.
In contrast, the UK – historically Sharm's primary origin market – has 110,000 seats in W22, just 36% of what was available in W14 before the Metrojet accident. Eight UK airports have Sharm flights, down from 14 in W14.
Sharm El Sheikh's new winter routes
This winter, the Red Sea resort airport gains 7 new routes:
30 October: Rossiya from Sochi (daily)
31 October: Wizz Air UK from London LTN (2-weekly)
1 November: Wizz Air UK from London LGW (2-weekly)
1 November: Wizz Air from Venice VCE (2-weekly)
2 November: Freebird Airlines Europe from Cologne Bonn (weekly, later 2-weekly)
5 November: Transavia France from Paris ORY (weekly)
23 December: Pegasus from Antalya (4-weekly)