Europe-Morocco traffic up 6% this summer versus 2019; Ryanair 60% bigger than Royal Air Maroc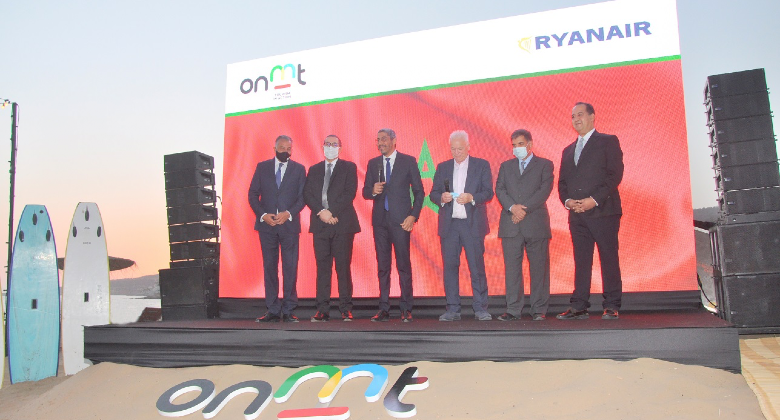 Traffic statistics from ONDA in Morocco reveal that across the period May to July, passenger numbers at the country's airports on flights between Europe and Morocco were up 6% versus the same period in 2019, from 4.21 million to 4.48 million. Demand was up 15% in May, down 3% in June and up 8% in July. This is an impressive recovery considering that all international flights had been grounded to/from Morocco between 29 November 2021 and 7 February 2022 in an attempt to limit the spread of the Omicron variant of coronavirus.
Ryanair capacity up over 40% versus 2019
Analysis of Cirium schedule data reveals that Ryanair is the leading airline between Morocco and Europe. In September 2019 it was responsible for 22% of seats in the market. That share has increased to 31% this month, with capacity increased by 44%. Three years ago, Ryanair and Royal Air Maroc were neck and neck for Europe-Morocco seat capacity. Now, Ryanair is 60% bigger with bases in Fez and Marrakech (both opened in April 2013), and more recently Agadir (in October 2021). The Moroccan authorities have even made a promotional video, extolling Ryanair's virtues and their strategic partnership.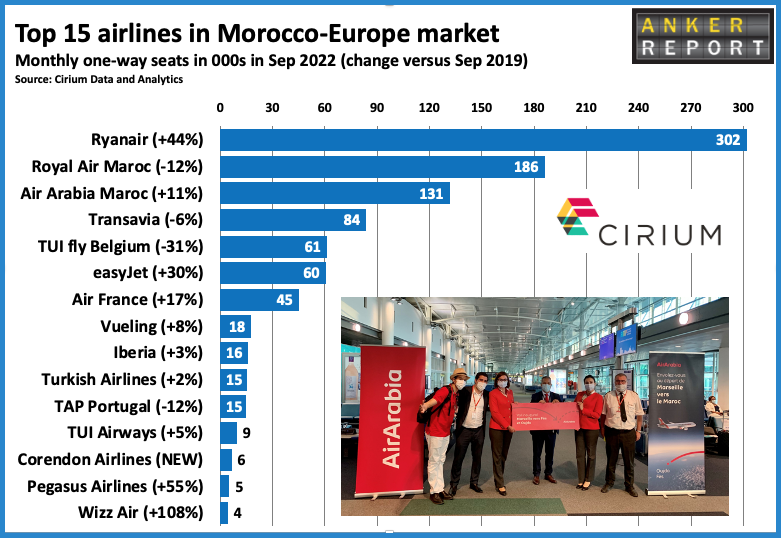 Across all airlines seat capacity is up 4% in September versus 2019, despite the loss of Aegean Airlines, Air Malta, Alitalia, Austrian Airways and Condor from the market. Corendon Airlines is the biggest new carrier in the market, followed by Eurowings Discover, which this week launches service from both Frankfurt and Munich to Marrakech.
France is leading country market
The top international country market is France, with more than twice as much seat capacity as second-ranked Spain. Then come Italy, Belgium and the UK. The German market now ranks only seventh, having slipped behind the Dutch market as a result of a 30% reduction in capacity since September 2019.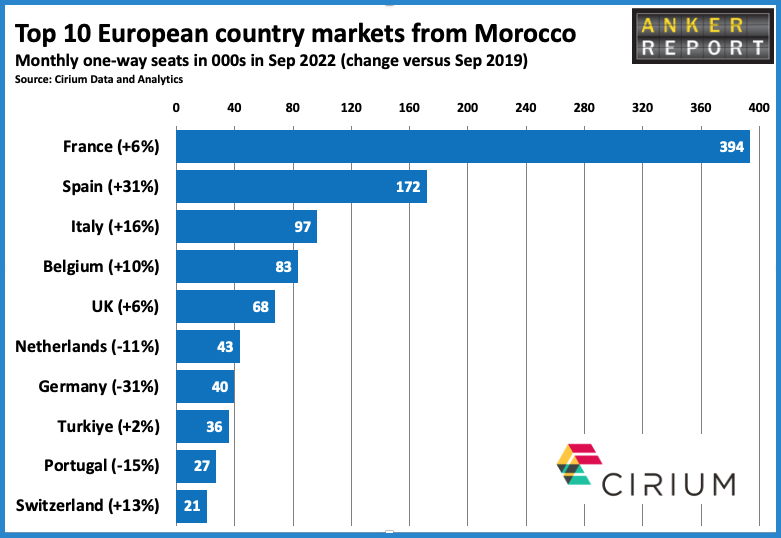 Just outside the top 10 are Poland, Austria and Denmark, which have all seen seat capacity reduced by more than 50%. However, at least these three country markets still have non-stop flights. Several countries including the Czech Republic, Greece, Hungary, Malta, Norway and Sweden, which all had services to Morocco in September 2019 are now no longer connected with non-stop flights.
Join Air Service One in Tangier, Morocco for CONNECT, February 22nd – 24th 2023.