Europe-Morocco was set for record 2020; Air Arabia Maroc growing in France and Spain before latest travel restrictions stifled demand
In 2019, according to official figures from ONDA, 79% of international traffic at Moroccan airports was on routes to/from Europe, representing 17.46m passengers. European traffic had grown in 2019 by an impressive 10.8% and had reached a new, all-time high.
The top five international routes in 2019 were:
Casablanca – Paris ORY (691,043 passengers)
Casablanca – Paris CDG (561,077 passengers)
Marrakech – Paris ORY (575,729 passengers)
Marrakech – Madrid (407,311 passengers)
Marrakech – London LGW (383,790 passengers)
These five routes alone accounted for almost 12% of international routes from Morocco.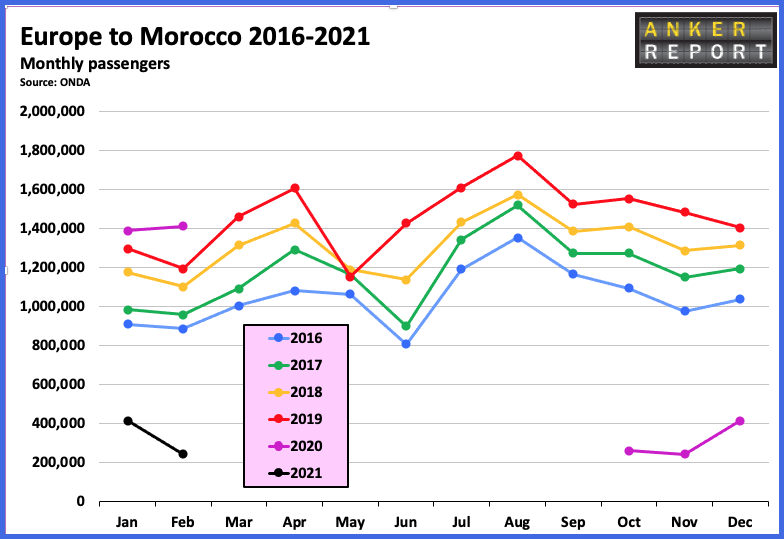 France is dominant market
According to Cirium Data and Analytics, France was by far the biggest international country market in 2019 with 4.16m departing seats, representing 29% of all international capacity. The next six biggest country markets were all in Europe; Spain, Italy, UK, Belgium, Germany and the Netherlands, ranked by market size. Rounding out the top 10 were Saudi Arabia, Turkey and the UAE.
Paris ORY was the most popular destination airport with more than twice the capacity of its nearest rival, Paris CDG. Then came Madrid, Barcelona and Brussels BRU. Completing the top 10 were Brussels CRL, London LGW, Lyon, Marseille and Amsterdam.
Back in April 2019 the leading carriers for Europe- Morocco flights were Royal Air Maroc, Ryanair and Air Arabia Maroc (see graph below). At the time of analysis, schedule data for late April 2021 was compared with April 2019 to see how airlines were coping. However, at the end of March, Morocco basically put a blanket ban on nearly all international services, which looks like it will run into mid-May.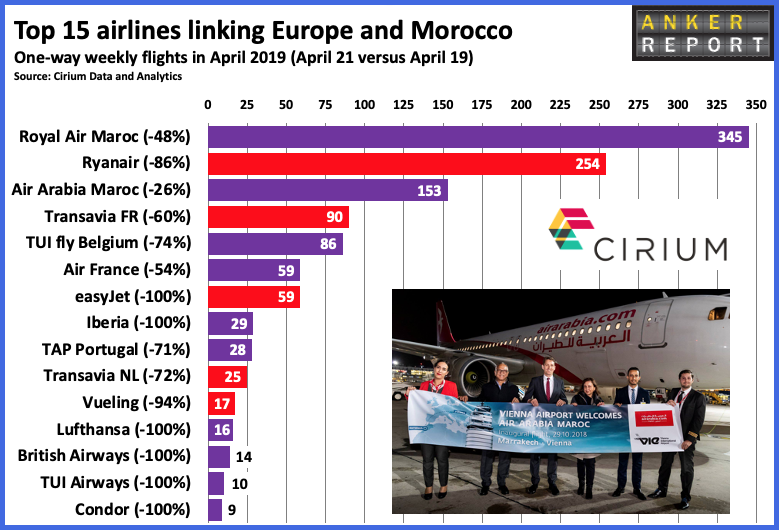 2020 had started so well
The first two months of 2020 had started very positively and had seen European traffic increase by 12.3%, helped a little by an extra day in February. And then the pandemic struck. By December 2020, international traffic was down 70% while domestic traffic had fallen just over 50%. The top four international routes in December were all to airports serving Paris, but the fifth busiest route was now from Casablanca to Dubai.
Air Arabia Maroc expansion
Before the latest travel bans, several airlines, notably Air Arabia Maroc, had been planning a number of new routes to Europe, mostly from some of Morocco's smaller airports. Several of these did launch right at the end of March, but have since been suspended.
Air Arabia Maroc had launched new international routes from Fez (to Malaga and Marseille), Marrakech (to Barcelona), Oujda (to Marseille, Paris CDG and Toulouse) and Tangier (to Bilbao and Valencia).
The latest ONDA figures for February 2021 show that there were 243,410 passengers on European flights that month, down 83% on last February's figure. The top five international routes were now: Casablanca-Paris ORY (12k pax), Casablanca-Dubai (10k), Tangier-Malaga (7.6k), Casablanca-Bologna (7.5k) and Tangier-Barcelona (7.4k).