Europe-South Africa recovery continues; just eight airlines operate with 14 routes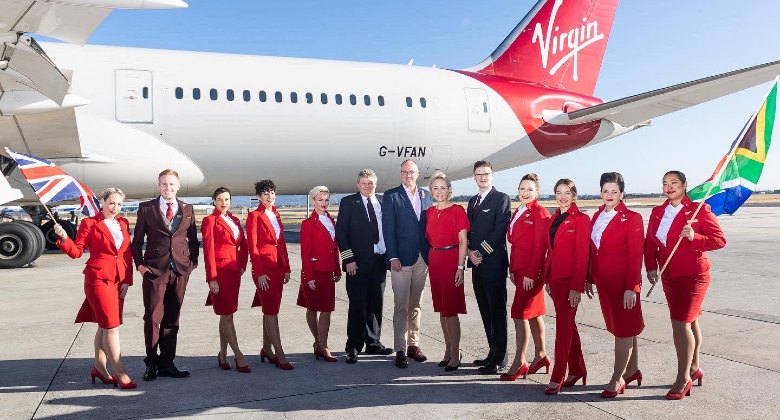 South Africa remains the most-served sub-Saharan African market from Europe based on non-stop capacity. According to Cirium schedules data, there 806,000 departing seats in W23 – 19% lower than the almost one million in W19. In contrast, all of Europe to sub-Saharan Africa rose by about 5%. More than two-thirds of South Africa-bound passengers continue to fly via a hub, showing that it is, not surprisingly, underserved by non-stop service.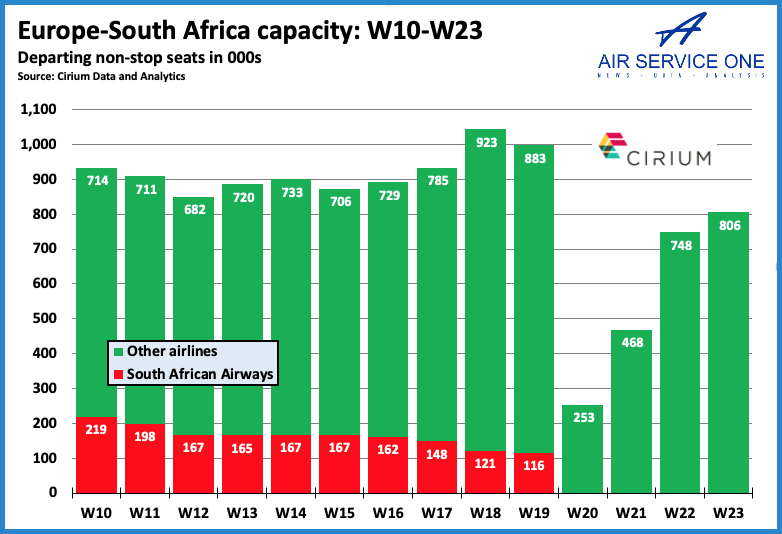 There are now just eight passenger airlines
The slow recovery is mainly because of the continued absence of much-afflicted South African Airways (SAA). In W19, it was the fourth-largest non-stop operator with about 12% of the market with three routes: Johannesburg to Frankfurt, London LHR and Munich.
It has suffered from the March 2020 exit of Alitalia from Rome FCO to Johannesburg (successor ITA Airways has not replaced it) and Austrian Airlines ending Vienna-Johannesburg.
While one-stop, Eurowings Discover (now Discover Airlines) operated Frankfurt-Windhoek-Nelspruit/Kruger – quite different – between November 2022 and January 2023. More recently, Air Belgium ended its Brussels-Johannesburg-Cape Town service in October 2023 as it ceased all passenger flights.
It means just eight airlines have non-stop Europe-South Africa flights this winter. British Airways remains the leading operator, despite a significant capacity reduction, partly from ending London LHR-Durban. Lufthansa has overtaken KLM for the second spot. Elsewhere, Virgin Atlantic resumed winter-seasonal LHR-Cape Town on 28 October 2023, a route relaunched in November 2022 having last been regularly served in 2015.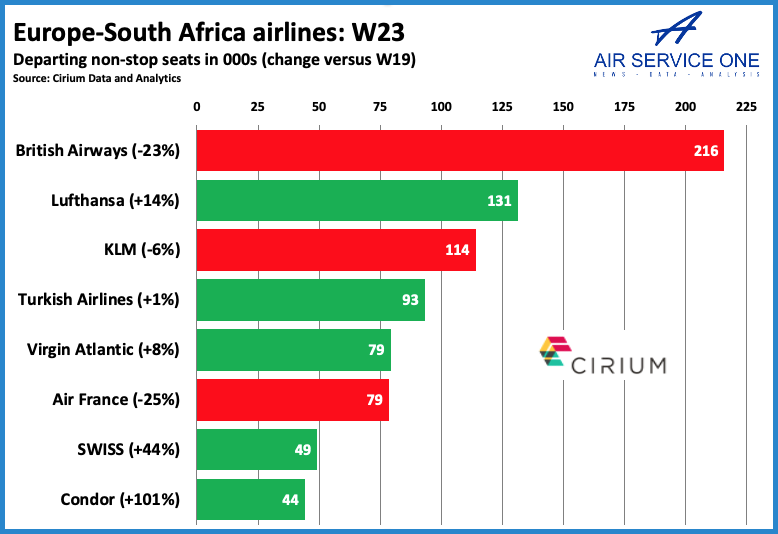 18 routes, including a one-stop
This winter, the eight airlines have 18 routes, as detailed below in order of airline name. In all, there are 14 airport pairs: seven to Cape Town, six to Johannesburg, and one to Durban.
Air France: Paris CDG to Cape Town, Johannesburg
British Airways: London LGW to Cape Town; LHR to Cape Town, Johannesburg
Condor: Frankfurt to Cape Town, Johannesburg
KLM: Amsterdam to Cape Town, Johannesburg
Lufthansa: Frankfurt to Cape Town, Johannesburg; Munich-Cape Town
SWISS: Zurich to Johannesburg
Turkish Airlines: Istanbul to Cape Town, Durban (via Johannesburg in both directions), Johannesburg
Virgin Atlantic: LHR to Cape Town, Johannesburg
LHR to Johannesburg remains first
If the airlines are removed, there are 14 airport pairs: seven to Cape Town, six to Johannesburg and one to Durban. The top 10 are shown in the figure, with LHR-Johannesburg still first – as it usually is.
The dominance of LHR-Johannesburg is despite available seats remaining down by a considerable 43%, surely providing an interesting opportunity. It was when SAA operated, and Virgin had more flights. In December 2019, there were 34-weekly departures by British Airways (14), Virgin (13) and SAA (7). In December 2023, there are just 21-weekly services: BA (14) and Virgin (7).
The Europe-South African market changes means that Johannesburg's W23 capacity remains down by a third versus W19. In contrast, leisure and often typically high-yielding Cape Town is up by 8%.