European air traffic domestic capacity recovery rates vary from 50% in Germany to 117% in Italy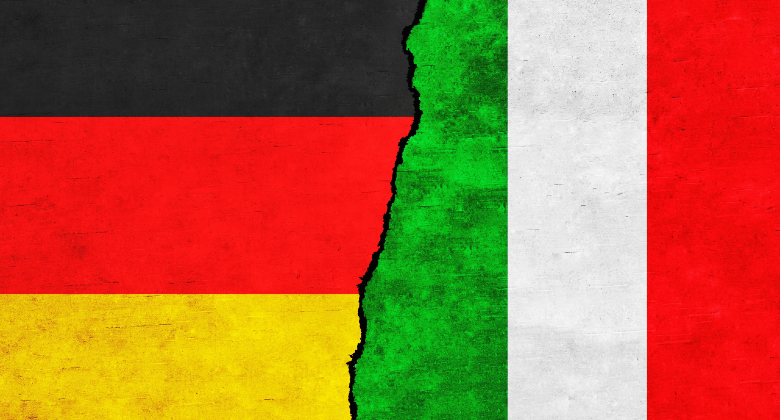 After the COVID pandemic struck and impacted air travel in March 2020, international travel was seriously impacted for a long time due to the restrictive and ever-changing travel rules imposed, somewhat arbitrarily, by governments around the world. In Europe it was noticeable that in many countries, it was easier to maintain domestic services as these were less impacted by travel restrictions.
However, a look at Europe's biggest domestic air travel markets shows how after over two years since the pandemic began, the recovery rate of domestic capacity varies considerably. Among the top 15 domestic air travel markets, the recover rate ranges from just 50% in Germany to 117% in Italy. Five of the countries have seen capacity growth while three others are at over 90%.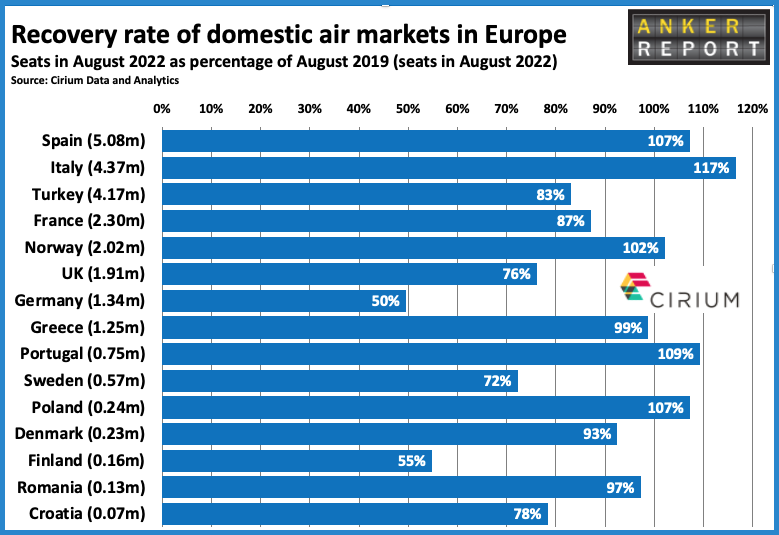 Looking at the leading country markets in more details reveals which carriers have added (and removed) the most capacity (between August 2019 and August 2022):
Spain (+7%, +341k seats): Ryanair +164k, Vueling +107k, Binter Canarias +98k, Iberia Express +91k, Volotea +86k / Air Europa -117k, Norwegian -71k
Italy (+17%, +620k seats): Ryanair +766k, Wizz Air +465k, Volotea +126k, easyJet +61k / Alitalia/ITA Airways -520k, Air Italy -266k
Turkey (-17%, -857k): Turkish Airlines -396k, Pegasus Airlines -323k, Atlasglobal -74k, Onur Air -50k
France (-13%, -339k): Transavia +163k, Volotea +123k / Air France/HOP! -651k
Norway (+2%, +42k): Flyr +155k, Wideroe +76k / SAS -160k, Norwegian -43k
UK (-24%, -600k): easyJet +101k, Loganair +80k, Aer Lingus +75k, Blue Islands +60k / Flybe -655k, British Airways -243k, Ryanair -43k
Germany (-50%, -1,365k): Eurowings -555k, Lufthansa -527k, easyJet -264k
Greece (-1%, -14k): Sky Express +183k / Aegean/Olympic -108k, Ellinair -58k
While the UK market suffered with the collapse of the original Flybe, the German market did not see any airline casualties. With its efficient high-speed rail network and autobahns, it would seem that many Germans have shifted transport mode when it comes to domestic travel.