European capacity forecast to be just 6% down versus 2019 in 2023 Q2; Ryanair increases market share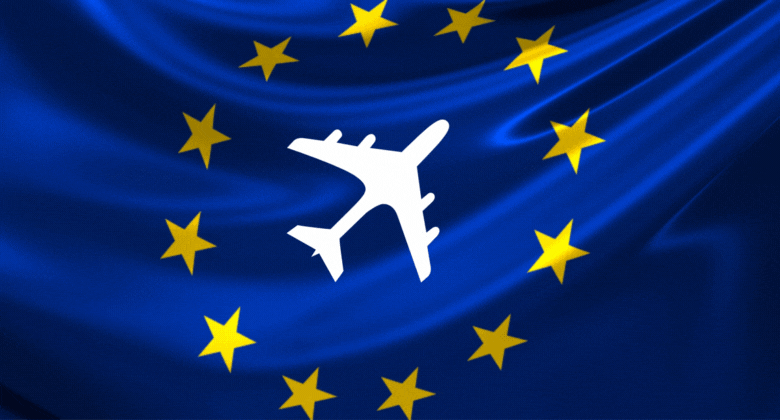 The recovery in European air travel is set to continue in 2023 according to Air Service One analysis of schedule data from Cirium. While capacity in the first quarter of 2023 is forecast to be down almost 12% versus 2019, for the second quarter of this year the deficit has been reduced to just 6%. Early indications are that the capacity deficit will remain at around 6% in the third quarter of 2023 as well.
Looking at the top 15 airlines operating from European airports, nine of them have lost market share compared with the second quarter of 2019, while six have gained market share. Of those six, five are (U)LCCs with Turkish Airlines the other carrier. Impressively, Ryanair, which was already the market leader, has increased its share the most, from 11.4% (or about one in every nine seats) to 14.6% (or about one in every seven seats).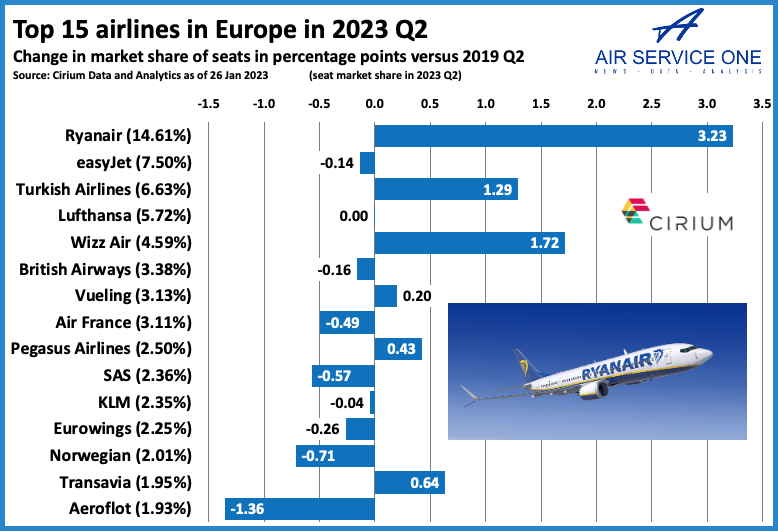 The only other carriers to increase their European market share by more than one percentage point were Wizz Air (from 2.9% to 4.6%) and Turkish Airlines (from 5.3% to 6.6%). The biggest losers among the top 15 airlines are Aeroflot (for obvious reasons) and Norwegian, which dramatically restructured after almost collapsing during the pandemic.
Southern leisure destinations show strong growth
Looking at Europe's top 15 country markets in 2023 Q2 reveals that capacity is above 2019 levels in seven of them. The top three countries for capacity recovery are Portugal, Greece and Turkiye. These are all popular leisure destinations and are likely to perform even better in the third quarter of the year when leisure demand will be at its peak.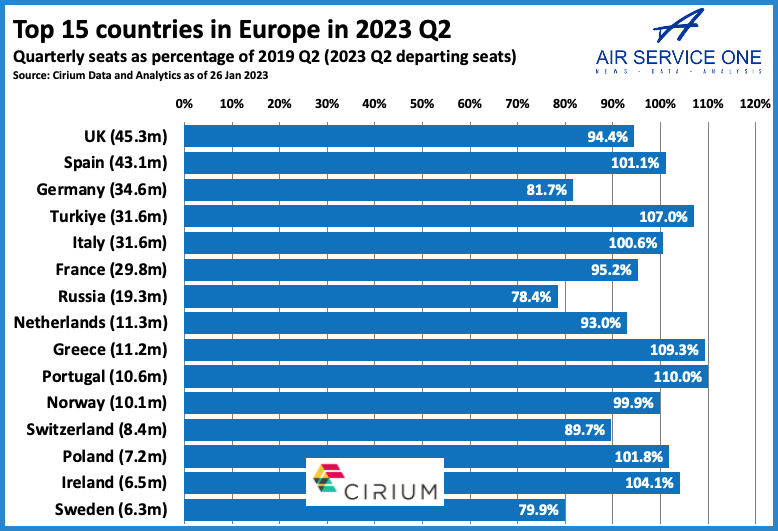 Apart from Russia, capacity recovery is also lagging significantly behind in Germany and Sweden. According to Statista forecasts, these two countries are among a small number in Europe where GDP is forecast to shrink in 2023. As economic growth (or lack of) has historically always been highly correlated with air travel demand, it is no surprise to see these two countries recovering more slowly.
Among smaller countries in Europe, Albania is expecting airline seat capacity growth of 124% versus 2019 Q2, primarily thanks to Wizz Air's rapid growth in Tirana. Other countries currently showing double-digit increases in available seats this spring are North Macedonia (+37%), Bosnia & Herzegovina (+35%), Iceland (+19%) and Serbia (+16%).