European capacity in Q3 set to be just 7% below pre-pandemic levels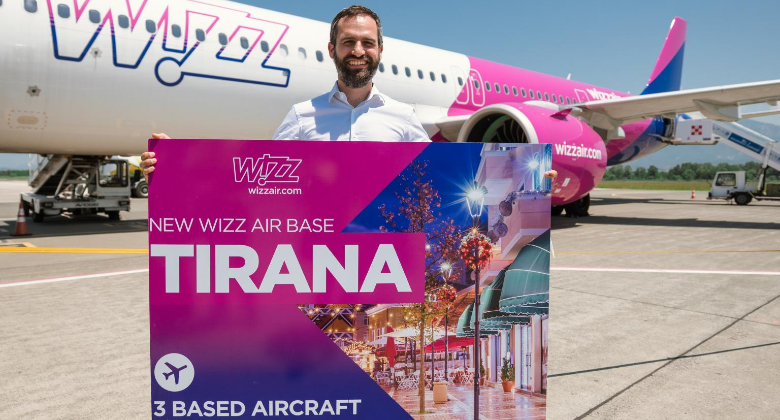 Analysis of the latest Cirium schedule data provided by airlines, indicates that seat capacity across Europe in the all-important third quarter of 2022 (July to September) is currently just 7% below the levels recorded in the same pre-pandemic period in 2019. As has been demonstrated vividly during the last two years, things can change quite quickly, so this should not be taken as a statement of fact. With rising fuel costs, staffing issues, the war in Ukraine and the possibility of further mutations of the virus, things may yet take a turn for the worse. But for now, at least, things are looking quite positive for the summer.
At present, 12 European countries (out of over 40) are showing capacity increase in Q3 compared with 2019. Many of these are in some of Europe's smaller air travel markets. However, this list does include two of Europe's most popular leisure destinations (Greece and Italy) as well as Croatia and Romania, which are also significantly sized markets. However, among Europe's six biggest country markets (highlighted in red), two are only at 90% recovery (France and the UK), while Germany is languishing near the bottom of the rankings at just 82%.
Apart from Germany, it is worth highlighting the other significant markets that are still below 80%; Finland, Sweden and the Czech Republic. It is also worth noting that many airlines are still showing capacity on flights to/from and within Ukraine for the third quarter of this year. Given the current situation, this may be unduly optimistic.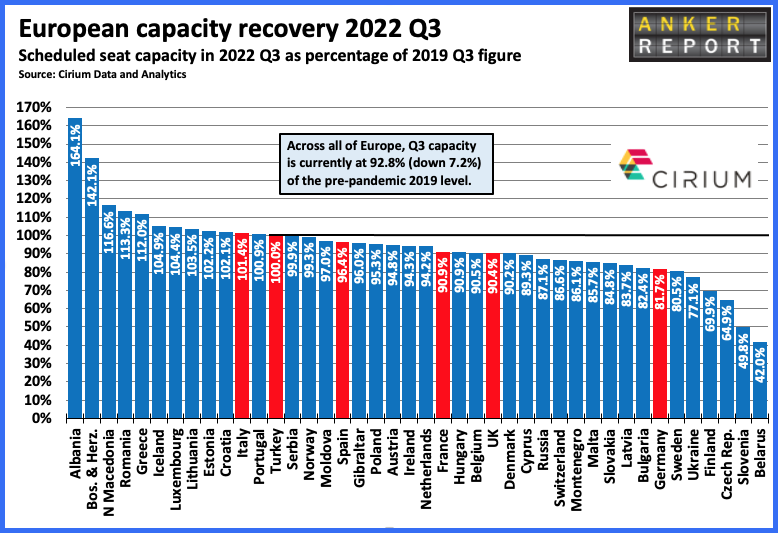 Ryanair and Wizz Air grow their market shares
Looking purely at intra-European traffic for this summer reveals that two carriers in particular have seized the opportunity to significantly grow their share of the market. Wizz Air, the fifth biggest carrier in the market, has increased its share of seats from 3.4% to 5.3%. This leaves it within touching distance of Lufthansa in fourth place and with Turkish Airlines potentially in its sights.
However, as if being by far the largest airline for intra-European capacity was not enough, Ryanair has also grown its share of the market by 3.9 percentage points, from 12.3% to 16.2%. This means it has gone from offering around one in every eight seats within Europe, to offering one in every six. Other LCCs to have gained market share are easyJet, Jet2.com, Pegasus and Vueling. Among the top 15 carriers only one legacy carrier has increased its market share, Turkish Airlines. Meanwhile, Air France, British Airways, Lufthansa and SAS have all lost market share, while KLM's share has remained stable.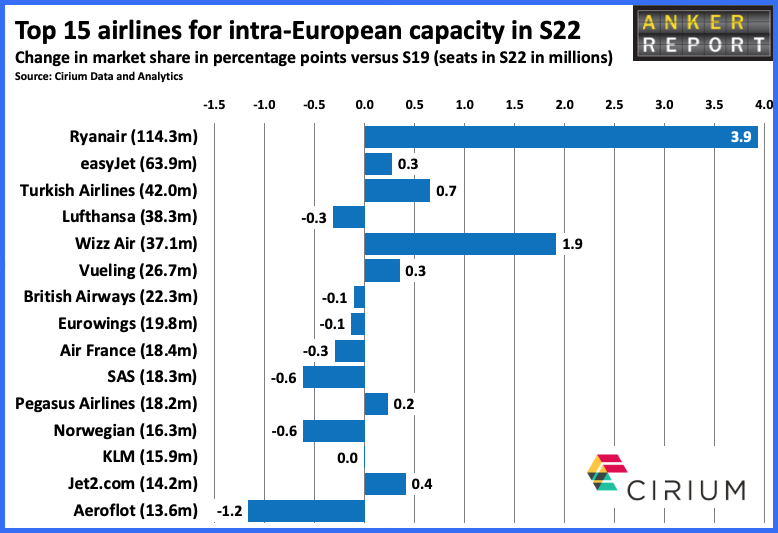 Just outside the top 15 carriers are several that have made significant market share gains during the pandemic, including Corendon Airlines, Transavia France and Volotea. Airlines that we have lost in Europe since the third quarter of 2019 include Adria Airways, Air Italy, AtlasGlobal, Blue Panorama Airlines, Ernest Airlines, Onur Air and Thomas Cook Airlines. On a positive note, we have also seen the launch of Flyr and PLAY (with Norse Atlantic Airways due to start operations in June), while Flybe has been revived.