European capacity recovery for Emirates significantly higher than Qatar Airways and Etihad Airways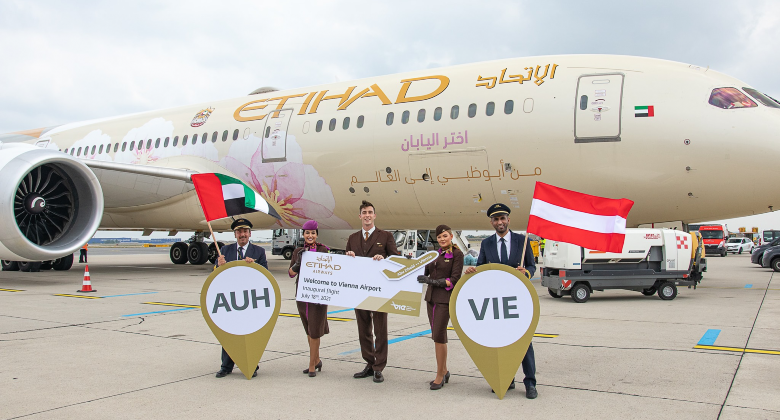 International long-haul traffic was hit especially hard by the pandemic, with many Asian countries in particular imposing extremely severe restrictions on foreign visitors. Some of these markets are still only just opening up to international passenger flights. For many European travellers, a popular way of reaching many key Asian markets was to use one of the three major Middle East hub carriers; Emirates in Dubai, Etihad Airways in Abu Dhabi or Qatar Airways in Doha.
Looking at airline capacity to Europe offered by these airlines between January 2019 and December 2022 reveals some interesting facts. Using Cirium schedule data and treating January 2019 as the base month we have plotted the relative monthly capacity in the subsequent four years.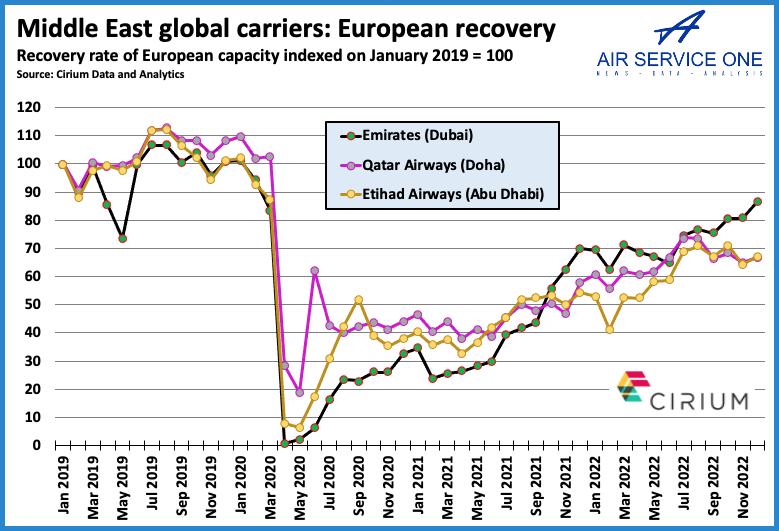 The first thing to notice is the dip in Emirates capacity for a period in 2019. Between 16 April and 30 May of that year the airport's southern runway was closed for maintenance which significantly impacted airport capacity. By January 2020, Emirates and Etihad Airways were still at 100 while Qatar Airways had increased its European capacity by 10% and was at 110.
Qatar Airways initially maintained more European capacity
When the pandemic started impacting air travel it was noticeable that Qatar Airways maintained more of its European capacity than its UAE-based rivals. Emirates, with the biggest European network, was the slowest of the three carriers to recover in percentage terms, until September 2021. From October 2021, Emirates had the highest recovery rate for European capacity, something it has maintained for almost every month since. Schedule data for December 2022 shows Emirates at almost 87% of January 2019 capacity, while Qatar Airways and Etihad Airways are both at 67%.
In terms of seats, Emirates is offering 887,000 seats each way between Europe and Dubai in December. This compares with 458,000 for Qatar Airways to Doha and 182,000 for Etihad Airways to Abu Dhabi. Considering that 13 of the 32 countries taking part in the just started FIFA World Cup in Qatar are from Europe, it seems surprising that Qatar Airways is not showing much improvement in November or December compared with previous months.
Several new European routes launched
Since the beginning of 2019 the following new European routes were launched by these carriers:
Emirates: Porto (July 2019)
Etihad Airways: Heraklion (June 2022), Malaga (July 2021), Moscow SVO (December 2021), Mykonos (July 2021), Nice (June 2022), Santorini (July 2021), Vienna (July 2021)
Qatar Airways: Düsseldorf (November 2022), Izmir (May 2019), Lisbon (June 2019), Malta (June 2019), Moscow SVO (October 2021), Odessa (December 2021), Santorini (June 2022)
In total, in November, Emirates is serving 38 European destinations non-stop from Dubai, Qatar Airways is serving 36 European destinations non-stop from Doha and Etihad Airways is serving 18 European destinations non-stop from Abu Dhabi. All three carriers continue to serve Russia, with Emirates serving Moscow DME and St. Petersburg, and both Etihad Airways and Qatar Airways serving Moscow SVO.