European flag-carriers struggling to rebuild Europe-Asia capacity; Turkish Airlines and LOT are exceptions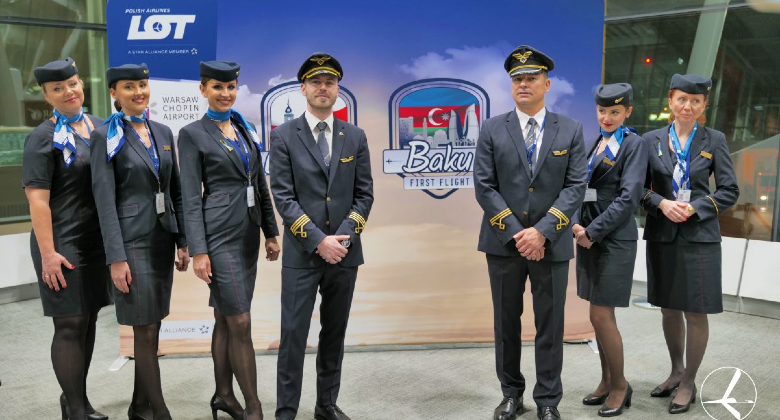 As previously noted, the Europe-Asia market is recovering more slowly than many other inter-continental markets. There are several reasons for this. China's zero tolerance approach to COVID has resulted in extreme travel restrictions on passengers. As a result, seat capacity between Europe and China is still down over 95% according to Cirium data for September. Another major factor has been the war in Ukraine which has resulted in Russia closing its airspace to European airlines as a response to economic sanctions. For some airlines in northern Europe, this means that flights to Asia are significantly longer.
Western Europe's major hub carriers all struggling
Looking explicitly at Europe's flag carriers, the range of recovery rates this summer (June to September) for Europe-Asia capacity varies significantly. Among the four Western European carriers with major hubs (Air France, British Airways, KLM and Lufthansa) all are currently at between 33% (British Airways) and 45% (Lufthansa) in terms of capacity recovery.
Among the top 10 European flag-carriers in the market in 2019, just two have recovered their capacity to virtually 100%; Turkish Airlines and LOT Polish Airlines. The former has launched several new roues from Turkey to Kazakhstan (Aktau, Almaty, Ganja, Karaganda, Nur-Sultan and Turkistan), Turkmenistan (Turkmenbashi) and Uzbekistan (Bukhara, Fergana and Urgench). It has also started service from several Russian cities in Asia to Antalya.
LOT has maintained its Asian capacity despite the loss of service to Beijing and Singapore. It has added new routes from Warsaw to Baku and Mumbai, both of which launched in May. Its route to Delhi only launched in September 2019 so almost counts as a new route in this analysis. The same is true of the airline's Budapest-Seoul route.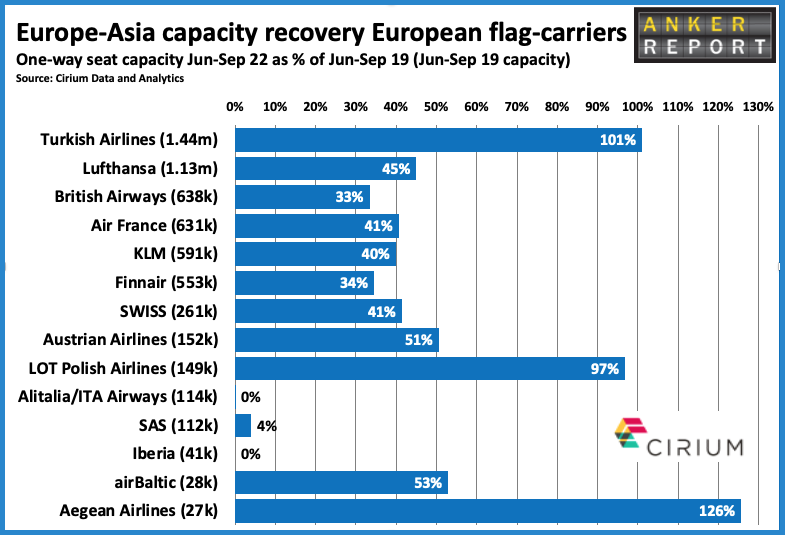 Two flag-carriers, those of Italy and Spain have completely withdrawn from the market (at least for now), while Scandinavia's SAS has almost no flights to Asia. Back in S19 Alitalia served Delhi and Seoul from Rome FCO as well as Tokyo NRT from both Rome FCO and Milan MXP. That summer Iberia offered non-stop flights from Madrid to Shanghai and Tokyo NRT. SAS was offering service from Copenhagen to Beijing, Hong Kong, Shanghai and Tokyo NRT. Of these only Shanghai is currently operated, but only on a weekly basis.
Virgin Atlantic's Asian capacity up
Although not a designated flag-carrier, UK carrier Virgin Atlantic has increased its Asian capacity by 35% compared with S19. Despite dropping its daily flights from Heathrow to Hong Kong and Shanghai, it has doubled frequency to Delhi (from daily to 2-daily) and added a daily Mumbai service. It has also entered the UK-Pakistan market with flights from Heathrow to Islamabad and Lahore, and from Manchester to Islamabad.