European flag-carriers: wide-body versus narrow-body seat capacity recovery rates compared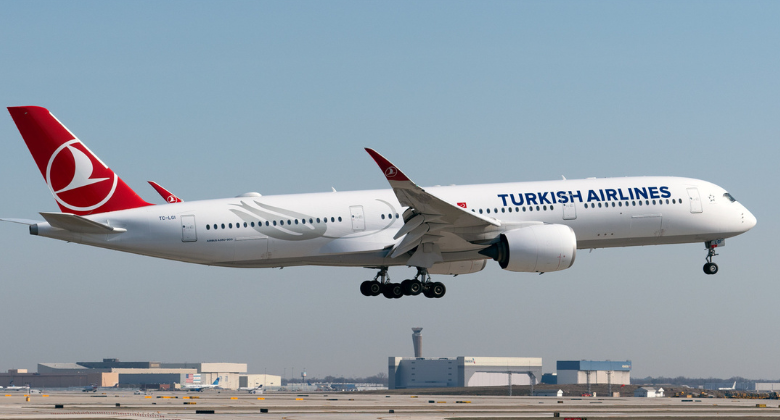 Air Service One has identified 15 European flag-carriers that operate a mix of narrow-body (NB) and wide-body (WB) aircraft, and plan to operate at least 1,000 flights with WB aircraft in 2023 Q2. Typically, WB aircraft tend to be used primarily on long-haul, intercontinental services. This analysis, using Cirium schedules data, compares the capacity (seat) growth in 2023 Q2 versus 2022 Q2 (and also versus 2019 Q2) for the 15 airlines, separately for NB and WB operations. Given the more recent gradual resumption of services to Asia (in particular China), it might be expected that airlines have grown WB capacity more quickly than NB capacity in the last 12 months. It turns out that this is only true for nine of the 15 carriers.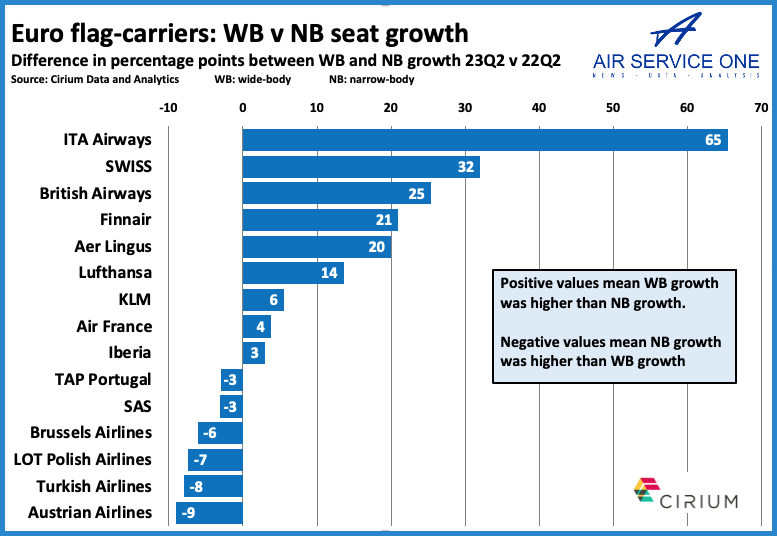 Looking at the difference in growth rates (in percentage points), ITA Airways leads the way. It has seen its WB capacity almost double (increase of 98%) while its NB capacity has grown by 33%. As a result, the difference in growth rates is 98 minus 33 equals 65 percentage points. ITA's WB growth rate is particularly high as the replacement for Alitalia is still ramping up its capacity and had initially been focussing more on short-haul and therefore NB traffic.
In second place, SWISS has grown its WB capacity by 46% since 2022 Q2 and its NB capacity by 14%, giving a result of 32 percentage points. At the other end of the scale, fellow Lufthansa Group member Austrian Airlines increased its WB capacity by just 13%, while growing NB capacity by 22%, a difference of minus nine percentage points.
Three carriers have grown WB seats compared with pre-pandemic
Comparing WB seat capacity in 2023 Q2 with what was offered pre-pandemic in 2019 Q2 reveals that three of the 15 carriers are fully recovered and planning more seats this year than they did four years ago. Those airlines are Turkish Airlines (+10%), Aer Lingus (+10%) and LOT Polish Airlines (+13%). Iberia (down just 1%) and Air France (down 4%) are almost there. Six other airlines are at between 80% and 90% recovery, while three others are at between 70% and 75% recovery. Despite its rapid growth since last year, that still leaves ITA Airways as the slowest recovering airline (if we compare it with its predecessor Alitalia) with WB capacity down 44%.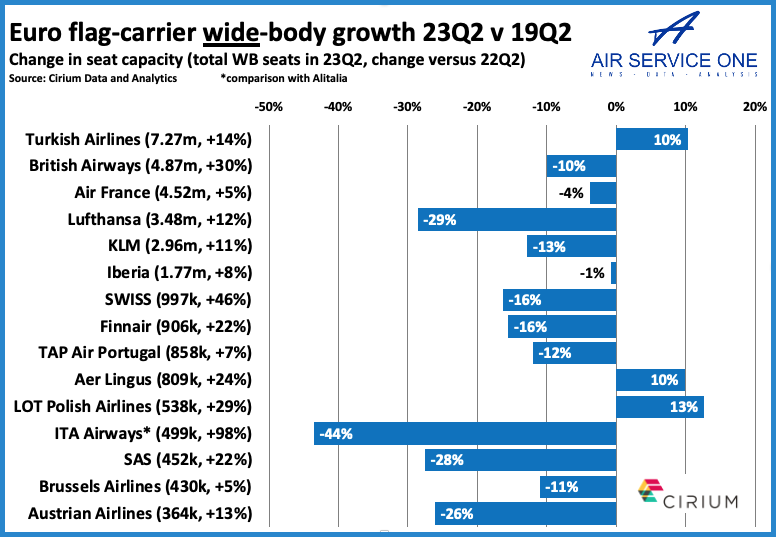 Looking at current (2023 Q2) WB seat capacity reveals that Turkish Airlines leads the way by some distance with almost 7.3 million seats. Then comes British Airways with 4.9 million and Air France with 4.5 million. These three carriers, as well as Lufthansa, all currently have between 100 and 130 WB aircraft, according to planespotters.net. So how come Turkish Airlines is so far ahead? The answer lies in sector length. Turkish Airlines uses its WB fleet on many much shorter routes and has an average sector length for its WB fleet of 4,550 kilometres. In contrast, the average sector length for its nearest rivals is much higher; British Airways at 6,890 kilometres, Air France at 7,150 kilometres and Lufthansa at 7,600 kilometres. In terms of ASKs (Available Seat Kilometres) there is actually little to choose between Turkish Airlines, British Airways and Air France regarding their WB fleet in 2023 Q2.
Three carriers have grown NB seats compared with pre-pandemic
Repeating this analysis for the 15 carriers but this time looking at NB capacity reveals that once again Turkish Airlines lead the way for seats in 2023 Q2. However, Lufthansa is now ahead of British Airways and Air France for NB seats with SAS fifth and KLM sixth. Three of the 15 carriers are reporting double-digit percentage growth versus 2019 Q2; Turkish Airlines (+20%), Austrian Airlines (+19%) and LOT Polish Airlines (+11%). Iberia's NB capacity is almost the same as four years ago.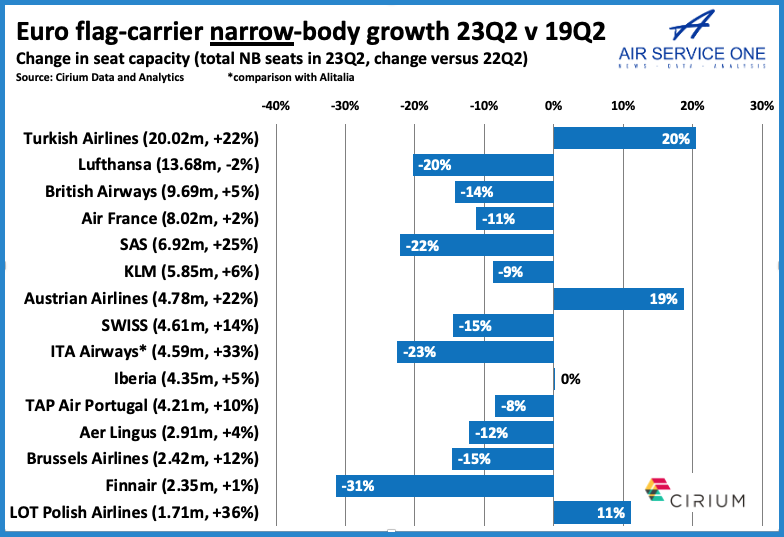 Four airlines are still down at least 20% when it comes to NB capacity compared with 2019 Q2. These are Lufthansa (down 20%), SAS (down 22%), ITA Airways (down 23% when compared with Alitalia) and Finnair (down 31%).
It seems clear from this analysis that while many of Europe's low-cost/leisure airlines are already fully recovered in terms of seat capacity compared with 2019, the vast majority of Europe's major flag-carriers still have some way to go in this regard.