European flights down around 25% in early December; recovery rate at Wizz Air falling
Analysis of Eurocontrol data for the first week of December shows that flights are still down 25% compared with the same period in 2019. The best day this year was 30 October when the 7-day moving average figure showed flights were down 18.8%. However, this is a slightly false view as the timing of the change from summer to winter season (which always happens from a Saturday to a Sunday in late October) was slightly different in 2019 compared with 2021.
Since the start of the winter season, Ryanair has been operating more flights than it did in November 2019. Wizz Air, which also started the winter season strongly with 10% more flights than two years ago, has seen its recovery rate fall for each of the last five weeks. Now it is operating only just over 70% of the number of flights it did in early December 2019. Apart from Ryanair (at 105%) none of the other 12 major airlines shown in the graph are over 85% in terms of recovery percentage. Turkish Airlines at 83.3% is just ahead of Iberia at 82.5%. Four more carriers are between 70% and 80%, while two are between 60% and 70%. Failing to reach the 60% mark are easyJet (56.9%), British Airways (54.6%) and Norwegian (53.1%).
Among other carriers operating in Europe, Volotea (127%) and Loganair (100%) are performing well for different reasons. Aer Lingus is another carrier still operating fewer than 60% of the flights it did pre-pandemic. Among cargo carriers, FedEx is basically at the same level it was two years ago. However, DHL is operating some 15% more flights.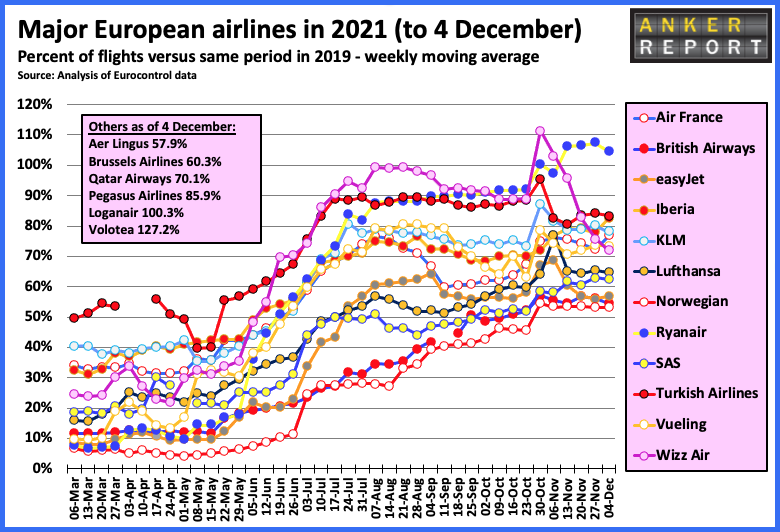 Fridays are still the busiest day of the week for flights in and across Europe, followed by Mondays and Thursdays. On Friday 3 December, Eurocontrol data reveals that Ryanair operated 2,429 flights, more than twice as many as easyJet (1,018) and Turkish Airlines (1,014). Rounding out the top five were Lufthansa (982) and Air France (827). They were followed by KLM (592), SAS (534), Wizz Air (522), British Airways (500) and Vueling (470).
Amsterdam maintains lead among airports
Among airports, Amsterdam with 1,022 movements on Friday 3 December, was just ahead of Paris CDG (1,000), with Frankfurt (974) not far behind. A little further back Madrid (923) and Istanbul IST (897) round out the top five. Heathrow (865) is edging closer to the top five and is now well ahead of Barcelona (727) in the battle for sixth place. Rounding out the top 10 are Munich (686), Oslo (582) and Istanbul SAW (559).
With governments responding on an almost daily basis with changes to travel rules as a result of the Omicron variant, it is hard to predict how the rankings for airlines and airports might change in the weeks ahead. However, it seems unlikely that many will see an improvement in their recovery percentage. With most European airlines notoriously unprofitable in the winter months, the latest developments will only increase the financial pressure on many parts of the travel industry as we head into 2022.