European flights still down around 30% in mid-September
Analysis of Eurocontrol data for the third week of September shows that flights are still down 30% compared with the same period in 2019. The best day this year was 4 September, when the 7-day moving average figure showed flights were down 28.2%. Compared with a week ago, among our basket of 12 airlines in the analysis, seven increased their rate recovery while five reported a drop in their recovery rate. KLM's recovery rate has declined for a third straight week, from 77.8% on 28 August to 73.7% on 18 September. The biggest drop in the last week has been reported by Vueling, whose rate of recovery fell from 79.3% to 72.8%. The biggest increase came from Lufthansa which improved by 1.8 percentage points to 53.2%. This is still some way short of the 56.7% it achieved on 7 August.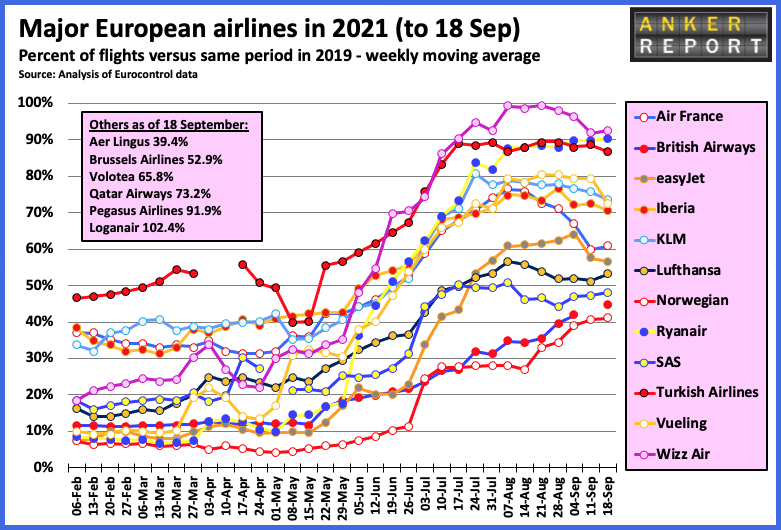 British Airways finally back in top 10
As measured by actual flights operated, Eurocontrol data shows that Ryanair was again by far the busiest airline in terms of flights operated on Monday 20 September. The carrier had 2,400 movements, well ahead of easyJet (1,214), Turkish Airlines (1,210), Lufthansa (839) and Air France (812). Rounding out the top 10 airlines for flights are KLM, Wizz Air, Vueling, SAS and British Airways. The UK flag-carrier finally returns to the top 10, replacing Pegasus Airlines.
Amsterdam maintains lead over Istanbul IST
Among airports, Amsterdam with 1,063 movements on Monday 20 September, was still just ahead of Istanbul IST (1,009). Frankfurt (915) has pulled ahead of Paris CDG (874), while Madrid (768) remains in fifth. Heathrow (743) has now edged ahead of Barcelona (724) in the battle for sixth place. Rounding out the top 10 are Munich (623), Istanbul SAW (609) and Athens (583).