European Q3 capacity now just 4% below pre-pandemic levels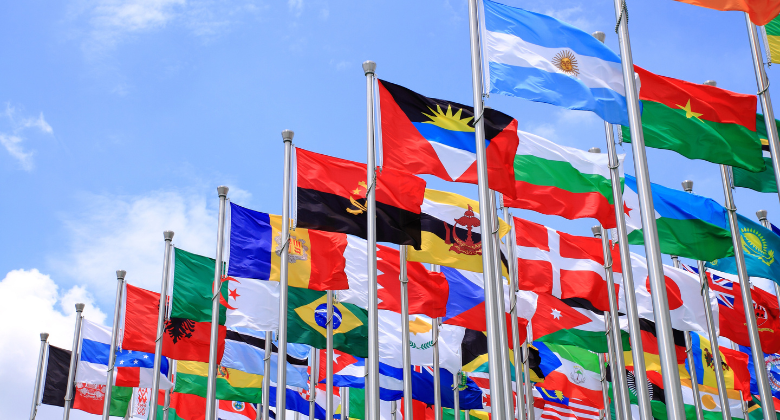 The all-important Q3 (July-September) period is fast approaching. Analysis of capacity data provided by airlines to Cirium shows that Europe has 393.6 million available seats. That is 96.2% of Q3 2019, mainly down because of the enormous intra-Europe market. While small, the exit of Flybe and Flyr in early 2023 did not help. Yet four of the 15 largest European airlines have expanded strongly: Wizz Air (Q3 seats at 144.1%), Ryanair (132.9%), Turkish Airlines (122.9%) and Jet2 (122.4%).
While Europe continues to recover, 15 countries have exceeded pre-pandemic capacity. Percentagewise, the clear winner is Albania (212.9%). This is because of Wizz Air, which now has 55.4% of the Albanian market – up tenfold from 5.4% in 2019.
Other considerable increases were made by North Macedonia (127.5%), Serbia (123.2%) and Bosnia and Herzegovina (121.1%). It is not only smaller nations that have benefited. Of Europe's top 10 largest countries (shown in red on the figure), five have exceeded pre-pandemic levels, led by Greece (114.8%), Turkiye (114.2%) and Portugal (110.7%).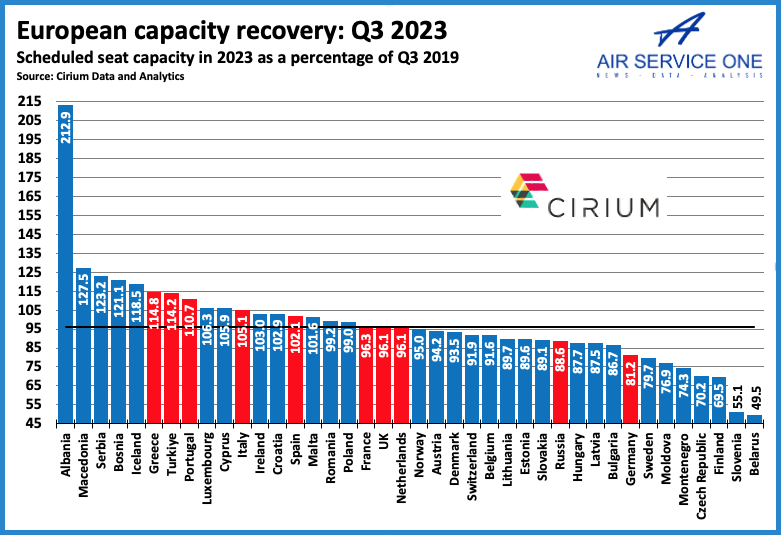 Türkiye is now Europe's third largest country market
Türkiye has 4.8 million more seats than in Q3 2019, almost fully because of international growth. Greece is next (+2.1 million). When combined with the slower recoveries of others, Türkiye has jumped two places to become Europe's third largest market.
Aside from Ukraine, which has no Q3 capacity, the least-recovered nations are Belarus (49.5%), Slovenia (55.1%) and Finland (69.5%). However, Germany – Europe's fourth largest market – remains the most impacted by seats. It has 8.4 million fewer available versus Q3 2019, mainly because of the domestic market (-3.8 million). It is from the exit of easyJet and substantial reductions by the two largest carriers: Lufthansa (-26.5%) and Eurowings (-63.3%).