European seat capacity at 76% of 2019 figure for December; UK moves ahead of Germany
Analysis of the latest schedule data provided by airlines to Cirium, reveals that, as of 11 December, planned capacity for December 2021 across all European countries is at 76.1% of the figure for December 2019. This compares favourably with the equivalent figure taken at the same point in the month for previous months; November (73.3%), October (70.1%) and September (67.3%). However, there is a considerable spread of results when individual countries are examined, from Belarus at just 45.1% to Bosnia & Herzegovina (136.4%). The range across Europe's seven major country markets (shown in red) is slightly less extreme, ranging from 61.0% for Germany, to 92.3% for Russia.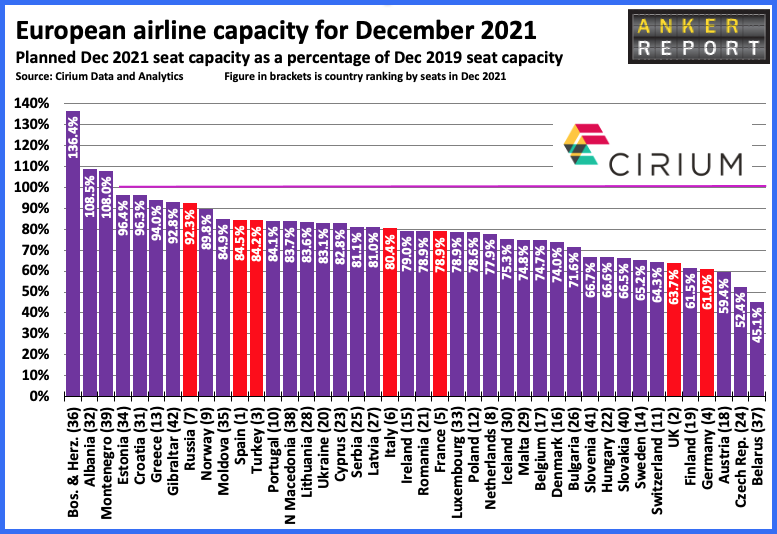 The top five countries for the best recovery rate are all ranked between 31
st
and 39
th
out of 42 European country markets in terms of seat capacity. Four of these five (Albania, Bosnia & Herzegovina, Croatia and Montenegro) are located geographically quite close together.
Germany drops below UK
For the first time in 2021, the UK's recovery rate (at least in terms of scheduled seats) in December (at 63.7%) is better than that of Germany (61.0%). Both countries are languishing in the bottom six, with only Austria (59.4%), Czech Republic (52.4%) and EU-isolated Belarus (45.1%) having a worse recovery rate. However, with the Omicron variant causing growing concern (certainly in the UK), flight plans and international travel restrictions for the rest of December may be subject to rapid change, and so passenger figures for the month may paint a quite different picture by the time they become available, some time in February.