European seat recovery rates compared for August and November; Ryanair and easyJet see danger ahead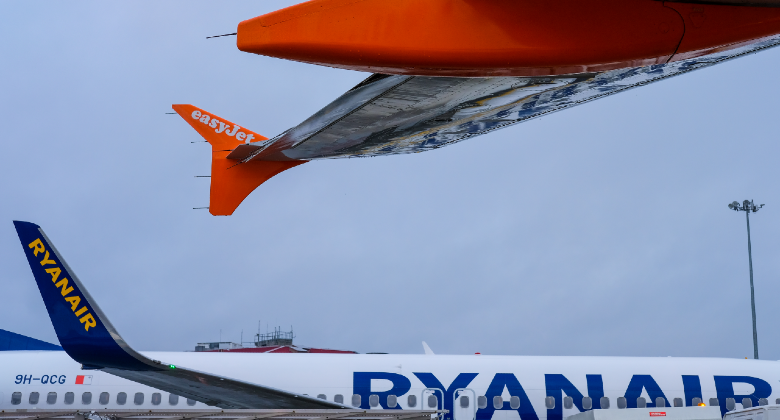 Many aviation analysts are predicting a tough winter for Europe's airlines. Having relied on pent-up demand for foreign vacations to get them through this summer, there are ominous signs that the coming months may be more challenging. The increase in fuel costs for unhedged airlines, the on-going conflict in Ukraine and the related increase in domestic energy prices resulting in less spending money for travel, are all making airlines nervous about the demand environment that lies ahead.
On the other hand, some of Europe's busiest airports such as Heathrow and Amsterdam have been artificially restricting demand this summer because of staffing issues, which should be less of an issue during the lower demand winter months.
So what can we gather from looking at what airlines are currently planning for their winter schedules? Comparing Cirium schedules data for August (summer peak) and November (first full month of winter season) for 2022 and 2019 enables us to see some trends starting to emerge. Across all European countries the capacity recovery rate has in fact improved, from 87.9% in August to 89.7% in November. However, given that it is still over six weeks until the start of November, evidence from this year shows that this recovery rate could easily drop by at least two percentage points as airlines continue to fine-tune their schedules in response to advanced booking data.
easyJet and Ryanair see biggest drops in recovery rate
During the summer, Ryanair and Wizz Air led the way for capacity recovery with both airlines in August seeing capacity growth of around 20% versus August 2019. Among Europe's top 20 airlines only one other, Turkish Airlines, had a recovery rate in excess of 100%, at 102.2%. Ryanair is currently planning for capacity growth of just over 12% in November (versus 2019). In other words, its recovery rate has fallen by almost eight percentage points between August and November. Only one other carrier in the top 20 has seen a bigger drop in its recovery rate. easyJet's recovery rate has fallen by 11.3 percentage points from 88.5% to just 77.2%.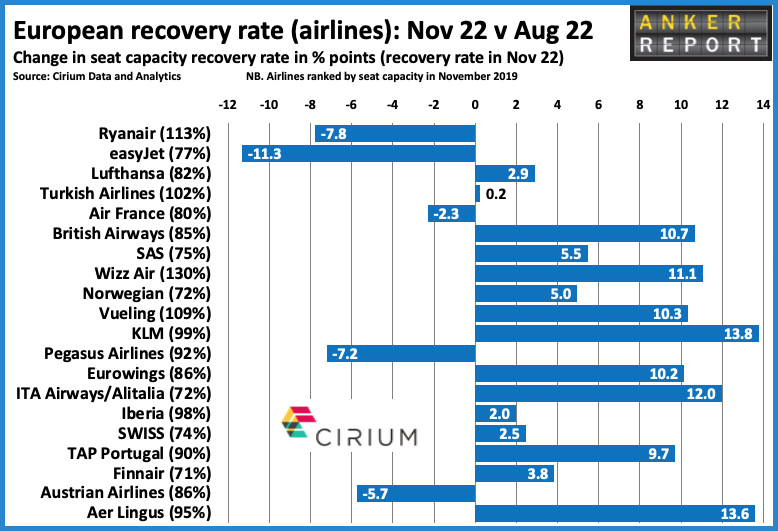 Many of Europe's flag-carriers are still in recovery mode, building back capacity after struggling with labour issues, either within the airline or at key airports. Of the top 20 airlines in Europe, 15 are seeing an improvement in their recovery rates between August and November, with seven of those airlines seeing double-digit improvements. KLM leads the way (from 85.2% to 99.0%) as the restrictions at Amsterdam become less of an issue. Aer Lingus's recovery from 81% to 94.6% is helped by the opening of the new runway at Dublin. British Airways is among the carriers potentially seeing a double-digit recovery rate improvement as the capacity restrictions imposed at Heathrow start to ease.
Greece recovery is still positive but not at summer levels
Repeating the above analysis but looking at European countries shows less volatility than among airlines. Sixteen of the top 20 country markets are currently showing an improvement in the capacity recovery rate between August and November, with Ireland the only country recording a double-digit improvement from 90.0% to 106.3%. Both Aer Lingus and Ryanair are expecting recovery rate improvements of more than 10 percentage points in Ireland.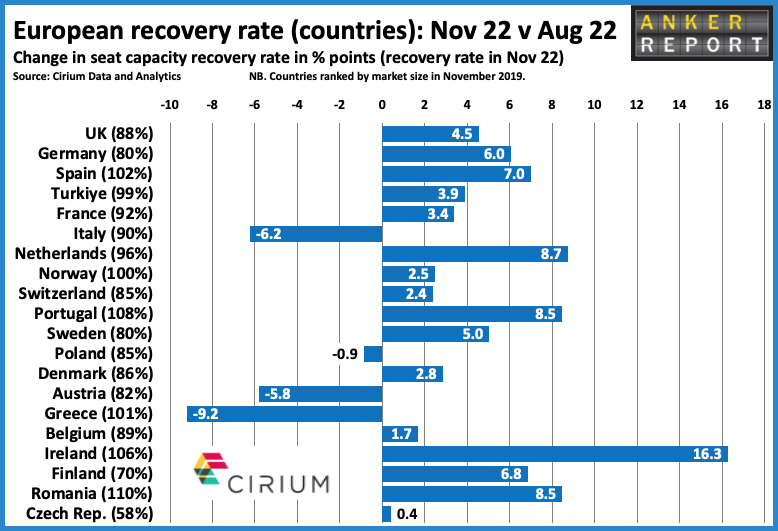 Greece, which has been an extremely popular travel destination this summer, has seen its recovery rate drop from 110.5% to 101.3%, while Italy has dropped from 96.7% to 90.5%. In Austria, the drop from 87.9% to 82.1% is explained by the fact that in 2019, Laudamotion grew significantly between August and November, whereas in 2022 Ryanair has cut capacity in Austria by over 30% between August and November. Also, as shown in the first graph, Austrian Airlines's recovery rate has fallen almost six percentage points.