European winter season starts Sunday; top 20 country markets, airlines and fast-growing airports revealed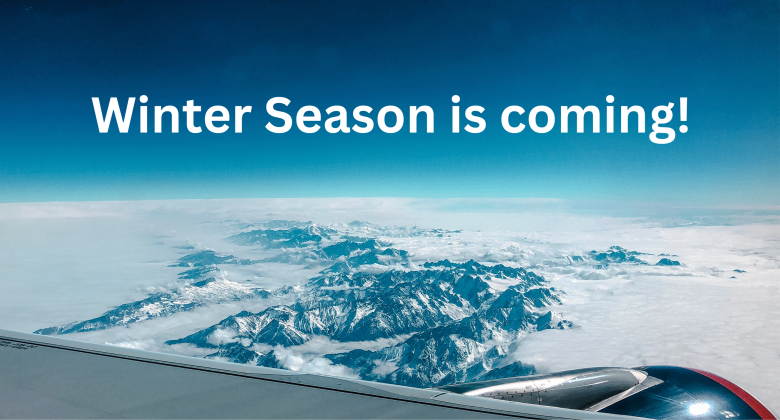 This coming Sunday (29 October) sees the start of the Northern Hemisphere Winter Season (W23) which runs for five months until Saturday 30 March 2024. This is the off-peak season for air travel demand across Europe as a whole, though there are a few niche airports where Christmas and the New Year period see a spike in demand. According to analysis of Cirium schedules data, across the whole of Europe (which includes Russia and Ukraine), currently planned seat capacity in the first quarter of 2024 is just 2.2% lower than it was in the same period in 2019. This is the last Q1 period that was not impacted by Covid which started to affect airline operations in March 2020.
UK still #1, Germany drops two places to fourth
The fact that overall seat capacity is down only just over 2% hides the fact that among Europe's 40-plus country markets there are major differences. Among the top 20 country markets alone, three (Finland, Germany and Sweden), are seeing capacity still more than 20% below pre-pandemic levels, while another three (Greece, Portugal and Romania) are likely to experience capacity growth of over 15% compared to 2019 Q1.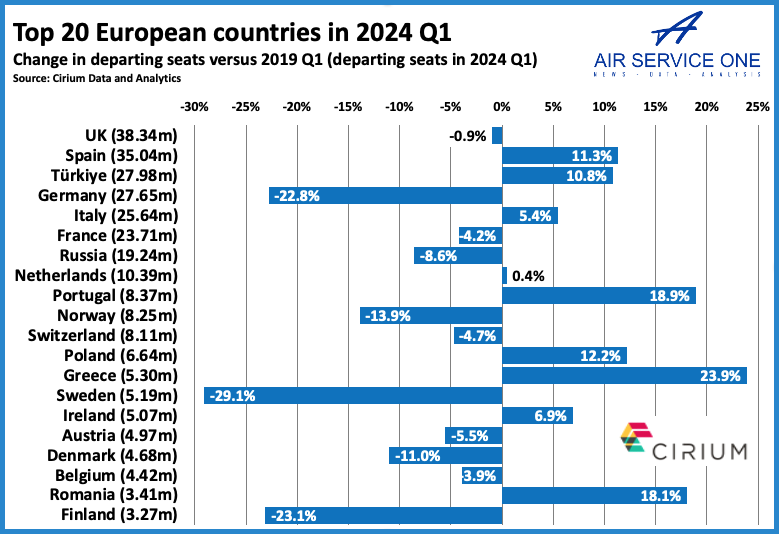 While the top eight country markets have remained the same, Germany has slipped from second to fourth, overtaken by both Spain and Türkiye. Italy and France have also swopped places in fifth and sixth. Sweden has fallen two places from 12th to 14th, passed by both Poland and Greece. The UK still leads the way despite a small reduction in capacity.
Apart from Ukraine, other European countries outside the top 20 that have seen significant drops in capacity are Belarus (-43%), Moldova (-39%) and Slovenia (-31%). Conversely, Albania (+207%), North Macedonia (+76%), Serbia (+67%) and Cyprus (+30%) have seen significant growth versus 2019.
Airports in Spain and Türkiye feature among fastest-growing airports
Across Europe's 600-plus airports offering scheduled services, there has also been a wide range of results in terms of growth, or lack thereof. In terms of additional departing seats in 2024 Q1 versus 2019 Q1, analysis of Cirium data shows a clear winner – Istanbul IST. The new airport only opened in 2019 Q2 so the comparison here is with the old Istanbul Atatürk facility. However, both airports shared the same 'IST' code.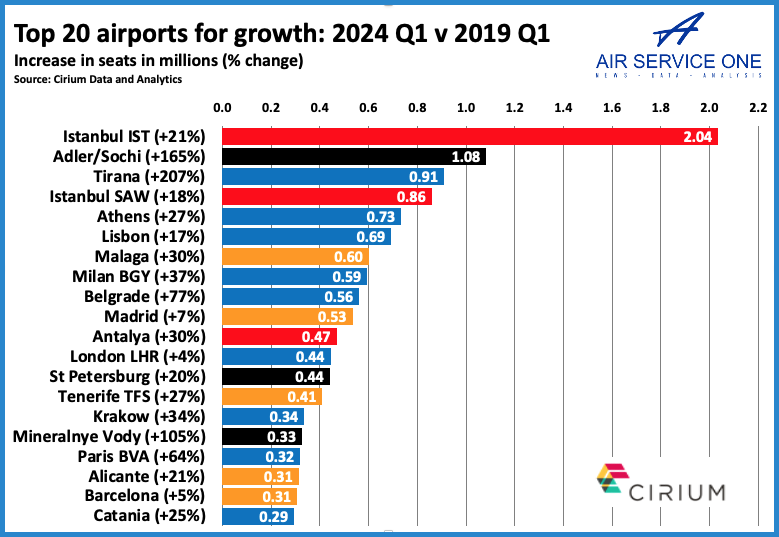 Among the top 20 fastest-growing airports measured by additional seats, five are in Spain (shown in orange), three are in Türkiye (shown in red) and three are in Russia (shown in black). Impressively, both Istanbul airports rank in the top four demonstrating the power and advantages of a good geographic location.
The bottom 10 airports in this ranking, in other words, those that have seen the biggest drop in quarterly seat capacity are Moscow SVO (worst), followed by Berlin (BER compared with SXF and TXL), Munich, Kiev KBP, Düsseldorf, Frankfurt FRA, Stockholm ARN, Oslo OSL, Helsinki and Moscow DME. The inclusion of four German airports helps explain why German seat capacity is down over 20% versus 2019, and why Germany has slipped two places in the country rankings.
London LHR is still just ahead of Istanbul IST for total seats, followed by Paris CDG, Amsterdam, Frankfurt and Madrid. Back in 2019 Frankfurt had ranked second.
Apart from all airports in Ukraine, and the two closed airports in Berlin, the biggest airport to have lost commercial services is Doncaster/Sheffield in the UK, which had its last commercial flight in early November 2022. However, there are on-going attempts to re-open the airport, ideally in time for the start of the summer 2024 season.
Ryanair now almost twice as big as nearest rival
Looking at seat capacity departing European airports in 2024 Q1, Ryanair is now almost twice as big as its nearest competitor, which is no longer easyJet but Turkish Airlines. With 38.9 million seats, Ryanair now accounts for just over 13% of all seats from European airports, or roughly, two in every 15. Five years ago, easyJet was 150% bigger than Wizz Air in terms of seat capacity. Now it is less than 30% bigger. Wizz Air has shot up from tenth to fourth in just five years, an impressive achievement.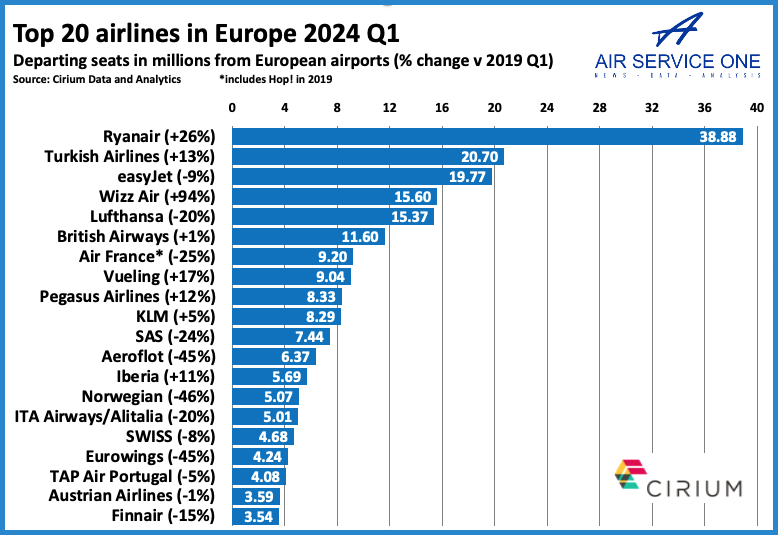 While Ryanair and Wizz Air have grown rapidly and Vueling's seat capacity is up 17%, other (U)LCCs have not yet recovered fully. easyJet is still around 9% smaller than it was in 2019, while Norwegian and Eurowings are both around 45% smaller. The German carrier's longer-haul operation has now been spun off into its own airline, formerly Eurowings Discover and now Discover Airlines.
It is worth recalling at this time, those airlines which existed in early 2019 which have now ceased operations. Among the larger ones are Flybe (despite a brief revival), Blue Air, Thomas Cook Airlines, Air Italy, Blue Panorama, WOW air, Onur Air, Air Adria, Aigle Azur and Ernest Airlines.
Ryanair and Wizz Air dominate growth
Another way to examine growth is to see which airlines have added the most seats during the last five years. By this metric Ryanair and Wizz Air are fairly close and miles ahead of everyone else. The top 20 airlines for seat growth in Europe include a number of other (U)LCCs such as Iberia Express, Pegasus Airlines, Pobeda, Transavia France, Volotea and Vueling; leisure airlines such as Azimuth Airlines, Jet2.com and SunExpress; and flag-carriers including Aegean, Air Serbia, Iberia and Turkish Airlines. The only new airline among these top 20 is Aeroitalia.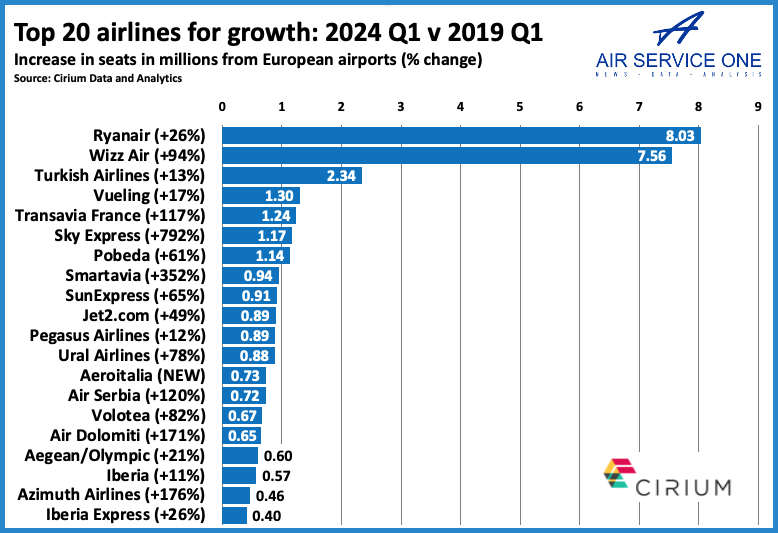 Other airlines that were not around in 2019 include Discover Airlines, Iceland's PLAY, Norse Atlantic, Air Albania, Dan Air (of Romania) and Air Connect. In addition, some existing non-European carriers have started flying to Europe. These include American carrier JetBlue, India's Vistara, China's Juneyao Airlines, Oman's Salam Air and Vietnam's Bamboo Airlines. The biggest carrier to emerge and then fail between 2019 and 2024 was probably Norway's Flyr which operated from June 2021 until the end of January 2023.