Europe's ASKs still down 2.7% in 2023 Q3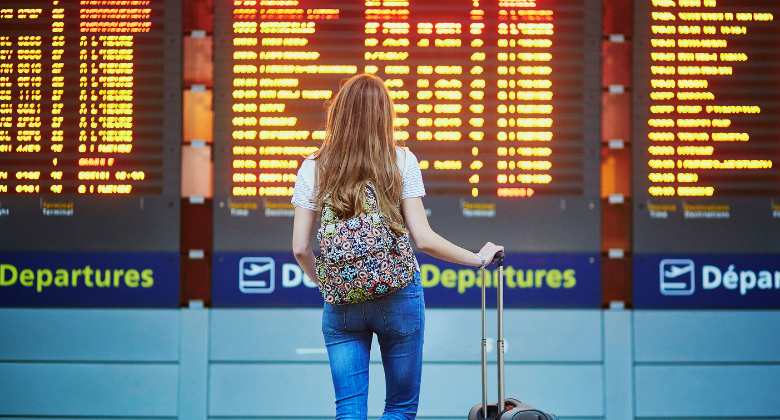 Planned airline operations in Europe in the third quarter of 2023 (July to September) suggest that the number of aircraft departures will still be around 8% lower than they were in 2019 Q3. However, the number of available seats is set to be only 2% below pre-pandemic figures. A third metric, ASKs (Available Seat Kilometres) will be down by 2.7%. ASKs factor in not only the number of flights, but also the number of seats per flight and the sector length.
Ryanair still top for ASKs, Wizz Air growing fast
A look at the top 20 airlines in Europe for ASKs in 2023 Q3 reveals a mix of European LCCs, flag-carriers and leisure airlines, as well as non-European carriers offering long-haul flights to/from Europe. Of the top 20 carriers, 12 are expected to see an increase in ASKs compared with four years earlier. Leading the way with phenomenal growth of 95% is Wizz Air. It now ranks fourth, not far behind easyJet. Five other airlines among the top 20 also recorded ASK growth of at least 30%; Turkish Airlines, Jet2.com, United, Pegasus and Transavia. Among the seven European flag-carriers in the top 20, Turkish Airlines is the only one to register growth. Among other European flag-carriers Air Serbia has bucked the trend by increasing ASKs by almost 55%.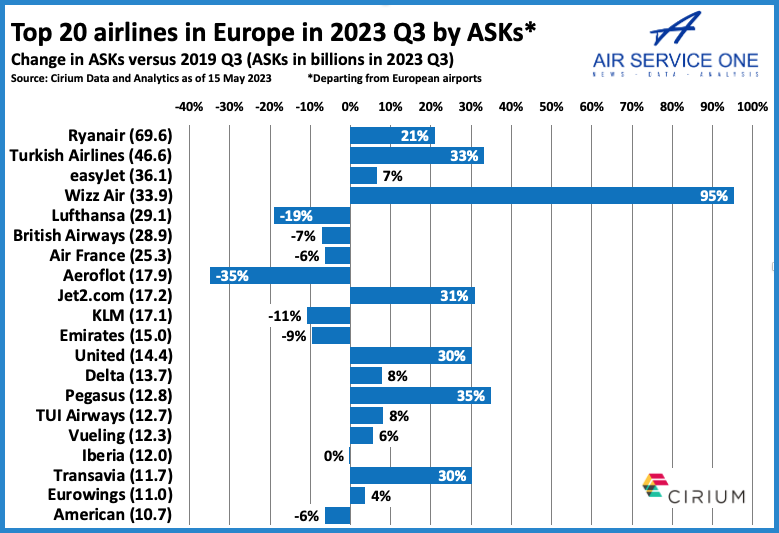 United has overtaken Delta to be the leading US carrier in Europe, although Emirates is slightly bigger than both. Just outside the top 20 are SAS, Norwegian and TAP Air Portugal. Among the biggest new airlines in Europe (versus 2019) are Aeroitalia, Bamboo Airways, Eurowings Discover, JetBlue, Norse Atlantic, PLAY and Vistara. Notable airlines that have been lost since 2019 include Adria Airways, Aigle Azur, Air Italy, AtlasGlobal, Blue Air, Blue Panorama, Ernest Airlines, Flybe, Onur Air and Thomas Cook Airlines.
UK leads Spain for country ASKs
At a country level, the UK leads the way for departing ASKs well ahead of Spain. While the two countries are very close with regard to seat capacity, the UK has many more long-haul services, thus creating a higher a number of ASKs. Italy, despite seat growth of over 11%, has only seen a modest 3.5% increase in ASKs as most of its growth has come on domestic or short-haul European routes. The opposite is true in Türkiye where seats are up 14.5% but ASKs are up 24.7% because growth there has come more from longer-haul international routes.
Among the top 15 country markets, three popular southern European holiday destinations have the highest growth in ASKs; Türkiye (+25%), Greece (+17%) and Portugal (+9%). Ten of the top 15 countries are still seeing a reduction in ASKs in Q3, with Germany and Russia both still more than 10% below 2019 levels.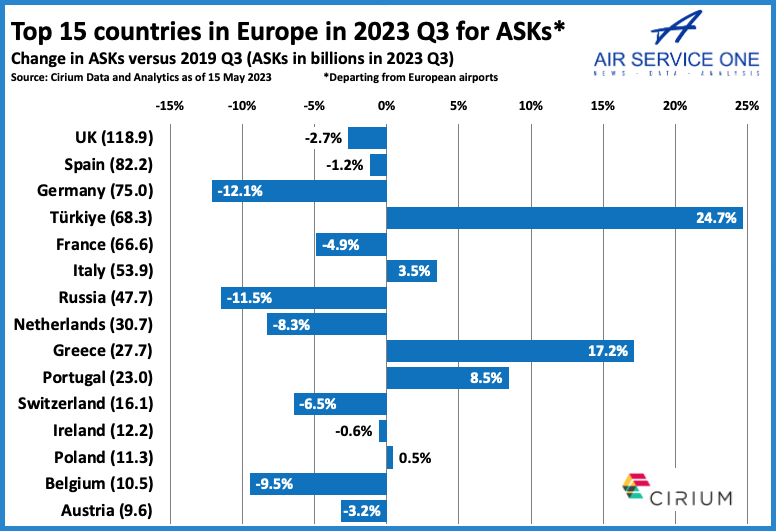 Outside of the top 15 there is impressive growth in departing ASKs for Albania (+265%), Romania (+36%), Serbia (+29%), Luxembourg (+25%) and Iceland (+22%). Not performing quite so well are Sweden (-18%), Montenegro (-28%), Finland (-30%), Slovenia (-34%) and Czech Republic (-36%).